Environmental certifications
German Institute for Sustainability & Ecology
Since 2020 we have been certified by the German Institute for Sustainability and Ecology in the areas of ecology, economy and social competence (Code of Procedure D-20/400851). This officially confirms our extraordinary quality of products, services and consulting, our economic future orientation and our corporate management as well as our perception of ecological and social responsibility.
va-Q-tec is both the first supplier of temperature-controlled packaging solutions and the producer of high-tech insulation materials to achieve carbon neutrality for its production sites for the year 2020.
The entire group has been carbon neutral since 2021.
The emissions are balanced in cooperation with natureOffice and on the basis of the internationally recognised Greenhouse Gas (GHG) Protocol. The remaining emissions are offset by supporting certified environmental protection projects in Uruguay.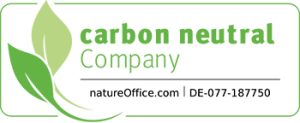 Since 2014 we have had a certified environmental management system (ISO certification ISO 14001:2015). This international standard confirms our environmental management system with which we improve our performance for the benefit of the environment, fulfil legal and other obligations and achieve environmental goals.
Furthermore, we have been certified according to ISO 50001:2018 for our energy management system since 2013. Our goal is to systematically improve the efficiency of energy management, energy efficiency and energy saving.