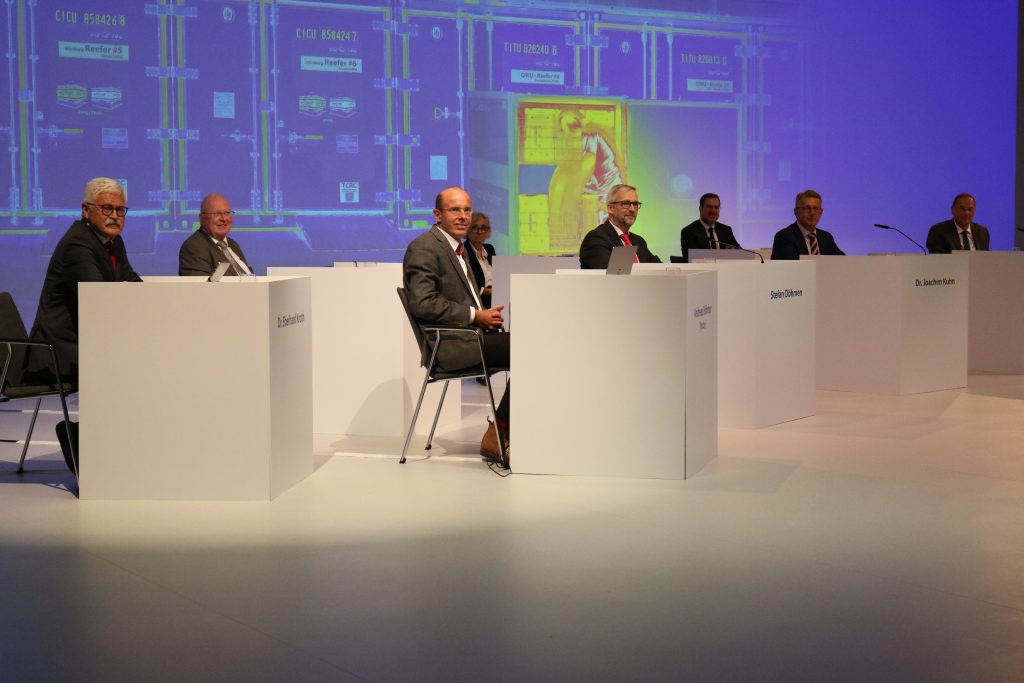 2020 AGM held on virtual basis due to coronavirus
Innovative, multimedia event held in the "The Curve" event room at Würzburg Vogel Convention Center
Around 65% of share capital participates virtually
All agenda items accepted by large majorities
Very good growth prospects despite CoVid-19 pandemic
va-Q-tec AG (ISIN DE0006636681 / WKN 663668), a pioneer in highly efficient products and solutions in the thermal insulation (super insulation) and temperature-managed supply chains (TempChain logistics) area, held its 2020 Annual General Meeting on 14 August 2020. Due to general restrictions imposed by the CoVid-19 pandemic, this year's AGM was conducted entirely on a virtual basis for the first time. At 64.9% of the share capital, attendance was high despite the new format. All agenda items were approved by large majorities.
In the innovative, multimedia "The Curve" event room at the Vogel Convention center in Würzburg, the Management Board reported in detail on the performance of va-Q-tec AG in the 2019 financial year, for which the actions of the Management Board and Supervisory Board were approved by a clear majority. The very positive business trend in 2019 reflected the climate protection and energy efficiency megatrends, from which va-Q-tec benefited particularly in its TempChain logistics area. In addition to strong revenue growth of 28%, EBITDA more than tripled to EUR 9.7 million in the 2019 financial. Investments in "TempChain 4.0" – an innovative combination of hardware, IoT and IT solutions in the temperature-controlled logistics area – also offer future potential.
Furthermore, the Management Board presented an overview of business performance in the first half of 2020, in which va-Q-tec AG reported profitable growth despite the CoVid-19 pandemic. Continued high demand from the healthcare industry made a special contribution in this context. In the first half of 2020, the high-margin Services business grew by 21% and the Systems business by 77% year-on-year, which more than offset the effects of the CoVid-19-related decrease in the Products business. va-Q-tec is particularly proud to play its part in the fight against the CoVid-19 pandemic: several million test kits have already been transported worldwide in va-Q-tec temperature-controlled containers.
Dr. Joachim Kuhn, CEO and founder of va-Q-tec AG, comments: "We are very pleased by the interest shown in our first virtual AGM, and that everything went smoothly. We already received positive feedback from external participants during the recording. In addition to the innovative format, the multimedia design received particular praise. We demonstrated that our growth strategy remains intact despite the CoVid-19 pandemic, and that it benefited especially from our strong position in the healthcare sector. However, we are also making good progress with energy-efficient products and solutions for other industries, and are receiving positive signals in this context. This leads us to be very confident about our future prospects."
Find the detailed voting results of the 2020 Ordinary AGM here.