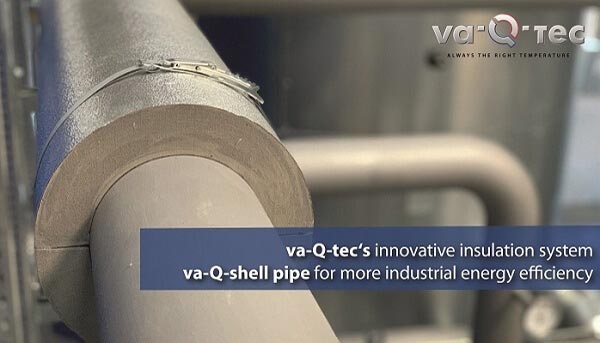 The innovative insulation material va-Q-shell pipe considerably increases the energy efficiency of pipelines in industrial plants, building installations as well as local and district heating.
The strong thermal insulation performance of va-Q-shell pipe reduces heat loss significantly while requiring minimal space.
This results in considerable improved insulation possibilities.
va-Q-tec is further expanding its product portfolio to increase the energy efficiency of industrial plants, building installations as well as local and district heating. At the online event Chillventa eSpecial (13-15 October) the manufacturer of innovative insulation solutions presents its latest product development va-Q-shell pipe, which enables pipes to be thermally insulated, cost-efficient, safe and in an environmentally friendly way.
The base of the new insulation system are va-Q-tec's vacuum insulation panels (VIPs). They insulate up to ten times better than conventional insulation materials. Their core material is a microporous insulation material based on fumed silica and is 100% recyclable. Due to their high insulation performance, heat, cold and energy losses can be greatly reduced, even where space is limited. The VIPs are foamed in polyurethane to ensure a long-lasting, reliable and economical protection against heat and cold. va-Q-shell pipe can be manufactured in different diameters, shapes and external laminations according to individual customer requirements. In addition, various closing mechanisms, such as pipe clamps, straps, rings or velcro tape are available. The innovative insulation system is easy to install: It is supplied in two half shells which are placed around the pipeline, then closed or glued.
va-Q-shell pipe is suitable for the thermal insulation of factory uninsulated pipes and for the subsequent insulation of pipe systems as well. Due to its excellent material properties, it improves energy efficiency by up to 50% while reducing the insulation thickness. This means that they can be optimally insulated in accordance with the VDI 4610 guidelines (energy efficiency of operational systems – heat and cold protection) and the EnEV (energy saving regulations for buildings) and thus meeting the legally required standard. At the same time, essential construction space can be saved, which is a decisive advantage especially in plant construction.