Patented Control System of va-Q-tec
Quality lies at the core of everything we do at va-Q-tec – the capital "Q" in the middle of our name serves as a reminder. In addition to premium quality services and well-founded technical consulting, we strive to produce only the very best quality products. va-Q-tec's very strict VIP quality criteria are perfectly suited for any quality management system and any requirements our clients may have.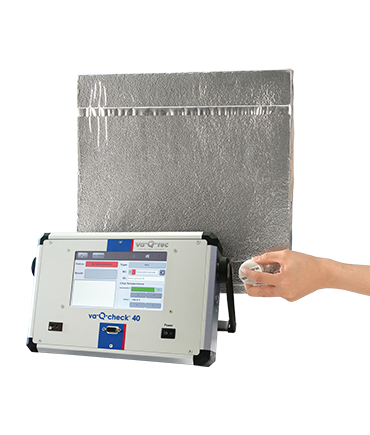 Quick and Precise Pressure Measurement
The quality and service life of VIPs depends on the quality of the core material, the barrier foil, and most importantly, on the internal gas pressure. That is why va-Q-tec developed the globally patented quality control system va-Q-check®. It allows for the precise measurement of the internal gas pressure of every individual VIP in seconds. Each va-Q-tec VIP comes equipped with a small sensor disc for measurements and a bar-code label. These two components allow va-Q-tec to store all information about the VIPs.
An external sensor measures the heat transfer between the two sides of the panel and within second the va-Q-check gives a precise indication of the internal gas pressure of the VIPs. The transparent inspection system checks every single box, panel or container before leaving production. Along with the high quality materials, the va-Q-check can thereby ensure the quality of the products for up to 50 years.
Lifetime performance of the VIP
va-Q-tec's product are produced to last for many years without losing performance. va-Q-check can therefore also be used by customers to ensure that VIPs have not been damaged. Difficult production or transportation situations can pose a risk but with va-Q-check the lifetime of the VIP can be secured. It is an innovative, easy and safe technology that reduces defects that cannot otherwise be detected and ensures the insulation performance of the VIP for its entire lifetime.
Advantages of va-Q-check®

We offer our customers the installation of va-Q-check® in order to enable constant monitoring of VIPs on site. Together with our customers we optimize VIP handling and further processing within the customer's company. Our vacuum insulation panels' quality is assured even when further processed provided our recommendations and experiences are taken into account.