va-Q-tec's VIPs and PCMs are produced utilizing only high-quality materials which – along with quality assurance procedures – ensure outstanding performance. va-Q-tec co-founder and Head of Innovation & Quality, Dr. Roland Caps, explains what makes va-Q-tec's products so unique.
The basis of va-Q-tec's products and services are the VIPs (vacuum insulation panels) which we both sell separately and within integrated systems. The basic idea behind VIPs is pretty simple. For example, in a thermos flask you create a vacuum. This vacuum is known to provide the precondition for the best insulation properties in the world. However, securing and maintaining the vacuum and VIPs' great insulation properties throughout the lifecycle of the respective products that are being transported requires advanced technology, innovative processes and high-quality materials. With our scientific background, approximately 200 IP Rights and Applications and more than 20 years of experience and constant development, we have created a superior VIP that makes this possible. 
Two main features separate va-Q-tec from competitors' products. First, va-Q-tec VIPs allow for arbitrary shapes as well as our 100% quality check system. We can produce our third-generation "va-Q-pro" panel in arbitrary shapes and with any cut-out depending on what clients require. Such customization is unique within the VIP industry which is especially important for customers from the automotive or aviation industries. The second main feature is our "va-Q-check" vacuum sensor, which is a patented quality assurance system that enables us to test every single panel before it leaves production.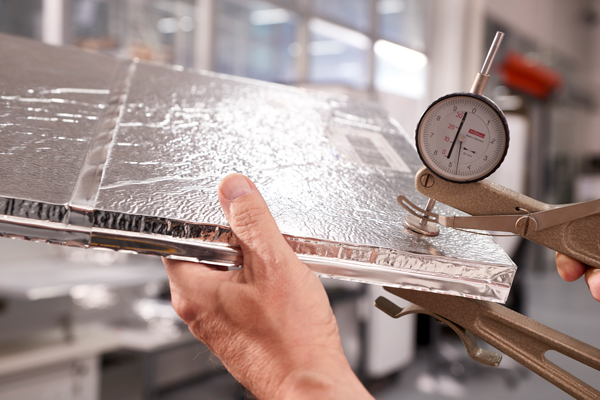 We are aware of the fact that VIPs are often a completely new material class for our target industries. VIP quality and performance require careful checking in order to ensure high standards and to give customers comfort about their reliability. We utilize an external measurement head in combination with an internal sensor to test gas pressure or vacuum quality within the panel. All panels are checked after production to ensure they achieve the correct performance level and longevity. This process is fast and straightforward.
We have an extensive R&D team that continues to research and improve technologies in our field. In order to be ready for Industry 4.0, we need to provide reliable hardware that enables technological developments. Along with an extensive team of dedicated thermal engineers and a modern laboratory with 40 thermal climate chambers, we are prepared for the future and can conduct tests under any climate conditions.