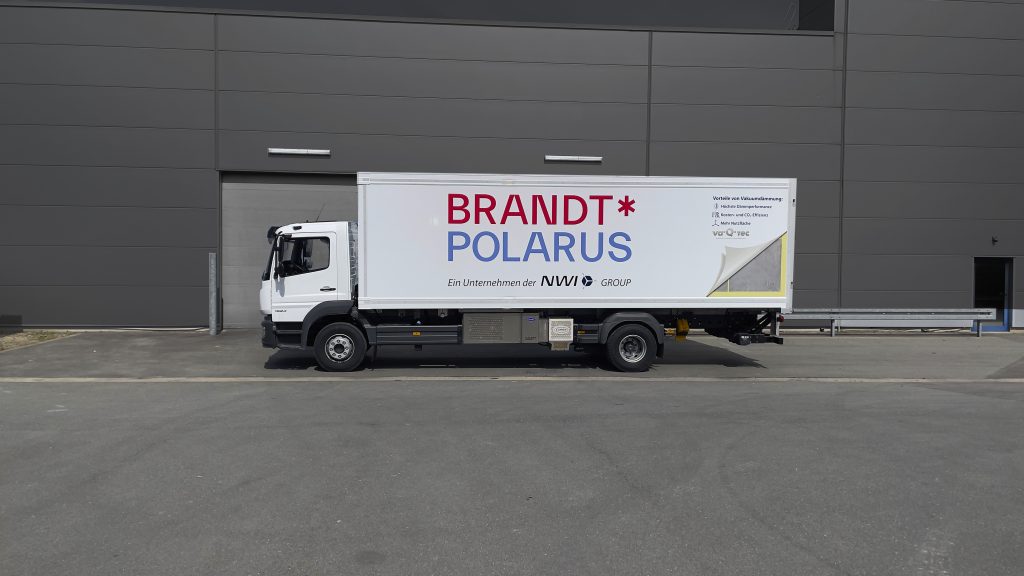 The vacuum insulation panels (VIPs) from va-Q-tec are also causing the commercial vehicle industry to rethink their insulation. For the first time, a refrigerated vehicle with VIP insulation has now been exhibited at the Mercedes Branch Information Center. The vehicle was developed as part of a jointproject with Brandt Kühlfahrzeuge GmbH&Co.KG and is disrupting the market by providing more loading volume, clear energy and, thus, cost saving.
The BIC offers interested customers the opportunity to find out about various body manufacturers, such as Brandt Kühlfahrzeuge GmbH & Co. KG, and to test the vehicles on site under real conditions. In the connected consulting center, the technical staff will now also provide information about the advantages of vacuum insulation from va-Q-tec for refrigerated vehicles.
Vacuum insulation has been playing out its advantages for many years in a wide variety of industries due to its outstanding insulating performance. Vacuum insulation panels insulate ten times better than conventional materials and are particularly suitable when there is  limited space and requires excellent insulation. The insulating effect of a 20 mm thick VIP is equivalent to that of a 20 cm thick layer of a conventional insulating material, such as EPS. Therefore, refrigerated vehicles benefit particularly from this innovative technology demonstrated by the joint development of a Brandt commercial vehicle. Thanks to the optimized combination of VIPs and PU foam, both the box and the trailer have the necessary stability as well as the ideal heat transfer coefficient of less than 0.30 W/m²/K.
Furthermore, the joint project showed that VIP insulation can achieve significant energy savings and CO2 reductions. The vehicle's cooling unit requires less energy in the form of fuel or electricity to maintain the temperature inside. The innovative insulation material is also made of environmentally friendly materials and has been produced in a climate-neutral manner since 2020. In addition to these ecological benefits, VIP insulation is extremely cost-efficient making any additional costs for VIPs pay for themselves after only a short time.