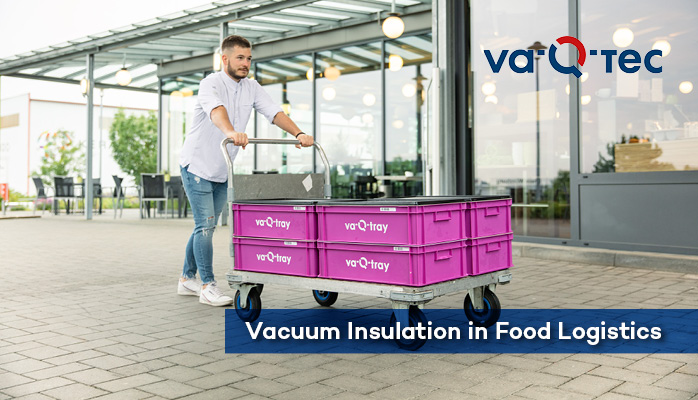 "Since we started using the va-Q-tray boxes, we have saved time and money and invested in a long-term solution." – Hanno Lechtermann, Managing Director of Lechtermann-Pollmeier Bäckereien GmbH
Between rising prices, cost pressures, the importance of energy efficiency and limiting packaging waste, the demands on food logistics are constantly increasing. Thus, conventional solutions for the storage and transport of food, used with foam insulation materials, often no longer meet today's requirements. Therefore, future-proof and innovative solutions are in high-demand and the reusable Thermo-Box from va-Q-tec AG, is one of them. Various players in the industry, be it large bakeries or butchers, have already put the solution to use.
va-Q-tray: best properties for temperature control with sustainability
The va-Q-tray is a passive reusable thermobox specially developed for the safe and temperature-controlled transport of sensitive food. The integrated insulation of the box consists of highly efficient vacuum insulation panels, which, together with the phase change materials, are among va-Q-tec's key technologies. Compared to conventional insulation materials such as expanded polystyrene (EPS), these vacuum insulation panels have a tenfold higher insulation performance, providing each stackable box with a significantly longer temperature holding time. The principle of operation of the box is similar to that of the thermos. This allows the va-Q-tray to maintain the desired temperature of frozen, fresh, or warm products without electricity for many hours. Due to the optional use of va-Q-accus, which are available for the different temperature ranges, the temperature holding time can also be significantly extended, even up to several days. Other advantages include the va-Q-tray being easy to clean and suitable for automatic car washes, which makes it particularly hygienic. Additionally, the solution also has easy handling and, due to the standardized external dimensions of 600 x 400 mm, can be stacked load-proof and perfectly integrated into existing processes.
In October 2022, the reusable thermal transport box was awarded the Trend Award 2022 at the tradefair "Südback 22" in Stuttgart. In the bakery industry, the va-Q-tray is mainly used for efficient delivery to bakery branches and thus serves as a cost-saving alternative to energy- and cost-intensive refrigerated vehicles.
Currently in use at large bakeries for optimized deep-freeze logistics
One example of va-Q-tray use within the bakery industry is the cooperation with Lechtermann-Pollmeier bakeries, which has been using va-Q-trays for the transport of various frozen products such as pretzels and croissants at 37 specialist shops in the greater Bielefeld area since the beginning of this year. "Previously, we had to put a lot of effort into maintaining the cold chain during transport. We packed everything ourselves in cardboard boxes and had it picked up and delivered by the deep-freeze logistics company – this was a great deal of manual effort and associated with corresponding costs," says Hanno Lechtermann, Managing Director of Lechtermann-Pollmeier Bäckereien GmbH. "Since we started using the va-Q-tray boxes, we have saved time and money and invested in a long-term solution."
va-Q-tray boxes are not only used in the greater Bielefeld area, but also in the east and south of Germany. Sternenbäck has a total of 160 branches, of which between three and ten locations receive deeply felt dough pieces packed in va-Q trays every day. "We have been working with va-Q-trays since spring 2022 because we wanted to optimize our frozen food logistics. The solution has proven itself since its introduction: We have succeeded in completely eliminating several frozen food tours. Transport is smoother and more efficient, and we also save emissions in store delivery," says Helge Kellner, Head of Production and Logistics at Sternenbäck.
It's all about the sausage: va-Q-trays used by butchers
Precise temperature control is also extremely necessary within the meat industry and the va-Q-tray provides these companies with many advantages. One example of this is the Irish Pixie, an Irish pub in Würzburg, where managing director and owner Simon Förtig produces sausages in a butcher's shop and transports them in va-Q-tec's thermal boxes. In 2022, he transported six tons of sausages in the boxes – a challenge in itself, and especially in the warm summer months: "When it's really hot, you need a safe solution to maintain the cold chain. We put the va-Q-trays through their paces. After that, the decision was simple: In the refrigeration area, the boxes are really advantageous, and we can do without a refrigerated truck. The design is also convincing, and we can score not only in terms of taste, but also in appearance with the customer when we deliver our sausages," says Simon Förtig. The trained chef and pub owner has also had the va-Q-trays checked by the food inspectorate: "We can ensure that the temperature during the transport of the sausages remains consistently in the minus range. This has been confirmed by food control. The master chef and the master butcher, with whom I often work, are also very enthusiastic. We are completely satisfied."
Looking to the future: The eCommerce market is booming
Global online grocery is growing strongly and market forecasts predict annual growth of 25 percent until 2030. However, Germany is still lagging far behind: While only about 4.1 percent of food was ordered online in 2021, the figure in the UK reached 12 percent. For logistics, this means that an increasing amount of food is transported in different temperature zones and sometimes has to be delivered on the same day – in the field of Q-Commerce sometimes even within 10 minutes. This requires new solutions to meet the demands for a safe and sustainable cold chain without dry ice, even on the last mile.
Food E-Commerce and Last-Mile-Delivery: the importance for automated warehousing
2022 has shown that last-mile delivery services are one of the current trends in the food sector. In this context, interest in automated warehousing is also increasing: customers order food online and then the employees in the warehouse assemble the products manually and pack them for delivery. Depending on the application, automated storage systems can significantly increase efficiency.
Thus, the use of vacuum-insulated thermal boxes is not only suitable for transport but the technology can also be used in the warehouse to store refrigerated or frozen products in the thermoboxes. The advantage: An entire warehouse no longer needs to be cooled, which improves energy efficiency and cost reduction for companies. Automation and optimized refrigerated logistics can thus go hand in hand.
Responding to wholesale requirements: va-Q-tray 45 in 2023
Normally, wholesalers use refrigerated trucks to supply supermarkets, which often transport vegetables at +6°C and minced meat at +2°C at the same time. However, covering products with different temperature requirements in one vehicle is difficult if seasonal demand peaks must be reached flexibly.
In the course of the coming year, va-Q-tec intends to offer an additional variant of the va-Q-tray specifically designed for these requirements. With a volume of approx. 45 litres, it is possible to carry out temperature-controlled transport of perishable foodstuffs flexibly, safely, and without dry ice. Due to its standardized external dimensions, the va-Q-tray 45 can be integrated very well into the grid concepts of providers in the field of automated warehousing, among other things, and provides a strong alternative to cooling entire storage areas.