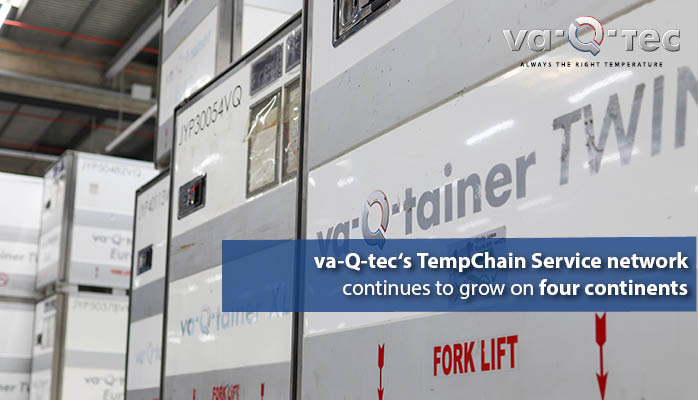 va-Q-tec's global TempChain service network continues to grow
Europe, Africa, India, Asia – va-Q-tec continues to expand its international network in 2021. The German company is continuously optimizing the global availability of its innovative thermal containers and boxes making worldwide temperature-controlled supply chains safer, more cost-efficient and more sustainable. 
New network station opened in Brussels
One of the biggest current issues in the logistics of temperature-sensitive goods is the safe transport of Covid 19 vaccines. Centrally located, Brussels is considered one of the world's most important pharmaceutical transshipment hubs in Europe for a variety of products. Thanks to the recently opened TempChain Service Center, va-Q-tec's entire high-performance product portfolio is now available within the shortest possible time.
Since April 2021, boxes and containers have been preconditioned there, i.e. prepared individually for the temperature range required in each case with the help of innovative temperature storage elements (phase change materials – PCMs). The thermal container is then sent immediately to the customer, who then places the temperature-sensitive goods inside. This ensures a closed temperature chain (TempChain).
Network expansion in 2021: South Africa, India and South Korea
In addition to the service center in Johannesburg in South Africa, these special services have also been offered in Port Elisabeth since June 2021. The two South African network stations are equally important strategic locations to support pharmaceutical logistics on the African continent with va-Q-tec's high-performance product portfolio.
The same applies to India. Not only since the Corona pandemic and the associated vaccine production there, but this subcontinent is also considered a center of the global pharmaceutical industry. There will be two TempChain Service Centers soon to be operating in Hyderabad that are very centrally located in India and thus optimal for international as well as national shipments. The high-capacity containers and boxes make this possible even in the challenging Indian climatic conditions with constant temperatures in various available ranges between -70 °C and +25 °C. va-Q-tec is also strengthening its presence in East Asia itself: South Korea is considered the gateway to this important trading area and a highly relevant logistics hub between Europe and Asia. Therefore, va-Q-tec strengthens the TempChain service network there this year and opens a second network station in Incheon.
In addition to these new openings and expansions, va-Q-tec will continue to expand its global TempChain service network. It now includes nearly 40 stations on six continents, ensuring the smooth operation of temperature-controlled supply chains worldwide.
An overview of all TempChain Service Centers is available here.