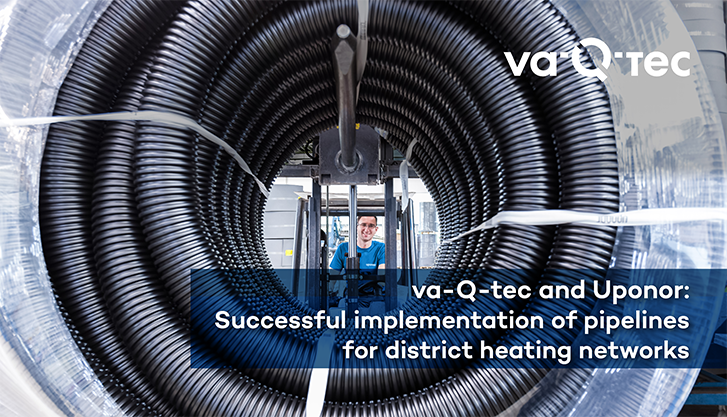 The innovative Ecoflex VIP piping system developed by va-Q-tec in collaboration with Uponor has been successfully launched on the market.
Since the start of series delivery in mid-2021, six-figure quantities have already been installed.
Further product developments, together with Uponor, are already being planned.
Ecoflex VIP reduces the heat loss of local heating networks by up to 60% and can be installed in a space-saving manner due to its small outer diameter.
Wuerzburg, 20. October 2022. va-Q-tec, the expert for thermal energy efficiency, announces the successful market launch of the Ecoflex VIP. The vacuum-insulated piping system was developed together with Uponor, one of the world's leading suppliers of systems for hygienic drinking water installation and energy-efficient heating and cooling. This benchmark-setting development comes at a time when the whole world is talking about saving energy.
There are many advantages to using the Ecoflex VIP – through the use of vacuum insulation panels, the innovative product has a significantly better insulation value and greater flexibility than conventionally insulated piping. Thus, heat loss in local heating networks can be reduced by up to 60 % with Ecoflex VIP. Compared to flexible pipes insulated with rigid foam, the installation time can be reduced by up to 20% with Ecoflex VIP, and by more than 50% compared to steel pipes. Another decisive advantage of the solution is the significantly reduced diameter: compared to other solutions, this could be reduced by 30%.
The product has been very well received on the market: So far, six-figure quantities of the vacuum-insulated piping systems have been installed. In addition, the Ecoflex VIP won the Plus X Award, which is presented by a renowned international jury of experts, in four categories. It received awards in the areas of innovation, high quality, ease of use and functionality.
As a next step, an even more efficient product generation is now being planned. The new version of the Ecoflex VIP is expected to have even better insulating properties and thus provide even greater savings potential in local and district heating networks. Product development is currently in full swing, and a market launch is planned for the coming year. Sustainability and efficient management are relevant at every step of the product life cycle: For example, disposable Euro pallets are no longer used to transport the high-performance insulation, but much more sustainable reusable solutions made of a robust plastic. This has saved almost 20,000 kg of raw materials so far.
Tobias Bock, Head of Business Unit Technics & Industry on the partnership with Uponor: "This project is a prime example of how successful cooperation between two industry experts can be. Not only did our teams work well together, but our products complement each other just as perfectly in the Ecoflex VIP pipes. The high insulating performance of vacuum insulation saves energy in the form of heat. Especially in the energy crisis, the technology has enormous potential on the market."
Dr Joachim Kuhn, CEO and founder of va-Q-tec, adds: "The joint development of the Ecoflex VIP is a great success story. And it shows how versatile our core technology, vacuum insulation, is and what enormous potential it offers. I am sure that the Ecoflex VIP is just the beginning of the success story of vacuum insulation in the field of pipe insulation."