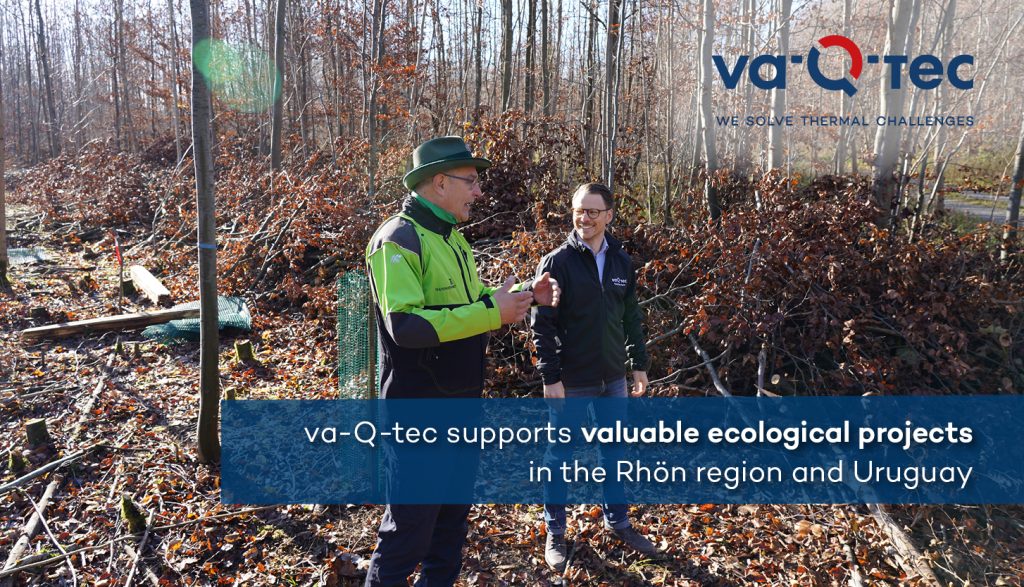 From the very beginning of the company's history, va-Q-tec has been particularly concerned with the sustainable use of raw materials and the environment. In this context, not only the high-performance insulation materials in the form of vacuum insulation panels (VIPs) produced by the Lower Franconian company ensure greater thermal energy efficiency and thus a reduction in global CO2 emissions. In temperature-controlled logistics, too, the environmentally friendly, almost fully recyclable reusable packaging available within a globally operating rental system leaves a significantly more environmentally friendly ecological footprint than conventional disposable packaging.
In addition to these benefits, va-Q-tec also continuously scrutinizes and optimizes its production processes, so much so that the company officially could declare its group-wide global climate neutrality for the year 2021 [link]. To offset the remaining CO2 emissions, which are continuously decreasing, it already supports two special ecological projects in the long term.
One of these is located in the Rhön biosphere reserve, not far from the company's headquarters in Würzburg.  The aim of the project, which is sponsored by the Free State of Bavaria and the German federal government, is to plant wild fruit trees and indigenous shrubs to create inner forest margins in order to promote the structural richness and biodiversity of this special landscape. Thus, biodiversity is promoted in the border area of different stands. Special attention will be paid to the marginal areas of the forest roads. This area will be cleared over a length of approx. 50 m and then replanted. The branches, shrubs and trees cut back in the process will be used to create an additional habitat in the form of a hedge.
The other project is located in Uruguay, where va-Q-tec operates a foreign branch. Due to overgrazing, the landscape there is threatened by erosion and degradation. Without human support, the soil has difficulty recovering, which is why the nature conservation project is restoring near-natural eucalyptus and pine forests. on an area of almost 20 hectar of land, nearly 56,000 tons of CO2 are thus offset. In addition, the project generates valuable jobs through sustainable timber production and thus the sustainable economic development of this special landscape area.
"We have to protect nature – in any way we can!" comments Moritz von Wysiecki, who intensively supervises the selection and support of the projects on the part of va-Q-tec. "Through the two valuable nature conservation projects, we are not only offsetting carbon emissions. We are renaturalizing special landscapes that will soon no longer exist without our intervention. It is important to leave future generations a world as we know it. We are actively committed to this."