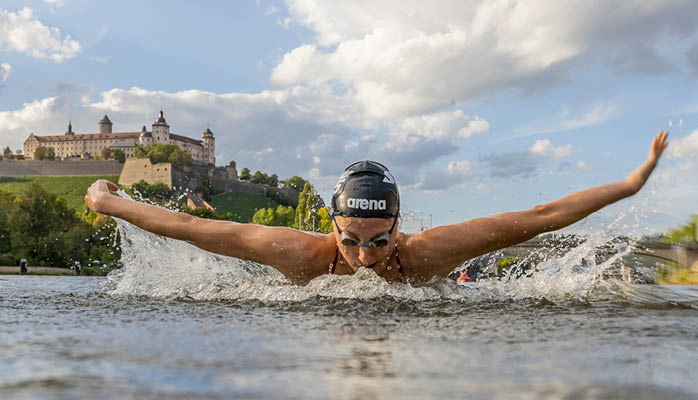 va-Q-tec AG, a pioneer of highly efficient products and solutions in the field of thermal super insulation and temperature-controlled supply chains, has increased its sponsorship of the Olympic Leonie Beck. The Würzburg-based company has already been supporting the young athlete for several years – now especially in preparation for the Olympic Games in Tokyo 2021.
Leonie Beck is internationally regarded as an exceptional talent in swimming as she has already qualified for Tokyo. She was the first German woman in almost 10 years to win this year's overall World Cup in open water swimming. The Olympic Games were officially postponed in March due to the Corona Pandemic. From the very beginning, it was clear to the top athlete that she would represent Germany in open water swimming in 2021 as well. However, this is associated with increased efforts as long-distance athletes in particular have to train intensively in order to maintain their top performance. Increased safety regulations during training made this task even more difficult.
In Germany, there is comparatively little state support for top athletes. Therefore, they are often forced to pursue a "normal" profession in parallel. In order to receive better support for her master's degree in media communication at the Julius-Maximilians-University of Würzburg Leonie Beck took part in the election of the sports scholarship holder of the year. As one of the five finalists, she was unfortunately unable to win on August 26 at the Deutsche Bank headquarters in Frankfurt am Main. In order to give her the best possible support on the way to the Olympic Games, va-Q-tec has now increased the monthly sponsorship to the amount of the winning sports scholarship.
 "Unfortunately, Germany does not support its top athletes enough compared to other countries. Without external support, top-class sport at this level and thus the participation of exceptional German talents in the Olympic Games is not possible! Especially in the current challenging Corona crisis, there is a need for special support for successful competitive sports, which we are happy to provide," emphasizes Dr. Joachim Kuhn, CEO and Chairman of the Board of va-Q-tec AG, and explains the commitment to the young athlete: "Leonie Beck is one of the top athletes in the Main-Franconia region and, through her sporting successes, stands for top international performance and special endurance over long distances. Our company and its high-performance products, especially in the field of temperature-controlled logistics, stand for precisely these attributes. We are therefore particularly proud to accompany the young World Cup winner on her way to Tokyo."