va-Q-tec AG, pioneer of highly efficient products and solutions in the area of thermal insulation (so-called super thermal insulation) and temperature-controlled supply chains (so-called "TempChain" logistics), recorded the strongest quarter in the company's history in Q1 2021. The EUR 20 million revenue level in one quarter was clearly surpassed. With revenue growth of 27% to EUR 22.4 million (previous year: EUR 17.6 million), the previous quarters' growth momentum accelerated further. Monthly revenue in excess of EUR 8 million was also achieved. This revenue growth was driven by all three divisions, with especially the Products division and the Systems division (sale of thermal packaging) recording dynamic increases.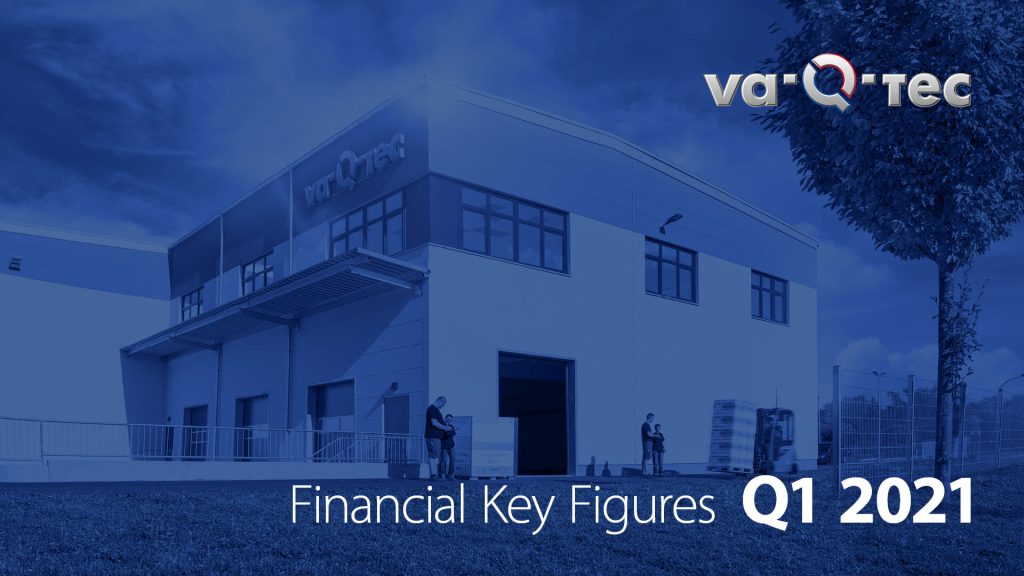 The Group's profitability also reflected a significant year-on-year improvement. Compared to the same quarter of the previous year, the 63% increase in earnings before interest, tax, depreciation and amortization (EBITDA) outstripped the rate of revenue growth, rising from EUR 2.8 million to EUR 4.6 million, by far the highest level that va-Q-tec has ever achieved. As a consequence, the EBITDA margin jumped from 16% to 21% in relation to revenues, or to 16% in relation to total revenues (previous year: 14%).
For the individual divisions of va-Q-tec AG, the trend was as follows overall: the Products business (sale of vacuum insulation panels) continued the performance from the second half of 2020. Thanks to rising demand for energy-efficient refrigerators and freezers in consumer markets, combined with the stay-at-home trend and the introduction of the new energy efficiency label for household appliances, revenues in this segment jumped 50% to EUR 6.3 million (previous year: EUR 4.2 million), the highest level ever achieved in this segment. In the Systems division (sale of thermal packaging), revenues were up by 42% year-on-year, from EUR 4.8 million to EUR 6.8 million, which also represents a record level. Business with the va-Q-pal SI (SI for SuperInsulation), a solution for transporting coronavirus vaccines to harder-to-reach regions of the world, performed particularly well. Likewise, a new product based on the va-Q-tray technology was developed within a very short period of time for the temperature-stable storage and transportation of filled vaccine syringes within vaccination centers. The Services business (rental of containers and boxes for the shipment of temperature-sensitive goods) also recorded a 9% increase in revenue in Q1 2021 to a reach a new quarterly record level of EUR 8.9 million (previous year: EUR 8.2 million). Here, va-Q-tec benefited above all from strong growth in the number of rentals of small thermal boxes for the "last mile", especially for vaccine distribution. Here, in particular, the company identifies further growth over the coming quarters thanks to vaccine shipments.
The positive trend continued in the second quarter. For example, the increased availability of CoVid-19 vaccines both in Germany and worldwide is currently leading to greater demand for temperature-controlled transport solutions. va-Q-tec's thermal boxes and containers are being deployed extensively along the entire value chain – from the transportation of raw materials, and all the way through to vaccination centers. With possible booster vaccinations and adjustments of the vaccine to address virus mutations, this business could stabilize in subsequent years, and accelerate growth in the long term.
However, it was not only in the area of TempChain logistics that business performed very well in Q1 2021: va-Q-tec's high-tech vacuum insulation panels offer crucial advantages, especially wherever secure and highly efficient insulation solutions are required in the tightest of spaces. Accordingly, va-Q-tec is not only valued as a reliable partner in the healthcare industry, but also in numerous other areas, such as the industrial insulation of pipelines, building insulation, and the high-tech insulation of electric vehicles. This is underscored, for example, by the strategic partnerships with Hutchinson for thermal management in the mobility sector, and with Uponor in the area of highly energy-efficient and form-flexible pipe insulation. In addition to the currently dominant TempChain business, va-Q-tec's innovative high-tech insulation solutions have put the company in an excellent position to benefit from the megatrend of climate protection through thermal energy efficiency.
Dr. Joachim Kuhn, CEO of va-Q-tec AG, comments: "The bulk of the international vaccine roll-out is still in the start-up phase at present, so it is yet to come. We are proud that our temperature-stable and energy-efficient transport solutions are in use worldwide for the distribution of Covid-19 vaccines. This confirms the leading position of our products and solutions for temperature-stable transport. It is also pleasing to note that we are also seeing growing demand for our products outside the healthcare sector. This opens up further opportunities for us in the future. We have a clear vision to develop va-Q-tec into the leading high-performance company in the area of thermal energy efficiency and high-performance thermal packaging for TempChain logistics. And we see ourselves continuing on a very good path toward that goal in our twentieth anniversary year."