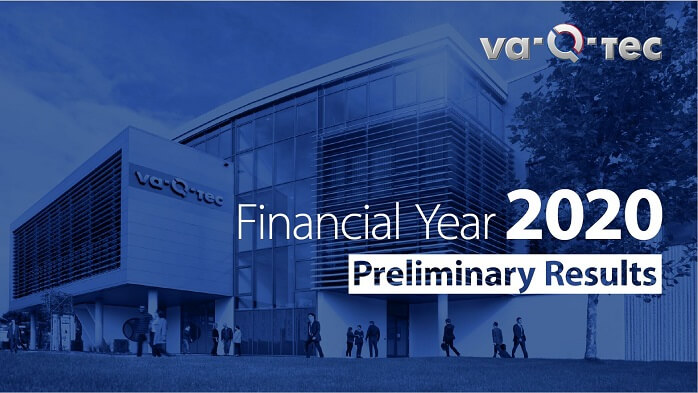 Strongest financial year in the company's history despite the pandemic
Revenue: +12% from EUR 64.7 million (2019) to EUR 72.1 million (2020)
Operating profit (EBITDA) adjusted for currency effects reports very significant growth of 27% to EUR 12.2 million (previous year: EUR 9.6 million); adjusted EBITDA margin improves to 17% of revenue (previous year: 15%)
Systems division (sale of thermal boxes) grows by +30%
Services business (rental of thermal containers and packaging) up +10% despite difficult logistics during period of coronavirus
Very positive outlook for 2021 and beyond thanks to strong TempChain business due to CoVid-19 and other application areas
Numerous and growing potentials in thermal energy efficiency
va-Q-tec AG, a pioneer of highly efficient products and solutions in the area of thermal insulation and temperature-controlled supply chains (TempChain logistics), reports on a very successful 2020 financial year on the basis of its preliminary results, during which the company continued on its long-term growth track. As a consequence, all revenue and earnings targets were met and, despite the pandemic, the strongest financial year in the company's history was achieved. With the impressive performance of its high-tech solutions for temperature-stable transport of CoVid-19 test kits and vaccines, va-Q-tec has further bolstered its strong position as a specialist for TempChain logistics and as a reliable partner for the pharmaceutical industry. Moreover, vacuum insulation technology has been further developed in additional areas in order to benefit from the global potential offered by the shift to greater energy efficiency. This makes va-Q-tec confident about the further development of the company in both 2021 and beyond.
Stefan Döhmen, CFO of va-Q-tec AG: "Even in a business environment made more difficult overall by the CoVid-19 pandemic, we again achieved double-digit growth and even increased our profitability in 2020. Consequently, we have clearly met our forecast for 2020. By transporting test kits we partly offset revenue reductions, such as in the product area and in the transportation of clinical studies. At the same time, this has placed us in a promising position for the planned large-volume shipment of CoVid-19 vaccines. Significant revenues from vaccine shipments are budgeted for this year. For this reason, we see a very positive future for va-Q-tec, and expect much stronger growth momentum in 2021."
Revenue in the 2020 financial year was up by 12% to EUR 72.1 million (previous year: EUR 64.7 million). Total income amounted to EUR 84.1 million, reflecting 16% growth (previous year: EUR 72.8 million).
In the Systems area (sale of thermal boxes), revenues were up by 30% year-on-year, from EUR 15.1 million to EUR 19.5 million. Large orders from a healthcare sector customer in Scandinavia for several thousand thermoboxes based on va-Q-med® technology were especially important for va-Q-tec in 2020. The boxes were additionally adapted to meet the customer's requirements for the special application, in order to be able to utilize them without any problems in severe winter conditions in Scandinavian. The Services business generated EUR 32.7 million in revenues in the reporting period, an increase of 10% over the previous year (EUR 29.8 million). While the rental of thermoboxes for clinical studies decreased in the 2020 financial year due to CoVid-19, the division nonetheless benefited from a large number of international shipments of CoVid-19 diagnostic kits and initial vaccine shipments, whose importance for va-Q-tec will increase significantly in 2021. Revenue in the Products business remained stable year-on-year at EUR 18.3 million (previous year: EUR 18.4 million), despite tangible effects from the CoVid-19 pandemic in this area. This was due, in particular, to pandemic-related closures of customers' production plants in the refrigeration segment in the first half of 2020, although these were partly offset in the second half of the year.
The rate of growth in earnings before interest, tax, depreciation and amortization (operating profit, EBITDA), adjusted for higher foreign currency expenses, outstripped the rate of revenue growth. Adjusted EBITDA would have risen by EUR 2.6 million year-on-year, from EUR 9.6 million in the previous year to EUR 12.2 million (+27%). This would correspond to an adjusted EBITDA margin of 15% in relation to total income, compared with 13% in the prior-year period. In terms of revenues, it would represent an improvement from 15% in 2019 to 17% in 2020. The "Power 20+" efficiency program also proved effective and is to be continued in 2021 as a consequence. Unadjusted EBITDA rose by 18% to EUR 11.4 million (previous year: EUR 9.7 million). The EBITDA margin, measured as a percentage of total revenue, increased to 14% in the period under review (previous year: 13%) and also grew as a percentage of revenue to 16% from 15% in the previous year.
Business with Healthcare & Logistics customers contributed 74% of the Group's revenue in 2020 (2019: 69%), including not least thanks to shipments of some CoVid-19 test kits and vaccines. In other industries, too, va-Q-tec is appreciated as a reliable partner, as its high-tech vacuum insulation panels offer crucial benefits and advantages especially wherever secure and highly efficient insulation solutions are required in very confined spaces. Target sectors include food (e.g. insulation of refrigerators), technology and industry (e.g. insulation of pipelines), construction (insulation of buildings) and mobility (e.g. insulation of means of transport). In 2020, the investment in the company ING3D was of particular long-term strategic importance for va-Q-tec in the application-oriented research area. With the world's first purely ceramic/mineral 3D printing technology which ING3D has developed, it is possible to manufacture non-combustible and freely shapable lightweight materials. The ceramic raw material that is used can be processed into ecologically compatible and at the same time cost-effective molded parts. The end products can be deployed multifunctionally, thereby offering advantages in terms of acoustic and thermal insulation as well as fire protection, especially in small spaces. These properties and the combination with va-Q-tec's VIP insulation technology consequently also enable completely new approaches in the construction and automotive industries as well as in industrial applications.
Dr. Joachim Kuhn, CEO and founder of va-Q-tec AG, comments: "We are proud to have continued on our profitable growth track in 2020, despite all the pandemic-related adversities. We have more than tripled our revenue since 2015. TempChain logistics, in particular, proved to be a growth driver. With our solutions for secure and energy-efficient temperature-controlled transport, we are making an active contribution to the fight against CoVid-19. In 2020, we already impressively demonstrated our expertise, and for this reason we will also play a major role in the upcoming global distribution of coronavirus vaccines in the case of most vaccines. Consequently, we see ourselves continuing to command a very strong position in the coming year. With our innovative high-tech solutions, however, we also regard ourselves as excellently positioned long-term to benefit from the megatrends of climate protection and thermal energy efficiency. We have a clear vision to develop va-Q-tec into the leading high-performance company in the thermal energy efficiency and thermal packaging area."
For the 2021 financial year, depending on when and to what extent production levels for CoVid-19 vaccines are ramped up and how comprehensive global rollout unfolds, va-Q-tec expects significant revenue growth to between EUR 90 million and EUR 100 million with a further increase in the EBITDA margin. The first months of the current financial year underscore the positive outlook. va-Q-tec will publish its final audited results for 2020 with its annual report on 29 March 2021.