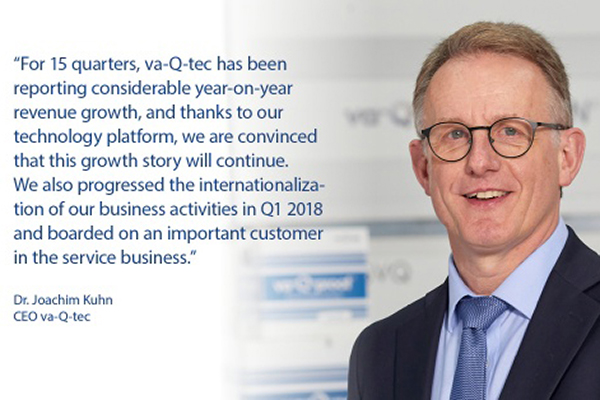 Revenue growth mainly reflects continued strong demand in the Products business
New head office with production location and fulfilment centre for small boxes opened in the USA
Successful start to temp-chain service for leading semiconductor industry supplier
Q1 2018 revenue: EUR 12.0 million compared with EUR 11.4 million in Q1 2017 (+6%)
EBITDA Q1 2018: EUR 0.7 million compared with very strong EBITDA of EUR 2.4 million in Q1 2017
Würzburg, 9 May 2018. va-Q-tec AG (ISIN DE0006636681 / WKN 663668), a technologically leading provider of highly efficient products and solutions in the area of thermal insulation and cold chain logistics, has today published its quarterly statement on business trends during the first three months of 2018 and announces revenue growth and very good progress in the internationalisation of its operating activities.
Accordingly, the va-Q-tec Group grew its revenue by 6% in Q1 2018, from EUR 11.4 million in Q1 2017 to EUR 12.0 million. Total income was up by 10% from EUR 13.3 million in the prior-year period to EUR 14.7 million in Q1 2018. Earnings before interest, tax, depreciation and amortisation (EBITDA) decreased from EUR 2.4 million to EUR 0.7 million. The EBITDA margin amounts to 4%, compared to 18% in Q1 2017.
In the first quarter of the current 2018 financial year, year-on-year revenue growth continued initially at a weaker level, as expected. Here, the growth was generated mainly from the continued strong Products business (sale of vacuum insulation panels), while the previous year's quarter was significantly positively affected by a large-scale order in the Systems business, as well as a very strong Services business. Revenue in the Products business amounted to EUR 4.9 million during the first three months of 2018, up 26% compared with Q1 2017, when the company generated EUR 3.9 million of revenue. The Products business remains driven by a continued high level of demand for innovative insulation solutions, such as for refrigerators and boilers. The Group generated sales revenues of EUR 3.7 million with Services ("Serviced Rental" of thermal packaging), compared with EUR 4.2 million in the strong prior-year period. Here, the absolute number of rentals remained stable compared with the previous year's quarter. In some cases, the rental duration of va-Q-tainers – which are becoming increasingly familiar worldwide – shortened due to faster customs processing and improved handling, for example. Furthermore, some processes to acquire tradelanes in the rental network for va-Q-tainers in the first quarter of 2018 proved more time-consuming on the customer side than originally expected. This concerns projects with both new and existing customers. Revenue generated with rental boxes, and especially the number of transactions, registered significant growth. In the Systems area (sale of thermal packaging), revenue reported a slight increase of EUR 0.1 million (+4%) to EUR 3.2 million, compared with the previous year's very strong quarter at EUR 3.1 million. Whereas this revenue in the previous year's first quarter derived from one-off projects, in the current year's first quarter it reflects regular business.
In the temperature-controlled air freight transportation area, va-Q-tec launched a project in the first quarter with a leading supplier of systems for the semiconductor industry. This enabled a reference customer exerting a major impact on the entire industry to be acquired.
A new branch operation was opened in the USA in January. Especially the production of small thermal boxes and the sale of such boxes are to occur from the new fulfilment centre in Langhorne, Pennsylvania in the future. With its proximity to renowned biotechnology, healthcare and pharmaceutical centres, this represents an important milestone for the expansion of the business in North America and for the Group's internationalisation in general. Business origination activities in the USA have made a very positive start. The conversion of the new headquarters in Würzburg and the aggregation of production locations is advancing well.
Dr. Joachim Kuhn, founder and Management Board Chairman (CEO) of va-Q-tec, comments on Q1 2018 trends: "The course of business during the first three months of 2018 represents a continuation of what we already observed in the second half of 2017: a combination of extraordinarily strong demand in the Products business and a still-restrained start to the year in the Services business, accompanied by large-scale investments in personnel and processes for our further expected growth, led to higher revenue but an initially reducing earnings trend compared with the strong previous year's quarter. During 2017 and into 2018, we have significantly strengthened our operational structures, including our management capacities. At the same time, we also see that we have brought many things to momentum in the Services area, which have not yet been reflected in revenue growth. For example, we started to supply our new major customer in the semiconductor industry and also achieved important milestones in several further projects, including additional projects with pharmaceutical manufacturers. These will contribute to growing revenue and earnings contributions from the Services business during the further course of the year and beyond. We also further progressed the internationalisation of our business activities. For 15 quarters, va-Q-tec has been reporting considerable year-on-year revenue growth, and thanks to our technology platform, we are convinced that this growth story will continue. Overall, we thereby see ourselves as within the range of our expectations for the full year."