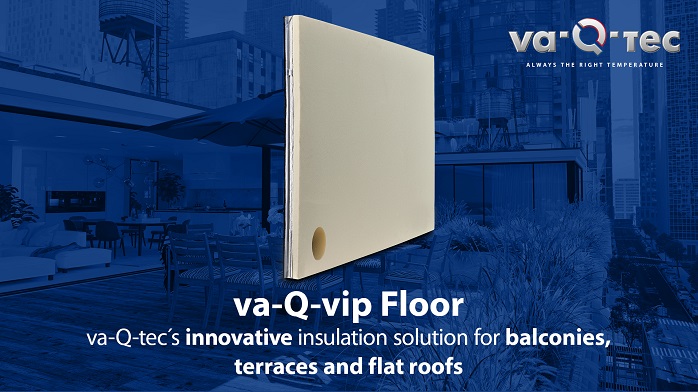 Vacuum insulation panels (VIPs) demonstrate their space-saving, highly insulating advantages in the insulation of outside areas.
The va-Q-vip Floor installation system prevents unnecessary tripping hazards in the transition from inside to outside.
The processed foil folding technology va-Q-seam prevents thermal bridges.
Whether used for seating, relaxation or as a playground for children: terraces or balconies are multipurpose outdoor areas. When conventional materials are used for their insulation, there is often an unnecessary step in the transition from the indoor to the outdoor area. The new va-Q-vip floor insulation system from/by va-Q-tec shows its advantages precisely for this challenge. Its installation prevents dangerous tripping hazards for children, senior citizens and people with walking difficulties.
va-Q-tec developed the high-tech insulation system va-Q-vip Floor specially for these areas of application. The core elements of the va-Q-vip Floor system are highly efficient vacuum insulation panels (VIPs), which insulate up to ten times better than conventional insulation materials. Thus, already 35mm thick VIPs insulated rooms located underneath external surfaces accord to the building regulation EnEV 2014/4b. By using highly efficient VIPs, heat or cold loss and thus energy loss can be efficiently reduced. The VIP core material is a microporous insulation material based on pyrogenic silica and is 100% recyclable.
The va-Q-vip Floor insulation system is available in 40 mm, 50 mm or 60 mm thickness. The panels are equipped with a high pressure resistant 17 mm PIR insulation board on the top side and a 3 mm rubber granulate mat on the bottom. This layered construction enables optimum protection of the vacuum core on the construction site and guarantees a particularly long service life of up to 60 years.
Thanks to the special film folding technique va-Q-seam the VIPs have smooth corners and edges. Therefore, the individual elements can be put together almost seamlessly. This reduces thermal bridges to a minimum. Rectangular panels in seven available formats are produced as standard. Special shapes (trapezoid, triangle, corner section) are available on request. VIPs cannot be cut due to the vacuum. The connection insulation in the edge area is therefore carried out by the flexible, cut-to-size, high-pressure resistant PIR insulation panel of the system. PU adhesive foam is available for fixing the system to the substrate. Furthermore, special aluminum adhesive tape is available for installation, which additionally fixes the insulation boards and prevents the penetration of impurities into the joint area.
To use va-Q-vip Floor as efficiently and inexpensively as possible, va-Q-tec uses the special installation software va-Q-plan. After placing the order, it creates an individual installation plan with va-Q-vip Floor panels for the area to be insulated. Position numbers are assigned to the panels in the installation plan, so that installation can be carried out quickly and easily according to the installation plan.
To ensure flexible and fast delivery, va-Q-tec has a modern and efficient warehouse for the different system components. This enables fast and simple order processing.
Find more information on va-Q-vip Floor at https://va-q-tec.com/en/produkte/va-q-vip-floor/.