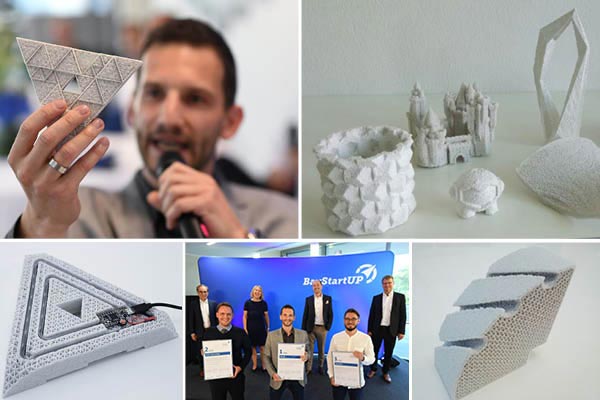 va-Q-tec and a co-investor from Hamburg make a seven-digit investment in the 3D printing start-up ING3D from Fürth.
ING3D's innovative, internationally patent-pending 3D printing process is creating a new class of materials in the field of high-performance insulation materials.
va-Q-tec's investment enables the serial production of purely mineral-based novel 3D-printed insulation and filter materials.
The joint development of high-temperature insulation materials contributes to an increased energy efficiency especially in industrial applications.
va-Q-tec, a pioneer of highly efficient products and solutions in the field of thermal insulation and temperature-controlled logistics, has invested in the high-tech start-up ING3D GmbH. ING3D developed a novel technology to produce purely mineral lightweight materials, including 3D-printed insulation materials. The cooperation promises to be a success storyy combining the innovative manufacturing processes and products of both companies, the first 3D-printed ceramic insulation material will create a new generation of high-performance insulation.
One core component of va-Q-tec's product portfolio are the so-called vacuum insulation panels (VIPs), which insulate up to ten times better than conventional materials. Due to their optimal insulation properties they are mostly used where excellent insulation is required despite limited space.
ING3D's technology complements this product range perfectly. With its innovative 3D printing technology, it is possible to produce extremely lightweight, non-flammable materials of any shape. The Fürth-based company thus won this year's Northern Bavaria Business Plan Competition, beating out 150 other applicants. The "Mineral Direct Laser Sintering" (MDLS) process, for which ING3D has filed an international patent application, opens up completely new possibilities in material production: Ceramic raw material can be processed into ecologically compatible and cost-effective molded parts. This is done without the previously necessary plastic content in the starting material. The results are lightweight objects that are unmixed and ecologically safe. The previous issue of plastic content, which also led to uncontrolled shrinkage of the materials, is no longer present. This 3D printing technology makes it possible to produce complex geometries with virtually no shape restrictions. The end products can be used primarily for multifunctional applications, offering various advantages in terms of acoustic, thermal insulation and fire protection, especially where space is limited. These properties enable new approaches in the construction and automotive industry, which complement each other with va-Q-tec's insulation technology.
In addition to the joint development of high-temperature insulation materials, the financial support will be used to raise production capacity to an industrial scale: A larger and faster pilot plant will be added to the existing prototype 3D printing system.
Dr. Joachim Kuhn, CEO and founder of va-Q-tec, further explains: "The aim of our cooperation with ING3D is to develop a novel 3D-printed insulation material, which even enables complex geometries, for example for high temperature applications. In this way, we are further enhancing the topic of "energy efficiency" in our product portfolio: In this business area, we have the claim to provide even more energy efficiency and thus sustainability, for example in the construction and automotive industries, with the help of our VIPs. We are very much looking forward to working together and are very excited about the new opportunities that will open up!" David Manjura, owner and founder of ING3D, adds: "With va-Q-tec we have the technology leader in the field of high-performance insulation materials on board as an important shareholder. The common, medium-term goal is to further expand the technological innovation lead in the coming years with unique 3D-printed products".