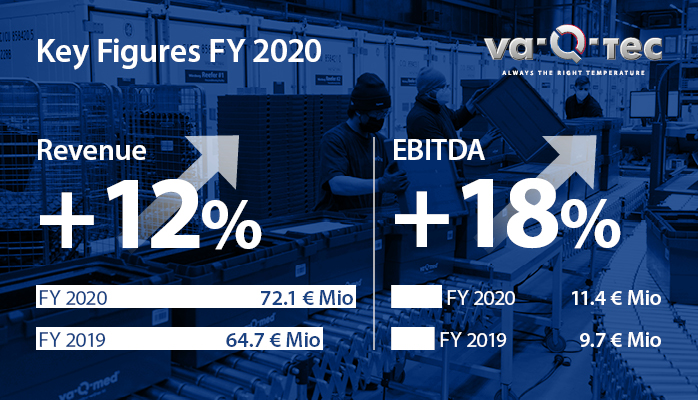 FY 2020 the most successful year in the company's history, despite the pandemic
Positive preliminary figures for FY 2020 confirmed: Revenues +12% to EUR 72.1 million with adjusted EBITDA margin improving compared with 2019 to 17% of revenues (previous year: 15%)
Growth driven by Systems (+30%) and Services (+10%) divisions
Management Board expects to benefit strongly from growth in the TempChain business and the climate protection megatrend
2021 guidance: Particularly strong revenue growth to EUR 90 million to EUR 100 million with a further increase in the EBITDA margin
On 29th March 2021, va-Q-tec, pioneer in highly efficient products and solutions in the area of thermal insulation and temperature-controlled supply chains (TempChain logistics), publishes its 2020 annual report. On the basis of final, audited figures, the company confirms its preliminary results and looks back on the most successful business year in its nineteen-year history. Its forecast revenue and earnings targets were achieved despite the pandemic and the long-term growth trajectory continued unchanged. At the same time, va-Q-tec further expanded its strong positioning as the specialist for TempChain logistics worldwide, such as for temperature-stable shipments of CoVid-19 test kits and vaccines. Moreover, vacuum insulation technology has been further developed in additional areas in order to benefit from the global potential offered by the shift to greater energy efficiency. This makes va-Q-tec confident about the further development and growth of the company both in 2021 and beyond. For example, the shipment of test kits partially offset revenues foregone in the Products segment due to coronavirus, as well as in the shipment of clinical studies. Overall, the company has placed itself in a very promising position for the planned high-volume shipment of CoVid-19 vaccines. Significant revenues from vaccine shipments are budgeted for 2021.
In the 2020 financial year, revenues were up by 12% to EUR 72.1 million (previous year: EUR 64.7 million). Total income amounted to EUR 84.1 million, reflecting 16% growth (previous year: EUR 72.8 million). The Systems division (sales of thermal boxes) performed very well, with a 30% increase in revenues to EUR 19.5 million (previous year: EUR 15.1 million). The Services business generated EUR 32.7 million of revenues in the reporting period, an increase of 10% over the previous year (EUR 29.8 million). Revenues in the Products business remained stable year-on-year at EUR 18.3 million (previous year: EUR 18.4 million), despite tangible effects from the CoVid-19 pandemic in this area. The rate of growth in earnings before interest, tax, depreciation and amortization (operating profit, EBITDA), adjusted for higher foreign currency expenses, outstripped the rate of revenue growth. Adjusted EBITDA would have risen by EUR 2.6 million year-on-year, from EUR 9.6 million in the previous year to EUR 12.2 million (+27%). In terms of revenues, this represents an improvement from 15% in 2019 to 17% in 2020. The "Power 20+" efficiency program also proved effective and is therefore to be continued in 2021. Unadjusted EBITDA rose by 18% to EUR 11.4 million (previous year: EUR 9.7 million). The unadjusted EBITDA margin, as a percentage of revenue, rose to 16% from 15% in the previous year.
va-Q-tec's high-tech vacuum insulation panels offer crucial advantages, especially wherever secure and highly efficient insulation solutions are required in the tightest of spaces. Accordingly, the Würzburg-based company is now valued as a reliable partner not only in the healthcare and logistics area, but also in numerous other sectors such as the food industry (e.g. insulation of refrigerators), in the technics and industry area (e.g. insulation of pipelines), in the construction industry (building insulation) as well as in the mobility area (e.g. high-tech insulation in the mobility sector). This is underscored, for example, by the recently announced strategic partnerships with Hutchinson for thermal management in the mobility sector, and with Uponor in the area of highly energy-efficient and form-flexible pipe insulation.
Given va-Q-tec's strong positioning as a specialist in TempChain logistics as well as fundamental trends such as environmental protection and thermal energy efficiency, Dr. Joachim Kuhn, CEO and founder of va-Q-tec AG, believes that the company is excellently positioned for the future: "In 2020, we continued our profitable growth trajectory despite all the pandemic-related adversities. With our solutions for secure and energy-efficient temperature-controlled transports, we will make an important contribution to combating the pandemic, both globally and regionally, during the upcoming distribution of coronavirus vaccines. In addition to the currently dominating TempChain business, we see va-Q-tec with its innovative high-tech solutions as commanding an excellent long-term position to benefit from the megatrend of climate protection through thermal energy efficiency. We have a clear vision to develop va-Q-tec into the leading high-performance company in the area of thermal energy efficiency and high-performance thermal packaging for TempChain logistics."
For the 2021 financial year, va-Q-tec expects particularly strong revenue growth to a level of between EUR 90 million and EUR 100 million, depending on when and to what extent production levels for CoVid-19 vaccines are ramped up and how widespread global distribution is realized, accompanied by a further increase in the EBITDA margin. The first months of the current financial year support the confident outlook.
 The complete 2020 annual report is available from today on the website at ir.va-q-tec.com.
2020 financials compared with the previous year
| | | | | |
| --- | --- | --- | --- | --- |
| kEUR unless stated otherwise | 2020 | 2019 | Delta |   |
| Revenue | 72,106 | 64,667 | 12% |   |
| EBITDA (currency-adjusted) | 12,220 | 9,598 | 27% |   |
| EBITDA margin (currency-adjusted) | 17% | 15% | +2 pp |   |
| Equity ratio | 35% | 40% | -5 pp |   |
| Year-average number of employees | 519 | 464 | +55 |   |