va-Q-tec's products are not only used for the international and national temperature-controlled distribution of the vital CoVid-19 vaccines, but now also on-site in vaccination centers. There, the valuable vaccines must be stored at refrigerator temperature (2°C to 8°C) before they are vaccinated. To meet this requirement as well, the development team of va-Q-tec has developed a special inlay for the thermal transport solution va-Q-tray within two weeks. This box offers the best conditions for this application due to its optimal temperature holding properties and its intelligent design.
What was needed was a stackable, secure solution for the temperature-stable storage of vaccines that was nevertheless easy to transport. Even untrained personnel should be able to transport the valuable vaccines to the injection stations within the vaccination center at an optimal temperature and safely due to uncomplicated handling. The feeder was optimized for the mounted injections, ensuring smooth operations during this massive vaccination campaign.
The va-Q-tray was originally developed for temperature-controlled logistics in the temperature-sensitive food sector. However, the underlying keytechnology has been used in the pharmaceutical sector for many years: By insulating with the help of vacuum insulation panels (VIPs), the interior of the box is optimally protected from outside temperatures. Special temperature storage elements, so-called phase change materials (PCMs), ensure the optimum temperature inside, enabling the required temperature ranges to be maintained for several hours without any problems.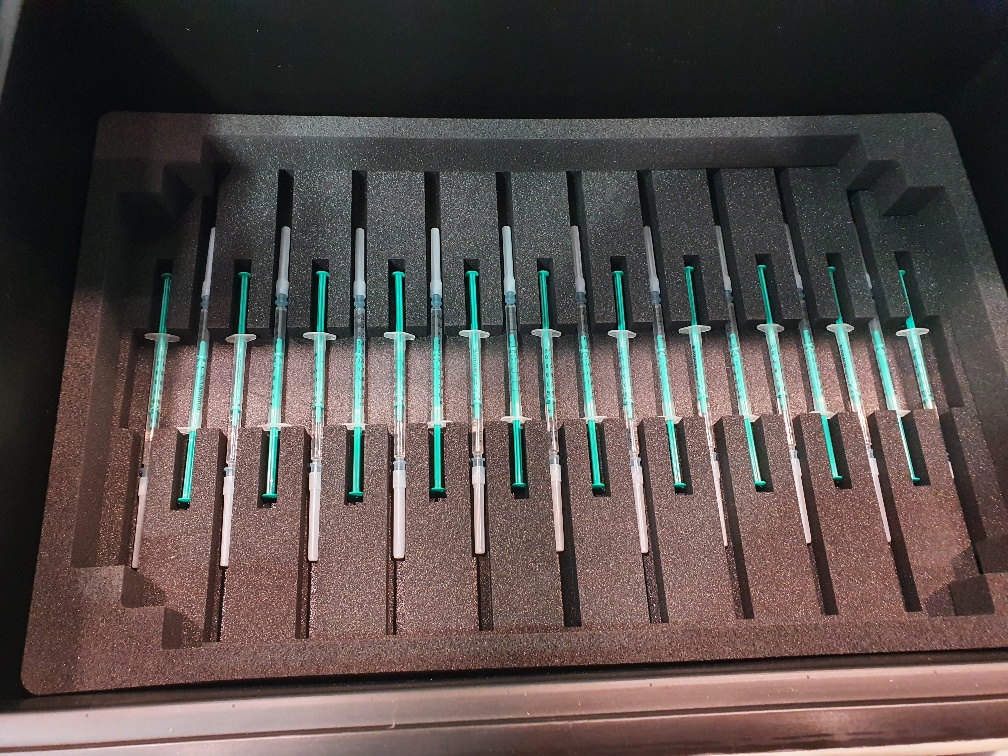 The Thermobox is made of easy-to-clean plastic and is stackable thanks to its intelligent product design. Optimized carrying recesses ensure safety during handling. Due to these many advantages, the specially developed system is gaining acceptance: Its use is also planned in other vaccination centers in Germany.