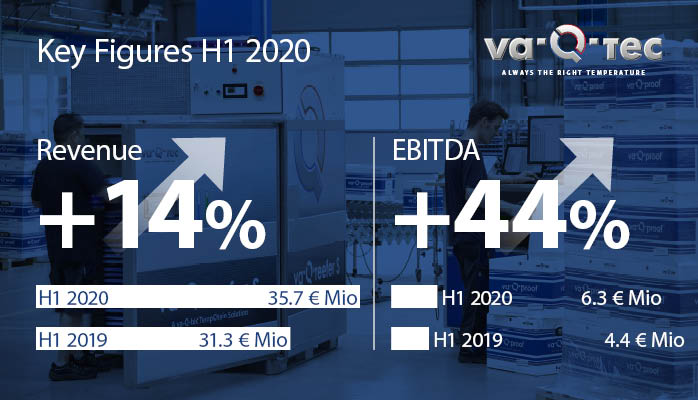 Revenue growth of +14% in H1 2020 to EUR 35.7 million
Systems division (sale of thermal packaging systems) makes particularly strong contribution to revenue growth at +77%
Healthcare sector's revenue share markedly higher at 77% in H1 2020 (H1 2019: 63%)
EBITDA outstrips top-line growth and jumps 44% to EUR 6.3 million
EBITDA margin improves further to 18% of revenue and 15% of total income (previous year: 14% and 13%)
Positive EBIT at EUR 0.2 million in H1 (previous year: EUR -1.6 million)
Specification of FY 2020 forecast: Revenue growth of 10-15% with slightly improved EBITDA margin
va-Q-tec AG (ISIN DE0006636681 / WKN 663668), pioneer of highly efficient products and solutions in the area of thermal insulation (super thermal insulation) and temperature-controlled supply chains (TempChain logistics), today publishes its results for the first half of 2020, which show that robust growth continued during the CoVid-19 pandemic. Especially the Systems and Service divisions reported growth, leading to significantly higher overall profitability for the Group.
Revenue in the first half of 2020 reported a marked increase of 14% to EUR 35.7 million (previous year: EUR 31.3 million). The share attributable to the healthcare sector jumped to 77% (previous year: 63%). While the product business decreased due to customers' production interruptions in the wake of CoVid-19, the Systems and Service divisions benefited from significantly higher demand from the healthcare sector. For example, several million coronavirus test kits have been delivered worldwide in va-Q-tec containers.
In the Systems business (sale of thermal packaging), revenue recorded strong growth of 77% year-on-year to EUR 10.5 million (previous year: EUR 5.9 million). Large orders from Scandinavia for several thousand thermoboxes proved to be especially important for va-Q-tec in the first half of 2020. Even under the most adverse outdoor conditions, these boxes reliably ensure constant temperatures when delivering temperature-sensitive medicines "on the last mile" from the wholesaler to the pharmacy.
The Services business also reported very dynamic performance. By renting out containers and boxes for the transport of temperature-sensitive goods, va-Q-tec grew its revenues by 21% to EUR 16.8 million (previous year: EUR 13.9 million). va-Q-tec benefited here from both a significant broadening of its customer base and a large number of international transports of diagnostic kits. For example, more than every second coronavirus test kit shipped worldwide by airfreight was transported in a va-Q-tec container that is temperature-stable for up to 10 days.
By contrast, the Products business (sales of vacuum insulation panels) recorded a 28% decrease in revenue to EUR 7.8 million (previous year: EUR 10.8 million), mainly as a consequence of the CoVid-19 pandemic and associated interruptions in customer operations during the first half of the year. However, va-Q-tec expects at least slight catch-up effects over the rest of the financial year and is continuing to work on strategically important projects, including those for the manufacturing industry and aviation.
Compared to the same period of the previous year, the 44% growth in earnings before interest, tax, depreciation and amortization (EBITDA) significantly outstripped the rate of revenue growth, rising from EUR 4.4 million to EUR 6.3 million. The EBITDA margin thereby increased year-on-year from 13% to 15% in terms of total income, and from 14% to 18% in terms of revenues.
Earnings before interest and taxes (EBIT) consequently posted a very significantly improvement of EUR 1.8 million, from EUR -1.6 million to EUR +0.2 million, and are thereby now in positive territory.
Dr. Joachim Kuhn, CEO of va-Q-tec AG, comments on the positive trend: "The results for the first half of the year show that our long-term strategic considerations are bearing fruit. Particularly in these difficult times, and especially in the pharmaceutical and biotech industries, the importance of stable, temperature-controlled logistics chains is becoming apparent – which is where our transport solutions are making an important contribution. And we also see ourselves as very well positioned for the future. The long-term trend towards sustainability and energy efficiency does not end with CoVid-19 – on the contrary. Countries worldwide are integrating the promotion of sustainable economic activity into their coronavirus economic stimulus programs. With our products and solutions for greater energy efficiency, we can especially benefit from this trend."
In light of the unbroken positive outlook, especially in the TempChain logistics area, va-Q-tec AG expects to maintain the growth momentum it has reported to date over the remainder of the financial year. Given this, the Management Board is specifying its forecast for 2020 financial year revenue growth in a range of 10-15% and an EBITDA margin slightly above the previous year's level. This forecast is subject to the prevention of a significant renewed outbreak of the CoVid-19 pandemic in the context of a (global) "second wave". On the other hand, va-Q-tec AG also has the opportunity to participate in potential CoVid-19 vaccine transports with its boxes and containers if one or more vaccines are approved in the current fiscal year.