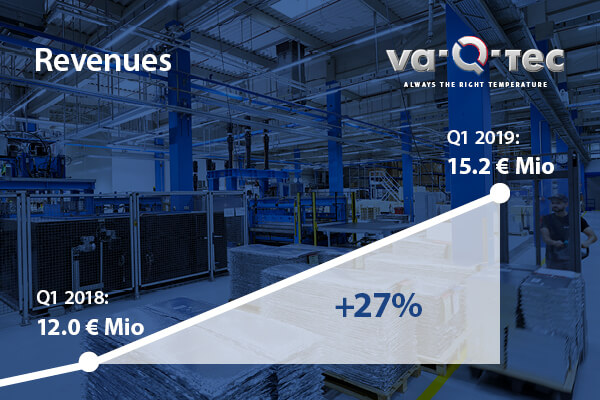 Very strong total revenue growth of 27% to EUR 15.2 million in Q1 2019 compared to EUR 12.0 million in Q1 2018
Particularly significant revenue growth in high-margin Services division of 76% to EUR 6.5 million compared to EUR 3.7 million in Q1 2018
EBITDA more than triples to EUR 2.2 million from EUR 0.7 million in the previous year; EBITDA margin increases to 13%
Strategic progress to strengthen internationalization and technology leadership achieved, e.g. with new project to lease small thermal transport boxes in the USA
Würzburg, 10 May 2019. va-Q-tec AG (ISIN DE0006636681 / WKN 663668), pioneer in highly efficient products and solutions in the area of thermal insulation and TempChain logistics, today publishes its results for Q1 2019. According to this the company remains on its growth track. Especially in the high-margin Services business, the uptrend reported since H2 2018 continued on a strong and stable basis at the start of 2019. Together with the efficiency gains achieved under the "Power 20+" program initiated in 2018, this led to significant growth in earnings before interest, tax, depreciation and amortization (EBITDA) to reach a level equivalent to 13% of total income.
Revenue in Q1 2019 reported a marked increase of 27% to EUR 15.2 million (previous year EUR 12.0 million). The usually strong Products business further accelerated its growth to 18% year-on-year, contributing EUR 5.8 million to total revenue. In the Systems business, which is often influenced by large project orders in individual quarters, revenue decreased by 22% to EUR 2.5 million (previous year EUR 3.2 million). The Services business was particularly pleasing, where the upswing of the previous quarters continued in Q1 2019 thanks to ongoing diversification of the customer structure. In terms of revenue, this is reflected in an increase of 76% over the previous year. As a consequence, EBITDA growth in this segment rose from EUR 3.7 million in the previous year to EUR 6.5 million. Here, some revenues also materialized that were already planned in 2018.
Group EBITDA also performed very positively. The first successes from the "Power 20+" program were achieved at the start of the year, with cost efficiency being improved in areas such as purchasing, network management and production. In addition to accelerated growth in the high-margin Services business, this contributed to the considerable earnings improvement in Q1 2019. EBITDA tripled year-on-year to EUR 2.2 million (previous year: EUR 0.7 million). This led to an increase in the EBITDA margin as measured against total revenue from 4% in the previous year to 13% in Q1 2019.
Dr. Joachim Kuhn, CEO der va-Q-tec, expresses his satisfaction with the company's start to 2019: "We see that our markets are fully intact, demand for our products and services is growing steadily, and our business model is working. Over the past two years, we have invested around EUR 70 million in our business expansion and internationalization. This phase is now behind us and we have laid the foundations for our next growth steps. Now we are looking to the future and aim to leverage the potential the markets are offering us. The positive developments in the first quarter of 2019 underscore that we are on the right track." 
In line with its growth strategy, va-Q-tec will continue to push ahead with the internationalization of its business activities in 2019. After the company had started to lease small thermal transport boxes to a major US pharmaceutical industry customer in Q4 2018, the planned run rate was already reached in Q1 2019. In Q1 2019, va-Q-tec underlined the strategically important expansion of its technology leadership, including by jointly applying for the "Crystal Cabin Award" with Airbus Operations GmbH. The international innovation award honors outstanding concepts in the area of aircraft cabin interiors. Here, too, va-Q-tec vacuum insulation panels deliver significantly enhanced energy efficiency.