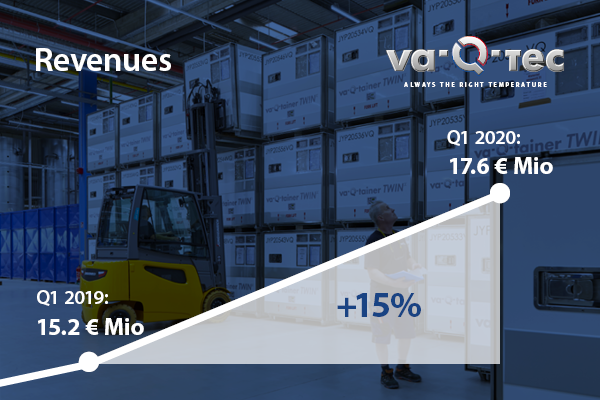 Revenue growth of 15% in Q1 2020 to EUR 17.6 million, despite slight CoVid-19 effects
Services division ("Serviced Rental" of boxes and containers) makes a further strong contribution to revenue trend with growth of +25%
EBITDA Q1 2020: EUR 2.8 million (+27%); EBITDA margin improves to 14%
Healthcare sector's Q1 2020 revenue share grew significantly to 73% (Q1 2019: 59%)
Strong demand for thermal transport solutions for shipping CoVid-19 test kits and therapeutics
Despite CoVid-19 effects in Q1 2020, company retains full-year forecast and continues to assume moderate to medium growth
Würzburg, 11th May, 2020. va-Q-tec AG (ISIN DE0006636681 / WKN 663668), a pioneer in highly efficient products and solutions in the thermal insulation (super insulation) and temperature controlled (TempChain) logistics area, today publishes its results for Q1 2020. The company remains on its growth track. In particular, dynamic growth continued in the Services division. As a consequence, the Group's overall profitability also improved further in the first quarter of 2020.
Revenues in Q1 2020 reported a marked overall increase of 15% to EUR 17.6 million (previous year: EUR 15.2 million), with the healthcare sector accounting for 73% of this total (previous year: 59%). The respective divisions' performance varied depending on the Covid-19-related effects that were clearly noticeable at the end of the quarter.
In the Systems division (sales of thermal packaging), revenue almost doubled to EUR 4.8 million, representing growth of 91% compared with the prior-year period (previous year: EUR 2.5 million). Of particular significance for va-Q-tec in Q1 2020 was a further major order from a leading Scandinavian pharmaceutical distributor and logistics company for several thousand thermal boxes based on va-Q-med® technology.
Growth in the Services division was also very gratifying. By renting out containers and boxes for the transport of temperature-sensitive goods, mainly to customers in the life science area (pharmaceuticals, biotech, blood plasma), va-Q-tec increased its revenues by 25% to EUR 8.2 million (previous year EUR 6.5 million). va-Q-tec benefited here from a significant expansion of its customer base.
The Products division (sales of vacuum insulation panels) recorded a significant decrease in revenues of 28% to EUR 4.2 million (previous year: EUR 5.8 million), particularly as a consequence of the CoVid-19 pandemic and related interruptions at customers' operations since March. For the following quarters, va-Q-tec expects catch-up effects in some parts of this business area, but does not expect a return to the previous year's level.
va-Q-tec is also currently playing a contributory role in the fight against coronavirus: with the help of va-Q-tec solutions, several million CoVid-19 test kits have already been shipped worldwide, e.g. from South Korea via Frankfurt to Brazil, and from Singapore to Mongolia and Sri Lanka. More lines will follow these days. Currently more than 50% of all internationally shipped corona test kits are transported with va-Q-tec boxes and containers. In order to treat ill persons as quickly as possible in a targeted manner, fast and reliable diagnostics and tests in large numbers are required. Many test reagents must typically be transported at temperatures below -20°C. The right temperature, time and precision are crucial. va-Q-tec solutions are particularly suitable for secure transport thanks to their unique technology, which enables the temperature to be kept constant between -15 °C and -25 °C for up to 10 days without energy supply, including under extreme conditions. The company is also involved in the worldwide transport of experimental therapeutics. One of va-Q-tec's largest customers (a US biotech company), whose thermal air freight is handled mainly in va-Q-tainers, reports encouraging results in the approvals process for an Ebola drug in the fight against CoVid-19.
Compared to the same quarter of the previous year, the 27% increase in earnings before interest, tax, depreciation and amortization (EBITDA) outstripped the rate of revenue growth, and reported a rise from EUR 2.2 million to EUR 2.8 million. The EBITDA margin thereby increased from 13% to 14% in terms of total income, and from 15% to 16% in terms of revenues.
Dr. Joachim Kuhn, CEO of va-Q-tec, expresses his satisfaction with the company's start to 2020: "We recognized the great importance of TempChain logistics – in other words, secure transport solutions for temperature-sensitive products such as medicines – years ago, and have since then consistently geared our products and services to the needs of pharmaceutical and biotech customers. Accordingly, we are growing very dynamically in our Systems and Services divisions. The current CoVid-19 pandemic once again impressively demonstrates how crucial globally and locally functioning temperature-controlled logistics chains are for fast and secure supplies. For this reason, we are proud that our temperature-stable and energy-efficient transport solutions enable us to make a significant contribution to the fight against one of the greatest challenges of our time."
Although the actual macroeconomic consequences of CoVid-19 are still uncertain, va-Q-tec sees itself as on track in 2020: despite CoVid-19 effects, the Management Board continues to expect moderate to medium-strong revenue growth with a constant EBITDA margin. This is thanks, in particular, to the high share of revenues from the healthcare sector, which is expected to be much less affected by CoVid-19 now and in the future than other sectors of the economy.
Find the press release here: https://ir.va-q-tec.com/websites/vaqtec/English/340/corporate-news.html