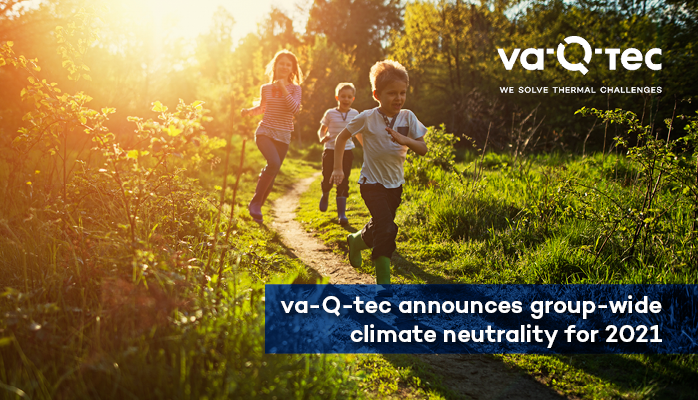 After the climate neutrality of the German production sites and the emission balancing of its products and solutions already declared in January 2021, va-Q-tec is now achieving the group-wide climate neutrality of all sites worldwide in a consistent next step.
The 1.5-degree target confirmed at the 2021 World Climate Conference in Glasgow underlines the need for va-Q-tec solutions for climate-friendly, temperature-controlled logistics and high-performance insulation materials.
With its products and services, va-Q-tec delivers important solutions and once again demonstrates its pioneering role within the two business areas Temperature Controlled Supply Chains and Thermal Energy Efficiency.
The vision of optimal use of thermal energy worldwide was the core idea when va-Q-tec was founded over 20 years ago. Since then, the key technology of vacuum insulation panels (VIPs), which is based on the highly insulating property of vacuum, has not only been used in many different areas such as refrigerators or hot water tanks. It also offers enormous potential in the safe, environmentally friendly operations of temperature-controlled supply chains. In addition to various positive effects that the company has already been able to achieve as a result with its products and solutions for its customers in terms of product safety, saving energy and sustainability, it is now taking the consistent next step and is now officially achieving climate neutrality for the entire group of companies among all sites in eight different countries.
With its products, services and solutions, the company not only offers an extremely sustainable product portfolio, but also the opportunity to save valuable thermal energy and thus emitted CO2 (CO2e) through their use. Thus, va-Q-tec is once again a pioneer in its industry and lives up to its reputation of operating profitably in a sustainable manner through innovative spirit and foresight. In view of climate change, the innovative insulation manufacturer is aware of its responsibility and feels all the more obliged to consistently make an important contribution to combating the impending climate catastrophe: as early as the summer of 2021, the company reported the comprehensive balancing of all its products in accordance with the Greenhouse Gas Protocol – a calculation standard that was recognized, among other things, at the Climate Conference (COP26) in Glasgow 2021. Nevertheless, the company is not resting on its laurels. Permanent process optimizations, short supply routes, regional value chains and investments in renowned offset projects are being driven forward. The consistent, next step is the now declared Group-wide climate neutrality.
The necessary steps to protect the climate were further sharpened at COP26: The targets set out in the final declaration to limit global warming to well below 2 °C compared to the pre-industrial levels were signed by over 150 countries. However, if we look at the figures for CO2 emissions or global primary energy demand, we see that these figures have been rising continuously since the start of the industrial revolution – even though it was decided to reduce them back in 2015: The global primary energy demand in 2019 was about 16.000 billion kWh. Due to the economic downturn caused by the Corona pandemic in 2020, this consumption initially fell by 4%, but is already forecast to rise again by 0.5% above the 2019 level in 2021. Global energy-related CO2 emissions are also rising sharply again after the decline in 2020. With an increase of almost 5% to around 400 ,illion t CO2e in 2021, they are thus approaching the peak level of 2019. These figures alone demonstrate the unconditional relevance of va-Q-tec's products.
These emissions must be reduced as quickly as possible in order to avoid global warming and thus climate catastrophe. Considering that approx. 60% of the world's primary energy consumption and the associated carbon emissions are attributable to thermal energy generation, va-Q-tec's innovative products and services play a crucial role in this context. Due to the versatile application aptions of VIPs and the boxes and containers made from them, they make a valuable, important contribution. Especially the transport industry is considered to be one of the main emitters of CO2, accounting for almost 24% of global CO2 emissions. A large part of this is temperature-controlled logistics, which is often characterized by CO2-intensive (disposable) packaging, the use of toxic dry ice and fuel-driven refrigeration units. For more than 10 years va-Q-tec has been going its own sustainable way with a worldwide operating rental fleet of passive high-performance containers and boxes: Due to the vacuum insulation in the walls of the thermal containers as well as the use of multi-usetemperature storage elements, power generators and the massive use of dry ice can mostly be dispensed with. Nevertheless, they maintain the required temperatures in ranges from -70 °C to +25 °C for up to 10 days and thus reliably meet all regulations required for the logistics of temperature-sensitive goods such as pharmaceuticals.
In the field of thermal energy efficiency, too, a wide variety of industries are already benefiting greatly from the innovative vacuum insulation materials from va-Q-tec, thus ensuring significant thermal energy savings and thus a strong reduction in global CO2 emissions: district heating pipes benefit significantly from VIP technology. Vacuum-insulated pipes avoid up to 60% of energy losses compared to conventional pipes. The same applies to hot water storage tanks: thanks to the unique thermal insulation, they save up to 50% of the energy. But the German company's insulation panels are also already in many private homes in various refrigerators: new energy labels were introduced in 2021. Vacuum insulation from va-Q-tec must be used in order to sensibly reach the top and thus most efficient classes. Thus, the modern appliances save up to 50% of the energy.
"The massive impact our VIPs have on thermal energy efficiency is shown by a simple calculation: if you compare a conventionally foam-insulated refrigerator with a VIP-insulated one, the conventional insulation causes more than 3.000 kilograms of CO2e within a lifetime of 15 years. A refrigerator that is VIP-insulated causes only about 500 kilograms of the climate-damaging gas – even though only 5.4 kilograms are produced in the production of our panel!" reports Dr. Joachim Kuhn, CEO and founder of va-Q-tec. "This example can be applied to so many other sectors and industries. The topic of thermal energy efficiency has accompanied our company since its founding 20 years ago and is a fixed part of our DNA. As a pioneer in vacuum insulation, it is our forward-looking task to make our important contribution to climate protection. Our disruptive technology has already proven that it is capable of doing so. So va-Q-tec's balanced, group-wide climate neutrality is just the beginning!"