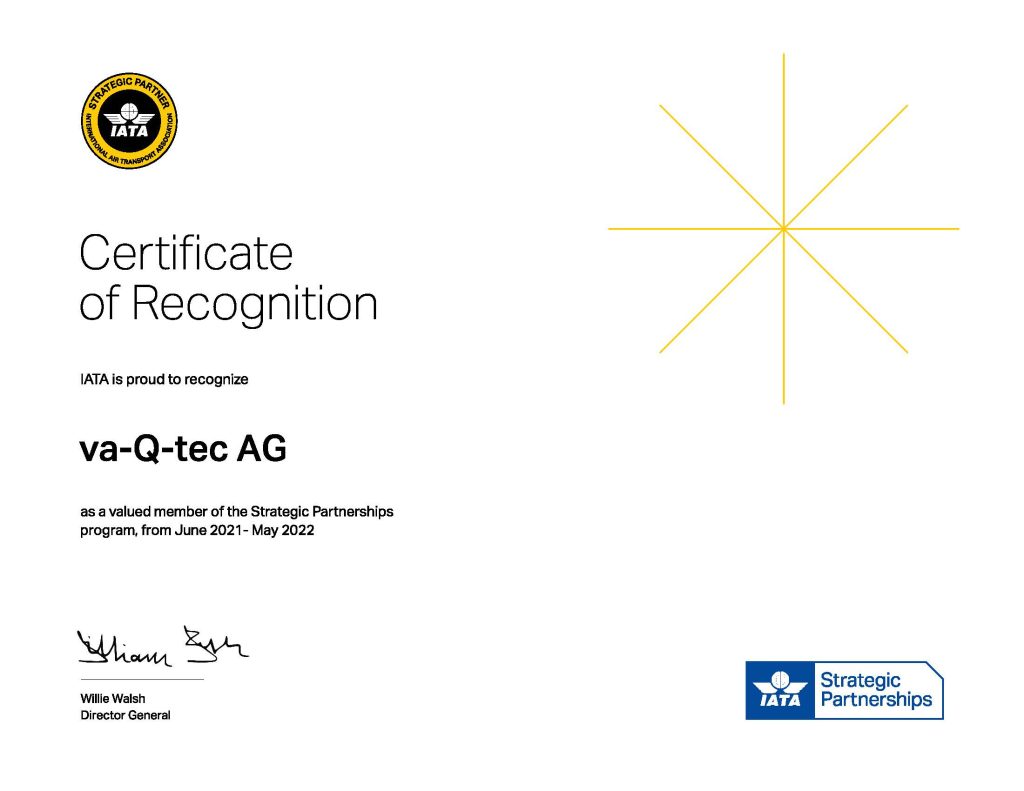 va-Q-tec and the International Air Transport Association (IATA), the international umbrella organization for airlines, will be working more closely together in the future as part of the Strategic Partnerships Program. This will give the manufacturer of innovative thermal containers the opportunity to work even more closely with various stakeholders in the industry and thus continue to actively shape the future of temperature-controlled air freight transport.
IATA has been one of the world's most prestigious institutions representing the air transport industry since 1945. It networks and promotes the cooperation of all companies involved in international air transport services and thus represents an important link between all parties involved in optimally interlocking supply chains of international air freight distribution.
va-Q-tec has been proving that its advanced key technology represents the future of temperature-controlled logistics not only since the Corona pandemic. For many years now, its thermal containers (va-Q-tainer) have been proving that no external energy supply (e.g. by battery discharge or reloading of dry ice) is required for constant temperature chains in the ranges between -70 °C and +25 °C, even over several days. The German company not only has a worldwide network of TempChain Service Centers where the va-Q-tainers are cleaned, maintained and prepared for new transports. At the same time, the partner network is continuously expanding to include various airlines, freight forwarders and other logistics companies. Today, va-Q-tec already cooperates with more than 100 airlines and freight forwarders. The merger with the umbrella company IATA is therefore the next logical step in making thermal air freight transports more energy-efficient and safer.