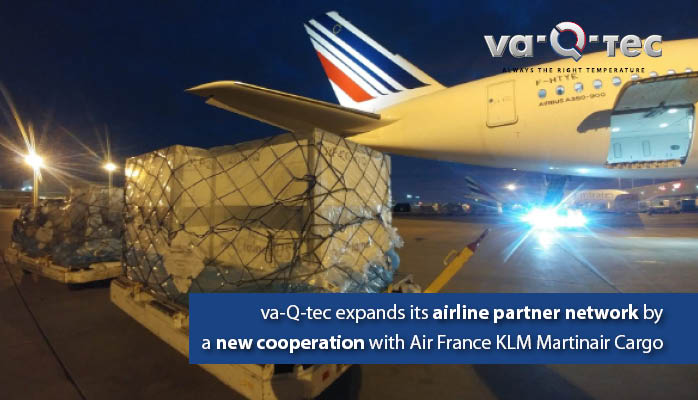 By signing the Global Rental Agreement (GRA), va-Q-tec expands its airline partner network to include one of the largest airlines in Europe.
The global distribution of the Corona vaccine will be even more safe, energy-efficient and environmentally friendly as a result of this contract.
va-Q-tec, a pioneer of highly efficient thermal containers and boxes for temperature-controlled supply chains, signed a Global Rental Agreement (GRA) with Air France KLM Martinair Cargo (AFKLMP Cargo). With this agreement, the two companies declare their long-term cooperation. The airline, which is considered one of the largest in Europe and as an expert of pharmaceutical logistics, now offers the safe, energy-efficient and uncomplicated handling of temperature-controlled transports with thermal containers from va-Q-tec in its service portfolio. Strong partnerships like these are particularly important to solve the mammoth task of global Corona vaccine distribution. Rapid availability and extensive international network of AFKLMP Cargo and va-Q-tec enable efficient and safe solutions. Since many years, with its fleet of over 2,500 passive thermal containers, the company is considered the world's largest supplier of this kind and the one with the widest temperatures ranges between room temperature and -70 °C.
The newly acquired cooperation focuses on the sustainability aspect as well. For 16 years, AFKLMP Cargo has been ranked as one of the world's air transport companies in the Dow Jones Sustainability Index. Therefore, the environmentally friendly thermo containers and boxes from va-Q-tec align perfectly with the corporate strategy of the air freight company: The common goal of both partners is to make temperature-controlled logistics (TempChain) more safe, sustainable and energy-efficient.
Designed as reusable solutions within a global rental network, va-Q-tec's thermal containers are made of more than 80% recyclable material which saves valuable resources. The energy efficiency of va-Q-tec containers and boxes is also outstanding: va-Q-tainer are about 10 times better insulated than conventional containers. Their multiple reusability also saves valuable resources and waste volumes.
But va-Q-tainers are also unique in terms of their special performance thanks to the combination of high-performance vacuum insulation and innovative temperature storage elements: they maintain the various temperature ranges between -70 °C and +20 °C for up to ten days – completely autonomous from the supply of external energy, unlike active containers with a battery and compressor. This autonomy represents a decisive advantage over these container alternatives, especially in challenging times such as the Corona crisis. At the same time, va-Q-tainer do not require additional dry ice to maintain temperatures as low as -60 °C. To keep even lower temperatures of down to -80 °C, only a comparatively small amount of dry ice is needed – but significantly less than other conventional solutions. This reduces the overall use of dry ice within pharmaceutical logistics, which additionally significantly reduces hazards and CO2 emissions.
The extensive international transports of the Corona vaccine will become more environmentally friendly and energy efficient through the use of va-Q-tec's containers. Christel van Dael, Business Development Manager for Pharmaceutical Logistics at AFKLMP Cargo, explains, "va-Q-tec's broad product portfolio is very important given the logistical challenges we face in transporting corona virus vaccines worldwide. Together, we can deliver vaccines to the world in a safe and sustainable manner."

Dr. Joachim Kuhn, CEO and founder of va-Q-tec, agrees: "Our containers save valuable energy, resources and CO2 due to their optimal temperature holding properties, their great autonomy and low weight. Through our outstanding key technology, we have proven that we are a very reliable technology provider for our clients even in the challenging time of the COVID-19 pandemic. Therefore, we are now proud to be a partner of Air France KLM Martinair Cargo Group and ready to solve any thermal logistic challenge together!"