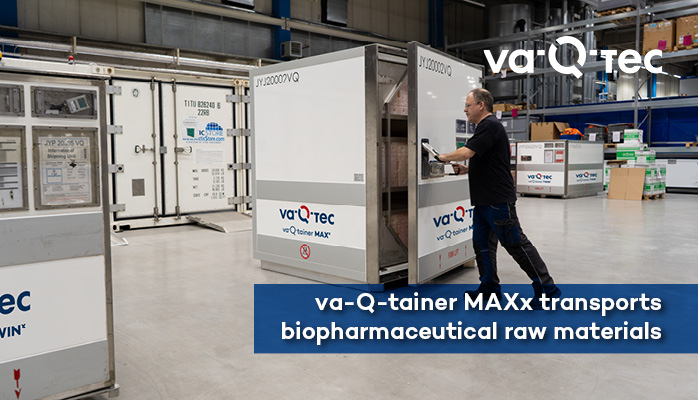 The transport container va-Q-tainer MAXx transports highly valuable raw materials
The anchoring system inside the container enables easy handling and safe transport of API tanks of all sizes.
The va-Q-tainer MAXx is qualified for stable performance of 96 hours, and more, in seven temperature ranges from -70 °C to +20 °C.
Würzburg, 14 February 2023. Biopharmaceutical raw materials, also known as Active Pharmaceutical Ingredients (APIs), are among the highly valuable substances. Often, they have to be transported halfway around the world in order to produce a finished drug. This presents a challenge, as APIs are extremely temperature sensitive. Therefore, it is vital during transport to keep a very stable temperature in the particular range that is required. The tanks in which APIs are stored in are optimized for use in the biopharmaceutical production, but not for transport in airplanes and trucks. API tanks sizes vary and they are often equipped with wheels or sensors. Typically, pharmaceutical manufacturers fix them in place individually with tension belts. Thus, on a method of transport where uncontrolled movements of containers can occur, there is a high risk of damaging this valuable cargo.
For its partner Boehringer Ingelheim, va-Q-tec developed a standardized solution that guarantees stable temperatures for transports below -40 °C and enables easy handling of the API tanks. The pharmaceutical company with locations in Biberach, Vienna, Fremont and Shanghai relies on the expertise of va-Q-tec for this special application. With the universal anchoring system, the tank with the API can be easily pushed into the transport container. The system encloses the container like a cage and fits into a va-Q-tainer MAXx, which offers sufficient space for the API tanks to be transported, especially in terms of height. The universal anchoring system can be individually adapted to any tank size and reduces the amount of work involved in loading the containers with the tanks by 90%: The tank can now be ready for transport in five minutes. The risk of material loss is significantly reduced anduncontrolled movements on the transport route can be compensated for by the anchoring system.
For intercontinental transports, a stable temperature for several days is required. The va-Q-tainer MAXx is equipped with temperature batteries (va-Q-accus) containing so-called phase change material. "With these, we can keep the product temperature constant at -40°C, but also ensure other temperature ranges up to +25°C. And we achieve this with the va-Q-tainer MAXx dry ice-free for a duration of up to 120 hours, even under extreme conditions. With dry ice, even -60°C or lower are possible," explains Fabian Eschenbach, head of the Temperature Controlled Supply Chain business unit at va-Q-tec.
By producing this special type of container and integrating it into our network, we are helping to ensure that valuable substances, which in case of doubt are vital, reach their destination at the right temperature with virtually no risk," says Joachim Kuhn, CEO and founder of va-Q-tec.
The va-Q-tainer MAXx is qualified in seven temperature ranges for shipments from -70 °C to +20 °C for a true 120 hours or more.