Thuringia's Prime Minister Bodo Ramelow visited va-Q-tec's production plant in Kölleda on the 27th of April 2021. During his visit, the politician informed himself about the use of va-Q-tec products in the context of two current mega topics: national and international vaccine distribution as well as the most efficient use of thermal energy to combat climate change. Mr. Ramelow repeatedly emphasized the central role that the company plays and will play in the future. He also highlighted that va-Q-tec is a prime example for Thuringia as a business location.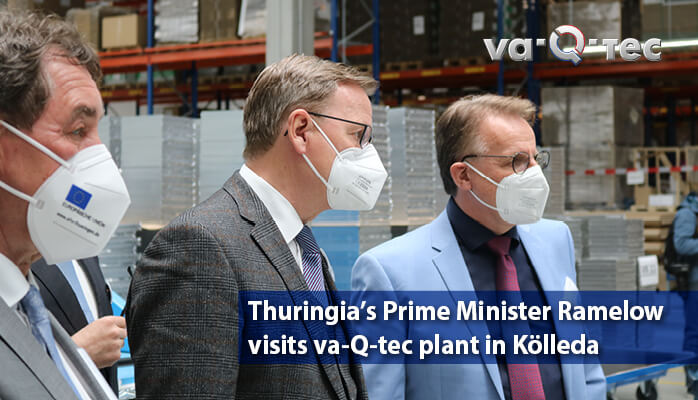 For 20 years, va-Q-tec's energy-efficient key technology in the form of vacuum insulation panels (VIPs) has been used in a wide variety of industries, thus increasing the more sustainable use of thermal energy worldwide. These VIPs insulate ten times better than conventional insulation materials. Therefore, they are expected to play a decisive role in increasing the efficient use of thermal energy worldwide in the future – as the Prime Minister confirmed several times. Mr. Ramelow was impressed by the versatility of the product, which, in addition to being used as an innovative insulating material, is also installed in thermal boxes and containers to ensure the safe, reliable, and environmentally friendly logistics of temperature-sensitive products worldwide.
The discussion between Mr. Ramelow and Dr. Joachim Kuhn (CEO and founder of va-Q-tec) focused on the current challenge of distributing the CoVid-19 vaccine – from international transport of large volumes to fine distribution during the last mile. Based on years of experience, especially in the transportation of temperature-sensitive pharmaceutical products, va-Q-tec's logistics solutions are being used for the national as well as international distribution of CoVid-19 vaccines. In Germany, for example, nearly 60% of the population are supplied with vaccines that were transported in va-Q-tec's boxes. Prime Minister Ramelow was enthusiastic about the technology and welcomed its extensive use in national and international distribution and the expansion of the vaccination campaign.