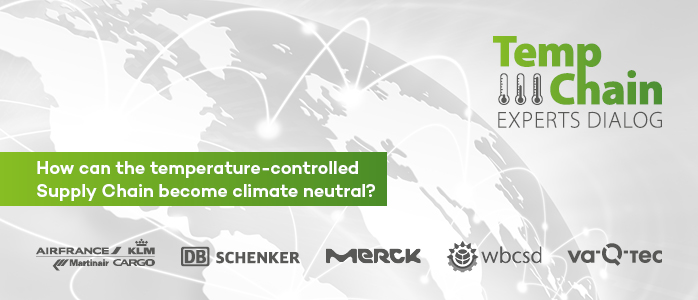 Logistics, and temperature-controlled logistics in particular, are considered one of the main producers of climate-damaging CO2. This share must be decisively reduced through cooperation between all stakeholders involved in the supply chains to mitigate the effects of climate change as far as possible.
With the TempChain Experts Dialog, va-Q-tec initiates a platform for industry and regulatory experts to discuss different approaches to thermal logistics and their climate neutrality.
Short keynote speeches and interdisciplinary discussion rounds will provide further information and give participants the opportunity to participate live in the online event.
va-Q-tec has been internationally recognized as one of the leading experts in the field of temperature-controlled (TempChain) packaging for 20 years. The company is aware of its pioneering role regarding ecological sustainability and climate-neutral operations within the industry: Not least due to climate change, the reduction of CO2 emissions is becoming increasingly important. In addition, the safety of the products being transported must be ensured. The associated challenges are also coming into focus in the temperature-controlled logistics sector for all players involved, such as pharmaceutical manufacturers, airlines and logistics companies.
To inform about the urgency needed for climate neutrality in TempChain logistics from different perspectives, va-Q-tec is offering an online event to all interested parties as part of the TempChain Experts Dialog. Here, not only industry players have their say in short impulse lectures but also the side of the regulating institutions is considered in the discussion. For example, the inclusion of a representative of the Greenhouse Gas Protocol will ensure an internationally standardized basis for the common path towards more climate protection.
Guests are:
Stefan Langer (Merck, Director & Group Procurement Logistics Sourcing)
Frederic van de Ven (Air France KLM Martinair Cargo, Program Director Sustainability)
Dorothee Becher (DB Schenker, Head of Air Freight Healthcare Management Europe)
Joachim Kuhn (va-Q-tec AG, CEO and Founder)
Amir Safaei (World Business Council for Sustainable Development, Manager of Climate Taxonomy)
In subsequent panel discussions, an interdisciplinary exchange will take place on the most common issues of the day. Spectators are invited to participate live with their questions.
The live session will be broadcasted in English on November 17 from 14:00 (CET).
To get full access to the live broadcast, registration is required at https://www.va-q-tec.com/en/virtual-forum/#v26267-p21965.
A recording of the event will be available afterwards at https://va-q-tec.com/en/virtual-forum/.