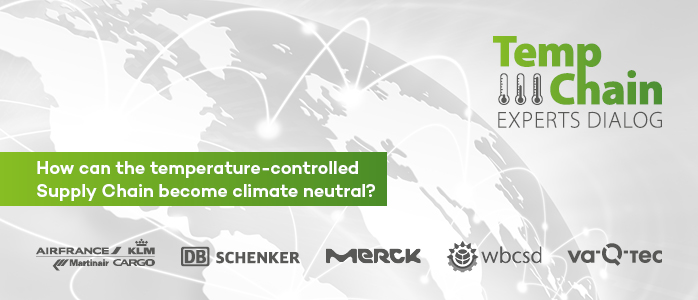 On November 17, 2021, various industry experts came together for the first time to discuss the next steps towards climate neutrality of temperature-controlled supply chains.
In addition to assessing important, forward-looking measures, they unanimously emphasized the crucial importance of cooperation between all stakeholders in thermal logistics.
As a climate-neutral certified company since 2020, va-Q-tec is the initiator and leads the way with a comprehensive balance in emission of its products and services.
The second TempChain Experts Dialog initiated by va-Q-tec took place on November 17, 2021. The innovative discussion round was centered on the topic of 'how can supply chains be made climate neutral?' and broadcasted live from Würzburg and watched by several hundred participants from all over the world. The chosen time could not be more appropriate considering a few days earlier – from October 31 to November 12 – the World Climate Conference (COP26) was held in Glasgow. A participant of this conference now also spoke at the digital event with other leading logistics industry experts on an important long-term goal: the climate neutrality of temperature-controlled supply chains.
Transportation is considered one of the main emitters of the climate-changing gas worldwide, accounting for around 24% or 8.9 billion tons of eCO2 (2019). Temperature-controlled logistics takes a large share of this. Reducing these emissions is essential to achieve the internationally recognized climate targets. For example, to achieve the European Green Deal, emissions are to be reduced by 55% by 2030 (compared to 1990), and up to 100% by 2050. The shift towards more climate-friendly processes within the logistics industry is in full swing.
Various processes and activities have already been initiated, as the invited industry experts impressively presented in short keynote speeches at the TempChain Experts Dialog: 
With his short presentation, Amir Safaei, representing the World Business Council for Sustainable Development (WBCSD), provided an important basis for discussion by way of introduction. The organization has defined itself as a facilitator of sustainable development concepts since 1995 and provides a valuable contribution to the UN climate conferences. Amir Safaei played an active role at the World Climate Summit in Glasgow just days earlier. He was also involved in the development of the Greenhouse Gas Protocol. This is now a globally established approach to calculating CO2 emissions of individual products and services, according to which many companies now balance their CO2 emissions. He explained the systematic classification of greenhouse gas emissions into different scopes, with emissions in the Scope 3 category ("Indirect emissions not related to energy produced or purchased") representing the largest share.
To achieve the goals of the Paris Climate Agreement, reduction of Scope 3 emissions of 95% by 2050 or earlier is needed. In order to achieve this goal, Amir Safaei advocated for a merger and proactive cooperation of all stakeholders and a transparent, comprehensible and openly accessible presentation of all related data.
For his part, Stefan Langer, Head of Logistics Sourcing at Merck, reported on the sustainability strategy of the healthcare and lifescience company. It will operate in a climate-neutral manner by 2040 and continuously reduce resource consumption significantly until then. Although this is a large challenge, all the necessary high-quality standards for the vital products will be maintained. A relevant part of the sustainability strategy here is the reduction of emissions-intensive modes of transport such as air freight, measures to decarbonize the value chain through proactive cooperation with visionary logistics providers, and the optimization of logistics routes.
Freight forwarder DB Schenker is also aiming to switch to sustainable solutions, as Dorothée Becher, Head of Air Freight Healthcare Management Europe, reports. In addition to switching to zero-emission fuels, bio-fuel and hydrogen-powered vehicles, In addition to the switch to zero-emission fuels in air and sea freight, as well as bio-fuel and hydrogen-powered vehicles in land transport, the sustainability strategy also includes advising customers on lighter, low-emission and reusable transport packaging. The freight forwarding company is in continuous dialog with its existing and also new partners in order to further develop climate-friendly solutions and establish them as a standard on the market.
One possibility for low-emission temperature-controlled supply chains is offered by the passive high-tech boxes and containers from va-Q-tec, as CEO and founder Dr. Joachim Kuhn, impressively presented. The company has already been certified climate neutral since 2020. Thanks to the intelligent combination of vacuum insulation and innovative temperature storage elements, the transport packaging is highly energy-efficient and stands out for its maximum performance. As one of the first suppliers, va-Q-tec prepared the comprehensive accounting of all product-related CO2 emissions according to the Greenhouse Gas Protocol and, in August 2021, launched the industry initiative for climate neutrality of temperature-controlled supply chains with the publication of the white paper Transparent CO2 Calculations of Thermal Packaging Solutions. With the initiation of the TempChain Experts Dialog, the company is consistently pursuing the path of visionary providers of solutions for modern thermal logistics.
Corresponding to this, Frederik van de Ven, Program Director Sustainability of the airline Air France KLM Martinair Cargo (AFKLM), brought another important aspect into the discussion. Besides the significant reduction of waste of 50% by 2030, 50% less carbon emissions as well as 100% emission-free processes on the ground (compared to 2005), he gave an exciting insight into the future of sustainable aviation fuels (SAF). The airline launched the first cargo SAF programme in 2020 to reduce CO2 emissions, and now has almost 30 SAF partners joining this program. In addition, AFKLM is also already calculating CO2 emissions according to the Greenhouse Gas Protocol standard.
These exciting keynote presentations prompted lively interest among the audience who participated live with interesting questions. The main focus was on the standards to be developed and the prerequisites required industry-wide for the urgently needed climate neutrality of temperature-controlled supply chains. All participants emphasized the high prioritization of this important topic and the intention to work on solving the challenges ahead through increased collaboration.
"The TempChain Experts Dialogue impressively demonstrated that great efforts are already being made in many places to achieve the climate goal postulated by the World Climate Conference," summed up Dr. Joachim Kuhn. "Now it is a matter of jointly bundling the existing know-how as well as further developing and rolling out standards in daily practice. With the TempChain Experts Dialog, the first, great step of this vital path has been taken, which we now want to continue with all other interested stakeholders of the thermal supply chains! Once again, I would like to call on all stakeholders in the industry to join our industry initiative. Only together can we meet this global challenge."
A recording of the TempChain Experts Dialog will be posted at https://va-q-tec.com/en/virtual-forum/#v26267-p22335 starting Nov. 25, 2021.