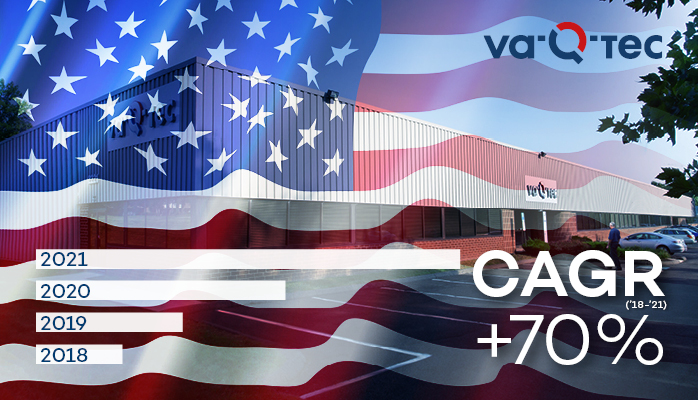 The USA is the largest pharmaceutical market in the world with a market volume of more than 500 billion US dollars. More than 60% of the top 20 global pharmaceutical and biotech companies are headquartered there.
To serve the growing demand for secure, temperature-controlled packaging solutions, va-Q-tec established a subsidiary in the U.S. back in 2013 and started renting passive high-tech containers locally.
Around five years later, at the end of 2017, capacities were massively expanded and a logistics and production site was opened in Langhorne, Pennsylvania.  The proximity to Philadelphia, New York and Boston and their renowned biotechnology, healthcare and pharmaceutical centers, provides va-Q-tec with an ideal infrastructure. In addition to a sales office and production, a training center for customers and employees and a showroom were set up, where partners could get to know va-Q-tec's product portfolio. The opening of the branch also marked the start of the assembly of high-tech boxes, which are rented out to customers for the local shipments of temperature-sensitive products.
At the end of 2021, the local presence was most recently expanded to include another location in neighboring Levittown. Among other things, this will serve to meet the massive increase in demand for va-Q-pal thermal containers during the Corona pandemic. This passive high-tech solution is particularly suitable for transporting pallets to remote regions that are difficult to access. In addition, the va-Q-tainer reusable solution will also be overhauled and serviced at the new site.
In the meantime, the company in the USA is the largest subsidiary of the va-Q-tec Group outside Europe. The average, annual growth rate from 2018 to 2021 is over 70% percent. Sales have thus grown to a clear double-digit million euro amount.
Dr. Joachim Kuhn, founder and CEO of va-Q-tec: "The USA is a strategically enormously important market for us, the potential of which we recognized early on. With our locations, we have been serving the increasing demand for passive boxes and containers since 2013, thus ensuring a secure, temperature-controlled logistics chain. We are convinced that the demand for such passive high-tech solutions as we offer will continue to grow in the future."