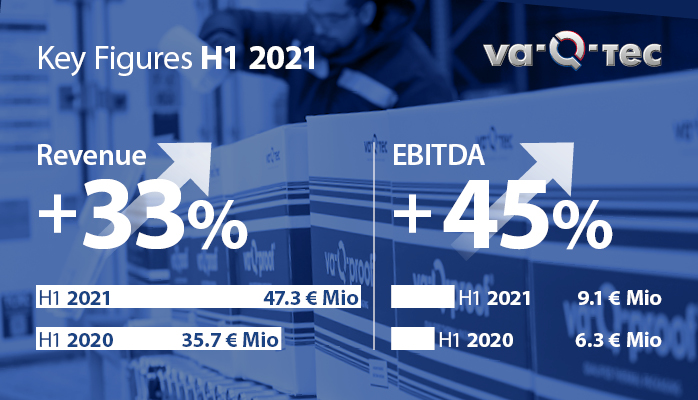 Revenue growth of 33% in H1 2021 to EUR 47.3 million driven by healthcare industry, COVID‑19 vaccine distribution and cross-industry energy efficiency megatrend
Strong growth in all divisions: Products +61%; Systems +37%; Services +19%
Continued high revenue share from healthcare sector at 74% (previous year: 78%), contribution to revenue from COVID-19 vaccine- and test kit distribution amounts to 13% (previous year: 1%).
EBITDA H1 2021 grows disproportionately by 45% to EUR 9.1 million; revenue-based EBITDA margin improves to 19% (previous year: 18%)
Specification of FY 2021 guidance: Upper end of revenue range between EUR 90 million and EUR 100 million targeted with a further increase in EBITDA margin
Würzburg, 12 August 2021. va-Q-tec AG (ISIN DE0006636681 / WKN 663668), a pioneer in highly efficient products and solutions in the area of thermal insulation (so-called super insulation) and temperature-managed supply chains (so-called TempChain logistics), recorded the strongest half-year in the company's history in H1 2021.
The past quarters' growth momentum accelerated further in the first half of 2021. All of the company's divisions contributed to the 33% growth in revenue to EUR 47.3 million (previous year: EUR 35.7 million) – with especially the Products division (sale of vacuum insulation panels) and the Systems division (sale of thermal packaging) also recording very significant growth. The Group's profitability increased at a disproportionately high rate of 45% to reach EUR 9.1 million (previous year: EUR 6.3 million) compared to revenue; the revenue-based EBITDA margin rose by one percentage point to 19% compared to the previous year.
The individual business divisions of va-Q-tec AG recorded the following performance: at 61%, the Products business posted the strongest revenue growth of all business divisions. This dynamic performance has already been driven by growing demand for energy-efficient refrigerators and freezers since the second half of 2020, which can be attributed to both the "stay-at-home" trend, as a result of which, for example, frozen foods are in greater demand, and the introduction of the new EU energy efficiency label for household appliances from 1 March 2021. The Products business thereby not only continued the pleasing trend of recent quarters, but also recorded stronger growth than previously expected, with revenue up 61% to EUR 12.4 million (previous year: EUR 7.8 million). In the Systems business (sale of thermal packaging), revenue rose by 37% year-on-year to EUR 14.4 million. Business with the va-Q-pal, a thermal container that has an excellent temperature holding time of, for example, -20 °C over 120 hours, including at extreme outside temperatures, was particularly gratifying. The Services business (the rental of containers and boxes for the transport of temperature-sensitive goods) also recorded a 19% increase in revenue in H1 2021 to reach EUR 19.9 million (previous year: EUR 16.8 million). In addition to its significant participation in vaccine distribution, va-Q-tec benefited here from a further broadening of its customer base as well as a strong increase in the number of small thermal box rentals for "last mile" shipments.
In order to cope with the strong sales growth, production in the two German va-Q-tec factories had to be increased by 67%, and in some areas even by more than 100%. This was achieved through a tireless effort by va-Q-tec employees, who worked 24 hours a day, seven days a week at most of the plants. They were supported by numerous colleagues in organization and administration, as well as especially in the foreign subsidiaries, some of which were faced with substantial logistical challenges.
The positive trend will continue in the second half of the year. Global distribution of COVID-19 vaccines is continuing to drive demand for va-Q-tec's temperature-controlled transport solutions across the value chain. With the possible booster vaccinations and adaptations of the vaccine to mutated virus variants currently under discussion, the opportunity exists to further consolidate this business in subsequent years. This would give an already very dynamic business an additional boost: for several years, va-Q-tec had already been benefiting from rising demand in logistics for temperature sensitive biotech drugs and other products and applications in the thermal energy efficiency area.
Business apart from TempChain logistics also performed very positively in H1 2021: the company's high-tech vacuum insulation panels offer crucial advantages wherever secure and highly efficient insulation solutions are required in the tightest of spaces. Accordingly, va-Q-tec is not only appreciated as a reliable partner in the Healthcare & Logistics area, but also in numerous other areas such as in Technics & Industry (e.g. insulation of pipelines), in the Building sector (building insulation) as well as in the Mobility area (e.g. high-tech insulation for fuel cells and high-temperature batteries). This is underscored, for example, by the strategic partnerships with Hutchinson announced in the first half of the year for thermal management in the mobility sector, and with Uponor in the area of highly energy-efficient and form-flexible pipe insulation. As a consequence, the company sees itself in an excellent position to acquire orders with its innovative high-tech insulation solutions in further areas in addition to the currently dominant TempChain business, and to benefit from the megatrend of climate protection through thermal energy efficiency.
Dr. Joachim Kuhn, CEO of va-Q-tec AG, comments: "The global use of our temperature-stable and energy-efficient transport solutions in COVID-19 vaccine distribution confirms our position as a pioneer in thermal isolation. As part of this, we are observing greater demand for our products, which is leading to an accelerated growth dynamic, especially beyond the healthcare sector. Consequently, we are well on the way to further expanding and consolidating our position as a leading company in the area of thermal energy efficiency and high-performance thermal packaging for TempChain logistics. We can make a decisive contribution to achieving a climate-neutral economy with our products. For this reason, we continue to anticipate strong growth in our business in the medium and long term – after all, we have grown our consolidated revenue by an average rate of more than 25% per year over the last five years."