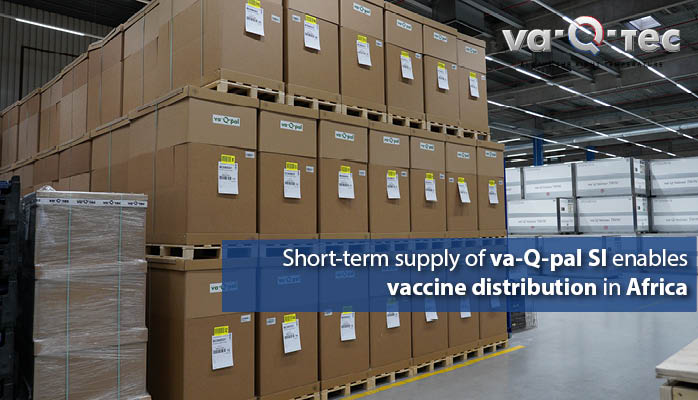 va-Q-tec has been involved in the fight against the Corona pandemic since its beginning due to its highly efficient key technology and the resulting high product safety. However, the company already has years of experience in the logistics of temperature-sensitive pharmaceuticals, such as vaccines. In order to be able to meet the demand for medical products from countries with weak developed logistics infrastructure even at short notice, va-Q-tec developed the highly efficient and high performance pallet shipper va-Q-pal SI within a very short time. Additionally, the intelligently designed product is characterized by a very high loading volume in terms of its external volume.
One of the continents where temperature-controlled logistics is a particularly big challenge is Africa. Not only extremely high ambient temperatures, but also long, weak developed transport routes and thus long transport times call for particularly high-performance solutions. Several times it has been reported that vaccines can not be vaccinated because the temperature limits of the products were not maintained. Export stops and shortages of air freight transports further exacerbate this situation, as this causes unforeseeable delays in logistics and increases transport times. Due to this urgency, several va-Q-pal SIs were flown at short notice to Benin, Africa, to assist in the distribution of vital vaccines for children against the life-threatening Rotavirus. On site, the robust thermal containers can be reused several times, e.g. to transport CoVid vaccines safely and reliably at the right temperature.
The pallet shipper is not only convincing because of its environmentally friendly materials, with a unique temperature holding time of up to 130 hours for product temperatures between -25 °C and +25 °C, a highly efficient solution. Thanks to the use of innovative vacuum insulation panels in the walls and the use of powerful temperature storage elements, the va-Q-pal functions without the supply of external energy, such as refrigeration units. This independence from external conditions usually presents itself as the most effective solution, especially in challenging regions.
As vaccine distribution is set to gain further momentum in the coming months, especially in developing countries, production of the pallet shippers in Germany is running at full speed. With the va-Q-pal SI, va-Q-tec can also provide short-range relief and quick solutions to support the fight against the Covid 19 pandemic, not only in hard-to-reach regions.