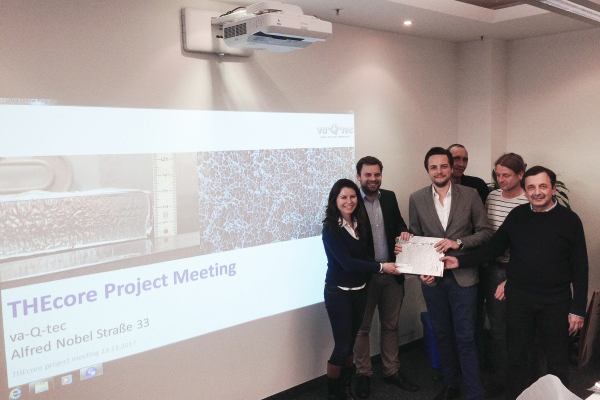 Advancements towards a nano-scale polymeric VIP core in the frame of the European project THEcore
Six months after the start of the THEcore project, members of va-Q-tec and SUMTEQ met to discuss the newest scientific and technological findings highlighted by Dr. Flávia Almeida. She presented the research outcomes of the first semester of the project, in which important milestones have already being achieved. First prototypes for testing are showing promising results and more research on the material and on the technological process to make VIP cores are on the way.
The aim of THEcore is to develop an advanced vacuum insulation panel based on nanostructured polystyrene foams having lower weight compared to existing fumed silica cores. The project is linked to the "Society and Enterprise panel" of the Individual Fellowship of Marie Sklodowska-Curie Actions (MSCA) of the European Union (Project ID 748256).
Marie Sklodowska-Curie Actions
Funded under H2020-EU.1.3.2. – Nurturing excellence by means of cross-border and cross-sector mobility