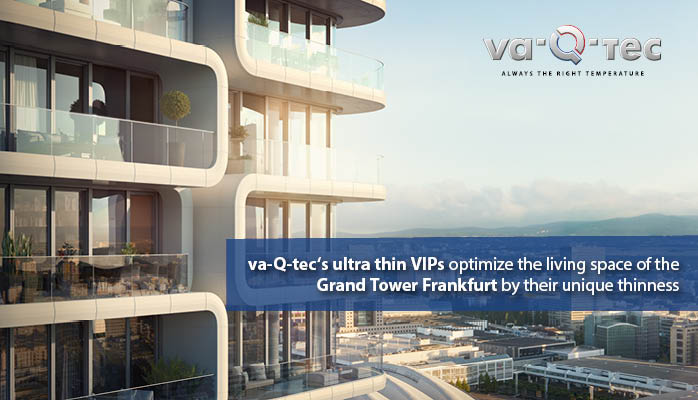 For years, the population has been exploding in many large cities like Frankfurt. At the same time, space is very limited, so every square meter of residential and commercial area counts. The Grand Tower Frankfurt, Germany's tallest residential building at 172 meters, is a prestigious object that impressively demonstrates this.  Residents began moving into the first of 401 apartments meter in June 2020. The skyscraper at the edge of the Europaviertel ("European Quarter") is partially insulated with va-Q-tec's vacuum insulation panels (VIPs) – exactly in those locations where opaque areas are present on the facade.
While ordinary insulation panels would be about 250 mm thick, va-Q-tec provided VIPs with a thickness of just 50 mm – with identical low-energy values. "The difference in the Grand Tower is just under three square meters per floor," explains Ronald Ellebrecht, Head of the Construction Business Unit at va-Q-tec. "With 47 floors, the space savings add up to around 123 m². This is extremely interesting ecnomically, particularly considering the rising price per square meter in German cities."
The super insulation technology is not only extremely cost-efficient, it also enables optimum low-energy house values to be achieved that meet the highest ecological standards. Thanks to their space-saving material properties, the va-Q-tec VIPs are also a visual asset. Avoiding unsightly steps and thick structures for insulation offers significant advantages, particularly in slender, modern architecture.
va-Q-tec's VIPs are, of course, approved by the German Institute for Building Technology and fulfill the requisite EU requirements. They insulate up to ten times better than conventional insulation materials of the same thickness and, therefore, provide space savings of about 80%. The lower heating requirements in the living area also results in a more favorable carbon footprint. The VIPs are available in different sizes, shapes, and surface laminations, guaranteeing individual solutions for every construction project.