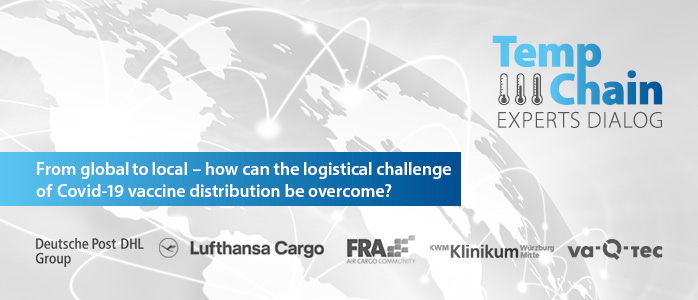 The global distribution of the corona vaccine is regarded as a mammoth logistical task, which is now also attracting considerable attention in social and media discourse.
va-Q-tec provides a platform for industry and medicine experts to inform the public about challenges and solutions of temperature-controlled logistics of the corona vaccine in short keynote speeches.
Interdisciplinary discussion rounds provide further information and give participants the opportunity to participate live during the online event.
va-Q-tec has been the innovative manufacturer of highly efficient thermal containers and boxes for 20 years and is considered one of the leading experts in the field of temperature-controlled logistics. With its hightech transport containers and boxes, the company offers safe and reliable solutions for the logistics of the Corona vaccine both for international long-distance transports as well as on the "last mile".
va-Q-tec will offer an online event, TempChain Experts Dialog, to provide comprehensive information to all interested parties on the topic of the global vaccine distribution and to answer open questions about these complex supply chains.
The following industry experts will give short keynote speeches from different perspectives on the challenges and solutions of global temperature-controlled corona vaccine logistics:
Thomas Ellmann (DHL, Vice President, CSI Life Sciences & Healthcare)
Christopher Dehio (Lufthansa Cargo, Experienced Aircargo Cool Chain Executive)
Joachim Kuhn (va-Q-tec AG, CEO und Gründer)
Dr. Tino F. Schwarz (Klinikum Würzburg Mitte, Head of Institute of Laboratory Medicine and Vaccination Center)
Joachim von Winning (Air Cargo Community Frankfurt e.V., Executive Director)
In subsequent panel discussions, an interdisciplinary exchange of views on the most common issues of the day will take place. Spectators are cordially invited to participate with their questions live. 
The English language live session will be broadcast live on December 10, 2020 starting at 14:00 (CET).
To get full access to the live broadcast, registration at https://vogel.zoom.us/webinar/register/WN_UeaDQ2snQ52K5a6OlfTrSw is required. A recording of the online event will be available afterwards at https://va-q-tec.com/en/virtual-forum/.