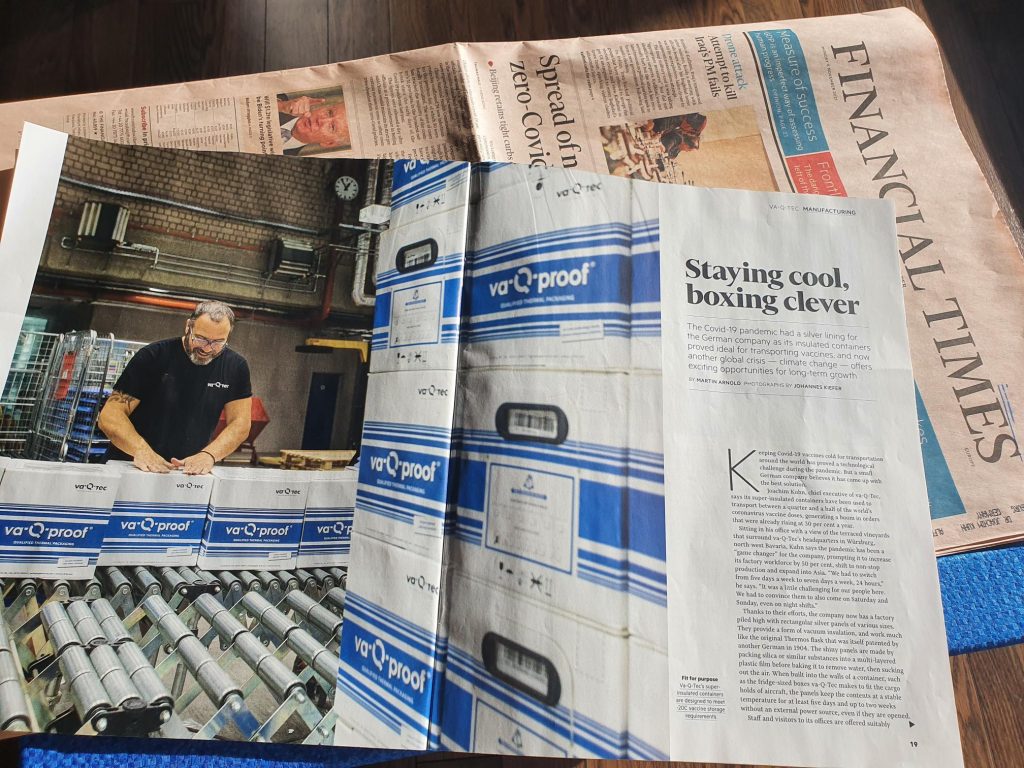 • The Financial Times awards the German company va-Q-tec as the Tech Champion 2021 in the Manufacturing category.
• The company stood out for its special role in the fight against the Corona pandemic, as well as its forward-thinking solutions for increasing thermal energy efficiency.
• For the first time, the international award honors those companies that have distinguished themselves in the challenging times of the Corona pandemic through their special innovative ability and creativity.
In the extraordinary times of the Corona pandemic, many companies around the world were faced with special challenges. va-Q-tec distinguished itself during this time by thinking innovatively and creatively with its products, services and solutions despite the adverse circumstances and thus continued to grow: With the help of its high-performance thermal containers and boxes, not only Corona test kits but also vaccines against the dangerous virus could be transported safely and temperature-controlled worldwide at up to -70 °C. But the company is also already making an important contribution to solving the next challenge – climate change and the associated question of greater thermal energy efficiency. For this strong performance, the company has now been named Financial Times Tech Champion 2021.
The renowned medium went in search of the companies that use special technologies and drive their business forward even in times of pandemic. At the beginning of 2021, the magazine asked its readership to nominate companies that have harnessed highly intelligent technologies to be innovative and solution-oriented even in the face of the pandemic. For example, va-Q-tec, a specialist in thermal packaging, not only managed to safely and reliably handle the worldwide transport of test kits at the beginning of the pandemic. Furthermore, the developed high-performance containers and boxes make it possible to transport the very temperature-sensitive vaccines against the CoVid-19 disease internationally as well as nationally up to the patients safely and at a constant temperature. Within a very short time, the company developed special products especially for this purpose in order to optimally support, for example, underdeveloped countries with bad logistics infrastructures in this mammoth task. These achievements have obviously become firmly established in the public perception in the meantime, so that va-Q-tec was placed on the shortlist together with other successful global players by voting of the public. va-Q-tec particularly stood out in the eyes of the jury, consisting of a panel of experts from the technology and startup scene as well as editors of the Financial Times.
However, the global challenges of climate change and the efficient use of thermal energy have also been driving va-Q-tec to achieve top innovative performance since the company was founded over 20 years ago. The vacuum insulation panels (VIPs), which are also found in the walls of the thermal containers and boxes allow a large part of the energy to be saved or used efficiently. VIPs are a unique insulating material based on the highly insulating principle of vacuum.
Due to their extremely high thermal insulation performance, which is about ten times better than conventional materials, they are the preferred choice when very good insulation is required despite limited space. Buildings now benefit sustainably from their use, as do industrial applications and the automotive sector. For example, hot water storage tanks are already being insulated with the innovative insulating material, thus increasing their performance. VIP-insulated refrigerators save up to 50% of the energy used. And with vacuum-insulated district heating pipes, thermal energy can be transported even over long distances and stored in super-insulated storage tanks. "We don't really have an energy generation problem!" comments Dr. Joachim Kuhn, CEO and founder of va-Q-tec. "We have a problem to store, transport or efficiently use the generated energy. For this, we support with different, highly innovative VIP solutions."

He is very pleased about the award: "Becoming Financial Times Tech Champion 2021 makes us at va-Q-tec very proud. It's great to see that our efforts over the past years and months have been publicly recognized and earned like this! However, I promise that we will not rest on our success. Especially regarding the underdeveloped countries of our planet, we see that the pandemic is not over yet. We also still have a lot of work to do on the issue of thermal energy efficiency. So let's get it done!"