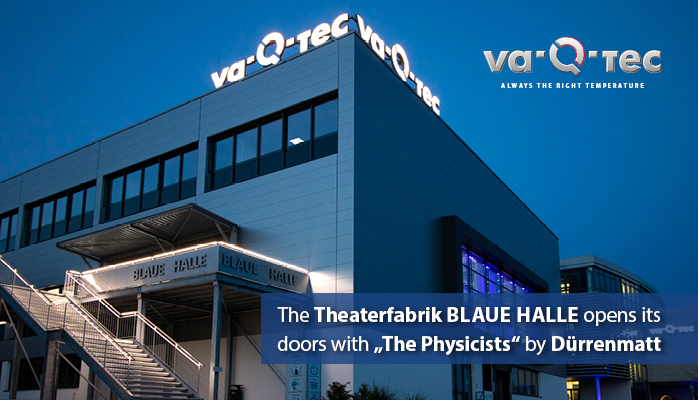 A special highlight of va-Q-tec's regional cultural promotion is the cooperation with the Mainfranken Theater Würzburg: The company's event hall will be used as an attractive external venue from 2020/21 season on. The reason for the two-year lease of the Theaterfabrik Blaue Halle is the general refurbishment of the theater building in the city center of Würzburg and will open on October 2.
The event hall offers a perfect setting for performances of larger formats with an orchestra. The 3,500 square meters were specially adjusted to the needs of the theater to provide ideal conditions for employees and audience, even in times of the Corona pandemic. In addition to the large stage with orchestra pit, auditoriums with space for up to 500 people were installed, foyer areas were redesigned and extra space was created for workshops and offices as well as a spacious backstage area. By the time the theater renovation is completed, about 120 performances per season are planned in the Blue Hall until 2022. Production operations will not be affected by the theatrical performances, as these are usually held in the evening or at the weekend.
The new stage is opened with the play "The Physicists" by Friedrich Dürrenmatt. The comedy transforms the stage of the Theaterfabrik Blaue Halle into the blue salon of a sanatorium. There the audience meets three patients, all physicists. Two of them think they are the famous scientists Einstein and Newton. The third patient, Möbius, has apparitions of King Solomon, who dictates his wisdoms. The director of the sanatorium, Dr. Mathilde von Zahnd, has to deal with Inspector Voss because one of her nurses has been murdered. Director Tim Egloff, together with the actors, deals with the question of the responsibility of science and the consequences of personal actions and decisions.
The opening of the new external venue will be carried out under extensive precautions that comply with current hygiene and contact regulations. Distances can be maintained by bookable single and double seats. The limitation of the number of visitors will of course be observed.