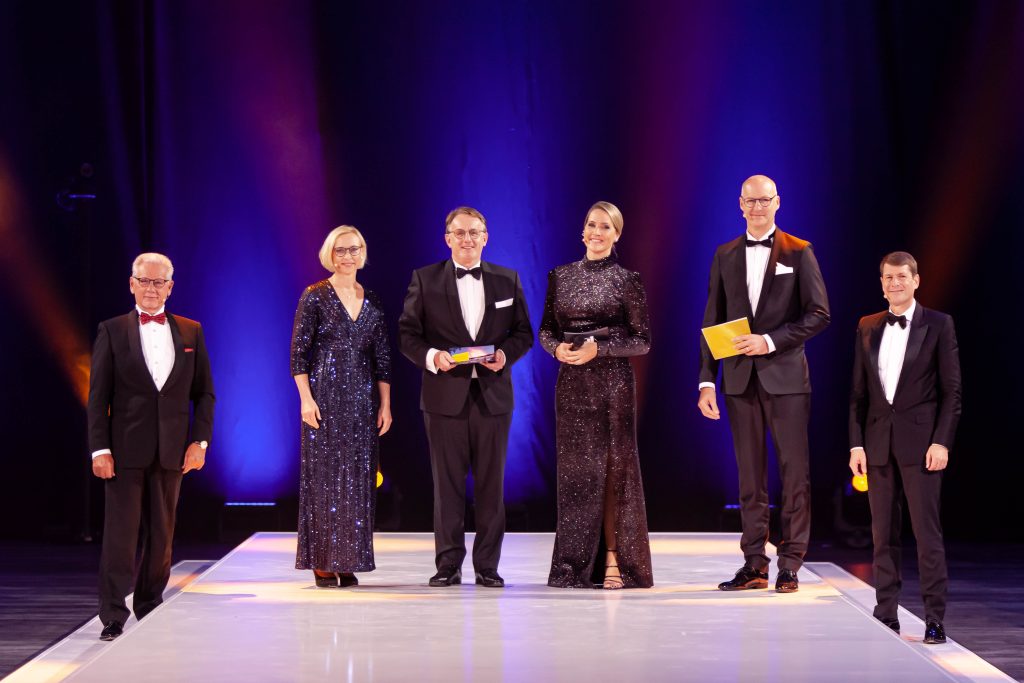 Dr Joachim Kuhn, CEO and founder of va-Q-tec, was the winner in the "Innovation" category of the "Entrepreneur Of The Year 2022" Award competition.
In addition, va-Q-tec will represent Germany at the "EY World Entrepreneur Of The Year 2023" in Monaco.
He prevailed as the award winner against 36 competitors who had also been named as finalists for the award.
The business prize, which is awarded annually by the consulting firm EY, recognizes entrepreneurship, innovative strength and personal commitment.
The announcement of the winners and the presentation of the prizes took place on 24 November as part of the Award Night in Berlin and was hosted by TV presenter Judith Rakers.
Wuerzburg, 25 November 2022. Dr Joachim Kuhn, founder and CEO of va-Q-tec, was awarded the "Entrepreneur Of The Year" prize in the Innovation category. At the award ceremony on 24 November 2022 in the Verti Music Hall in Berlin, he prevailed against 36 other finalists and competitors, who had also been previously selected from several hundred candidates for the award. The independent jury, consisting of renowned entrepreneurs and experts, evaluated the participants with particular regard to the criteria "sustainability of the business model", "innovation", "transformation", "employee management" and "social responsibility". Overall, prizes were awarded at the event in four categories: "Family Business", "Innovation", "Sustainability" and "Young Companies". In addition, va-Q-tec will represent Germany next year at the "EY World Entrepreneur Of The Year 2023".
"I am very proud of where we are today with va-Q-tec," commented Dr Joachim Kuhn. "To hold our own against a large number of companies in such a prestigious competition is a great achievement. We have managed to place our visionary approach and our disruptive technology on the market and are a true pioneer in our field. But all this would never have been possible without the team behind va-Q-tec. I am grateful and very pleased to now be honoured as 'Entrepreneur Of The Year'. I therefore receive the award on behalf of the entire company and would like to take this opportunity to once again thank all employees for their commitment."
About the EY Entrepreneur of the Year competition
EY Germany has been honouring outstanding entrepreneurs for 26 years. The competition is supported by renowned companies and media. These include the private banking and asset management group LGT, the Frankfurter Allgemeine Zeitung and manager magazin. In addition to honouring successful entrepreneurial personalities, EY also promotes the next generation of entrepreneurs with the "EY NextGen Academy" program, which takes place at renowned international business schools.
About va-Q-tec
va-Q-tec is a pioneer of advanced solutions and services for thermal energy efficiency and temperature-controlled supply chains. The company develops, manufactures and markets thin, highly efficient vacuum insulation panels ("VIPs", "super insulation") for insulation and intelligent temperature storage elements ("PCMs") for reliable temperature control. By combining VIPs and PCMs, va-Q-tec manufactures thermal packaging systems (containers and boxes) that can maintain constant temperatures without external energy supply for up to 200 hours. In a global partner network, va-Q-tec maintains a fleet of rental containers and boxes that can be used to meet demanding thermal protection standards in logistics chains. The company has been climate-neutral at all ten international locations since 2021. Permanent process optimizations and the support of valuable offset projects minimize the CO2 footprint of the solutions and services. In addition, va-Q-tec's products themselves ensure a significant increase in thermal energy efficiency and thus make a valuable contribution to climate protection. Founded in 2001, the fast-growing company is headquartered in Würzburg and employs over 650 people at 12 locations worldwide.