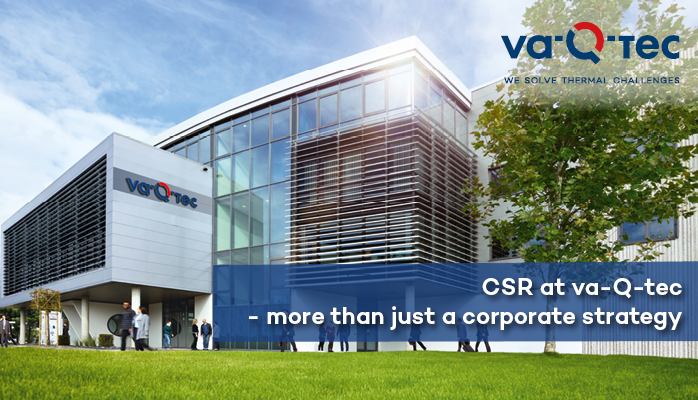 Since its foundation in 2001, va-Q-tec has developed into a Hidden Champion. Its basic products are the highly efficient vacuum insulation panels (VIPs), which are applied for super insulation in various sectors such as construction, industry or mobility. In addition, the company also manufactures high-tech thermal boxes and containers, which are used to safely handle temperature-controlled (TempChain) supply chains of, for example, vaccines and other pharmaceuticals. The need and thus the demand for these innovative solutions is growing and so is the economic growth of the German company since its foundation by an average of 25% p.a.. In addition to disruptive products, solutions and services to increase thermal energy efficiency and secure TempChain supply chains, a well thought-out CSR strategy is part of the secret of va-Q-tec's success.
"va-Q-tec was founded on the idea of revolutionizing thermal energy efficiency worldwide. This revolution can only result from a sustainable corporate culture and a willingness to assume social responsibility. Therefore, our CSR strategy is significantly linked to the company's success and is the basis for our extraordinary corporate growth in recent years," discusses Dr. Joachim Kuhn, CEO and founder of va-Q-tec. CSR at va-Q-tec encompasses social, ecological and economic aspects. In doing so, it promises not only to be successful in the long term or to enhance its own image, but also to avoid missteps – in other words, far more than just untargeted social commitment.
The clear link to the company's own business activities and regional corporate roots is very important to Dr. Kuhn. Various institutions were directly or indirectly involved in the creation and growth of the company. To show its gratitude for this support, va-Q-tec supports various scientific as well as educational institutions, cultural institutions and top-class sports in the region. In this way, the ground for innovative, creative thinking with an international orientation is created in Main-Franconia, and people from the most diverse areas and disciplines of society are encouraged to work together. Especially these "soft location factors" are becoming more and more relevant in times of shortage of skilled workers. 
However, not only social commitment, but also the preservation and protection of the ecological balance are important to the company. This includes a responsible approach to nature, natural resources and habitats through, for example, optimized products and production processes. In addition to the in-house photovoltaic system or the combined heat and power plant, which uses the generated energy and waste heat several times over, va-Q-tec is committed to strict environmental standards and permanent process improvement in terms of energy efficiency. In addition, the company declared its climate neutrality in 2020. "At va-Q-tec, we never stop improving our energy performance. Climate change is probably the biggest challenge facing our society in the coming decades. Our goal is not only to reduce our carbon footprint through targeted measures and permanent improvements. 60% of the world's energy consumption is for thermal purposes. By using our products, this share can also be decisively reduced for our customers!", Dr. Kuhn summarizes.
Compliance is also part of va-Q-tec's sustainability strategy. The company is listed in the Prime Standard of the Frankfurt Stock Exchange and is thus committed to maximum transparency in all business transactions. All working conditions and related processes are consequently monitored internally and the necessary improvements are initiated and tracked. This task is performed by the Social Performance Team. This team includes representatives of the management and trusted employees who have been nominated by the workforce. In addition, va-Q-tec expects full compliance with international labor standards from its contractors as well. An open corporate and management culture, as well as positive cooperation also ensures the company's success, satisfied customers, employees and partners. A systematic risk management system ensures that any risks taken are dealt with appropriately.
The presented excerpts from the CSR strategy of va-Q-tec are only a small part of the broad portfolio of the German company. The proven strategy, which always forms the basis for entrepreneurial decisions, has created the fertile ground for the company's strong growth.