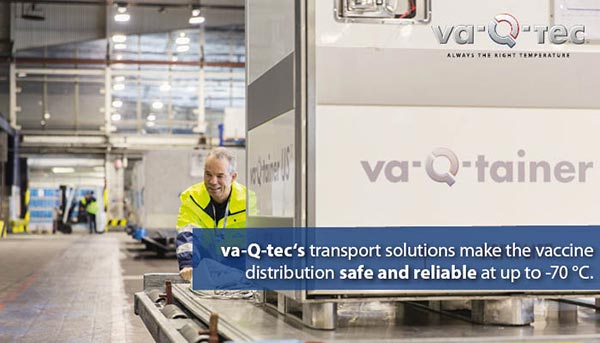 The development of the vaccine against COVID-19 is being pushed forward under high pressure. Currently there are 185 different vaccines being tested on humans. Completely new biotech technologies are also being used. The largest German pharmaceutical companies rely on the so-called RNA (ribonucleic acid) technology in their developments. However, there is only little data on the stability of this type of vaccine during transport and storage. It is known that the active ingredients react extremely sensitively to temperature. Due to that, it is therefore assumed that ranges from -70 °C to -20 °C are required for global vaccine distribution in order to guarantee optimal effectiveness.
The products and solutions of va-Q-tec make the thermologistics – especially in the absolute low temperature range – not only controllable but also maximally reliable. The company produces, hires out and distributes high-performance transport containers and boxes that use vacuum insulation panels (VIPs) to optimally protect the cargo inside from extreme outside temperatures and their fluctuations. In addition, the company uses temperature storage elements (Phase Change Materials – "PCMs") to ensure stable temperatures from -40 °C to +25 °C in various available temperature ranges without the use of dry ice. Even lower temperatures down to -70 °C can be kept stable for up to 200 hours. In this case, less dry ice is required than in comparable containers due to the high degree of insulation properties. This is a decisive advantage, especially during the Corona Pandemic, as the resources of the coolant are limited at this time. Many suppliers complain about supply bottlenecks. Additionally, the use of dry ice in logistics is often subject to strict limits on the amount of dry ice that can be transported, especially in air freight. These advantages often make va-q-tec's transport solutions the only option for low temperature logistics. 
The special va-Q-check procedure was developed for their high quality and therefore absolute security. Every container and box is checked for perfect quality and optimal performance before use. The flawless condition of the VIP insulation of the containers and boxes is the absolute prerequisite for the required temperature stability – especially in the low temperature range. Only optimal insulation can keep these extreme temperatures as efficiently as possible, even over long transport times.