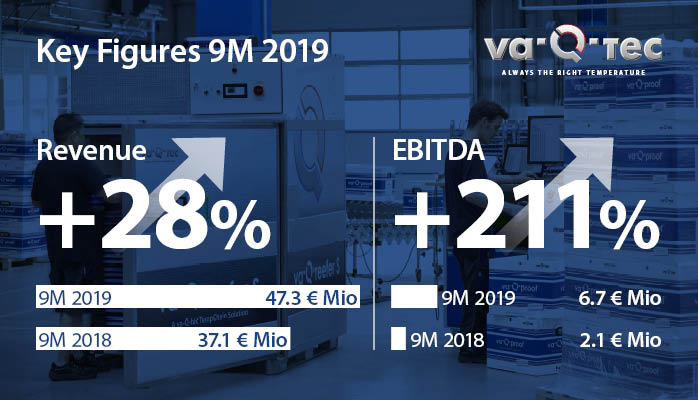 Very strong revenue growth of 28% to EUR 47.3 million in 9M 2019
Above-average revenue growth in the Services division of 66% to EUR 21.3 million in 9M 2019
EBITDA of EUR 6.7 million in 9M 2019 more than triples year-on-year; significant margin improvement to 13%
FY 2019 revenue forecast raised
Würzburg, 13 November 2019. va-Q-tec AG (ISIN DE0006636681 / WKN 663668), a pioneer in highly efficient products and solutions in the thermal insulation and TempChain logistics area, today publishes its results for the first nine months of 2019. Accordingly, in the third quarter of the year, the company continued the dynamic growth of the first half of the year. Especially in the high-margin Services business, the stable upward trend reported since the second half of 2018 continued during the 2019 reporting period. Together with efficiency improvements, this led to a significant year-on-year improvement in profitability, with earnings before interest, tax, depreciation and amortization (EBITDA) amounting to 13% of total income in 9M 2019.
Revenue in the first three quarters of 2019 reported a marked increase of 28% to EUR 47.3 million (previous year EUR 37.1 million). Group revenue was driven to a very significant extent by the Services business, in other words, the container and box rental business. Thanks to the ongoing diversification of the customer structure and expansion of business with existing customers, the upswing of the previous quarters is strengthening in this division. Services revenue grew by 66% to EUR 21.3 million (previous year: EUR 12.8 million), which was disproportionately high compared to the overall trend. Revenue in the Products division was stable and at EUR 15.4 million almost unchanged from the strong prior-year basis (previous year: EUR 15.5 million). Looking at the last three years, this also reflects the medium-term phases typical for va-Q-tec's dynamic growth markets: revenue in this segment has almost doubled since 2016 and has now settled at a high level. In the Systems business, which is often influenced by large projects in individual quarters, revenue increased by 17% to EUR 9.6 million as of the reporting date (previous year EUR 8.1 million). In Q3 2019, a project order from kohlpharma, the pharmaceutical reimporter, for pharmacy logistics proved particularly significant. In future, transport systems deploying va-Q-med® technology will now ensure reliably constant transportation temperatures, so that kohlpharma's customers also receive their medicines at the accustomed top quality in the particularly critical 2-8°C range.
Group EBITDA also performed very positively. As part of the "Power 20+" program, efficiency improvements were achieved in areas such as purchasing and production. In addition to accelerated growth in the high-margin Services business, these effects contributed to the considerable earnings improvement in 9M 2019. EBITDA tripled year-on-year to EUR 6.7 million (previous year: EUR 2.1 million). This led to an increase in the EBITDA margin as measured against total revenue from 5% in the previous year to 13% in 9M 2019. In addition, net cash flow from operating activities reported a significant improvement to EUR 3.2 million, up EUR 7.4 million compared with the prior-year level of EUR -4.2 million
Thanks to the positive business trend in the first nine months 2019, the Management Board has decided to raise its revenue forecast. To date, the Management Board had assumed approximately 20% year-on-year revenue growth for the current financial year. The Management Board now anticipates between 23% and 26% year-on-year revenue growth for the 2019 financial year, depending on the specific trend in year-end business. In addition, va-Q-tec continues to expect an EBITDA margin between 11 and 14% for the 2019 financial year, after an EBITDA margin of 5% in the 2018 financial year.
Dr. Joachim Kuhn, CEO of va-Q-tec AG, comments: "We are again showing strong growth for the first three quarters of 2019 with a significant increase in profitability. The background to this is the dynamic business performance in our strategically important and high-margin Services business, also due to some catch-up effects from 2018. At the same time, we are becoming increasingly efficient in all areas. This is the right path for our development and growth, which we will continue to pursue in the future. To this end, we are continuously working on extending our technology leadership and international expansion. But it is also clear that in our dynamic growth markets, development will not always be linear."
In 9M 2019, va-Q-tec made further strategic progress in expanding its technological leadership. va-Q-tec's innovative insulation solutions are encountering growing interest in new areas such as mobility applications and the construction sector. In addition to further growth prospects, this also opens up potential for technological differentiation. As a consequence, va-Q-tec is ranked second in the list of "Germany's most innovative medium-sized companies" by German weekly business news magazine WirtschaftsWoche.
In addition, the company also continued on its course of internationalization. Overall, va-Q-tec has expanded its international network to seven subsidiaries and has thereby established strong positions for itself in important global markets. va-Q-tec further expanded its position in the Chinese market in 9M 2019 and opened a new TempChain Service Center (TSC) in Shanghai together with its partner Worldwide Logistics. The Chinese pharmaceutical market is the second largest in the world after the US market. Following the establishment of new subsidiaries in Japan, South Korea and Singapore, the opening of the TSC underscores the company's growth plans in Asia.
At its last meeting, the Supervisory Board of va-Q-tec AG appointed Stefan Döhmen, the company's CFO, to the Management Board for a further three years until the end of 2022. With this contract extension, the Supervisory Board acknowledges Mr. Döhmen's important contributions within his department to laying the foundations for the long-term successful development and growth of va-Q-tec AG since its IPO.