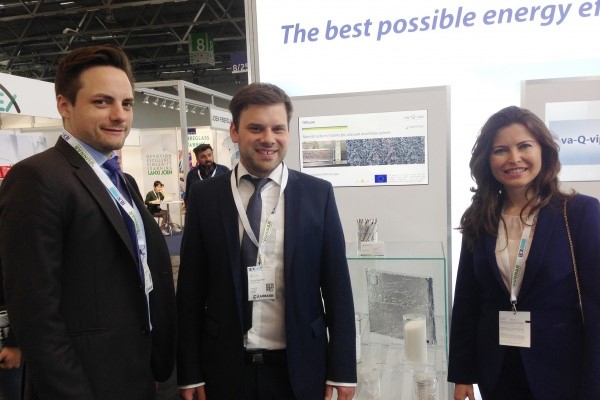 Huge progress has been made in THEcore project during the last twelve month: Started with the goal of developing an advanced vacuum insulation panel the first SUMFOAM-VIP prototypes were produced recently.
In June 2017 the project THEcore, a partnership between va-Q-tec and SUMTEQ companies, started with a goal of developing an advanced vacuum insulation panel, based on novel nanostructured polystyrene foams. Almost one year later, huge progress has been made and both companies were excited to show their advancements in producing this unique SUMFOAM-VIP to both the academic and relevant industry insulation sectors. The first SUMFOAM-VIP prototypes were presented in two important events: "Polymerschäume: Perspektiven und Trends", a symposium organized by the Kunststoff-Zentrum SKZ, which took place at the Marienberg fortress in Würzburg at 15-16th May and at the IEX Insulation Expo Europe, held in Cologne from 16-17th May 2018.
Under the direction of Professor Volker Altstadt, from the University of Bayreuth, the Polymer Foam symposium provided a broad overview in the current developments and applications within the foam sector. The symposium offered the opportunity for about 100 participants to share and learn from the best practice examples.
The IEX fair received more than 3400 visitors and 170 exhibitors from 24 countries, showing the most actual insulation products available on the market. In the words of Thomas Pitsch from Schwartmanns Maschinenbau GmbH, in the final IEX 2018 report[1], "Technical insulation will play an increasingly important role in the context of global energy debates". In the wake of the Paris Climate Agreement, the fair made clear that the industry is getting a boost from industrial plant maintenance and demand for insulation and innovative materials, in order to reach the goals for energy savings. In this sense, the THEcore project is in the upper wave of innovation to the insulation market and has been well received. The project is linked to the 'Society and Enterprise panel' of the Individual Fellowship of Marie Sklodowska-Curie Actions (MSCA) of the European Union (Project ID 748256).
[1] https://www.insulation-expo.com/local/media/download/presse-all/2018/IEX_2018_final-report_en.pdf
Link to THEcore project: http://cordis.europa.eu/project/rcn/208638_en.html
Link to Marie Sklodowska-Curie Actions: https://ec.europa.eu/programmes/horizon2020/en/h2020-section/marie-sklodowska-curie-actions
Funded under H2020-EU.1.3.2. – Nurturing excellence by means of cross-border and cross-sector mobility http://cordis.europa.eu/programme/rcn/664113_en.html
Next planned THEcore event: 28.Juni 2018: Seminar at Technische Universität of Ilmenau at (17:00 hs in Arrheniusbau, room 124).