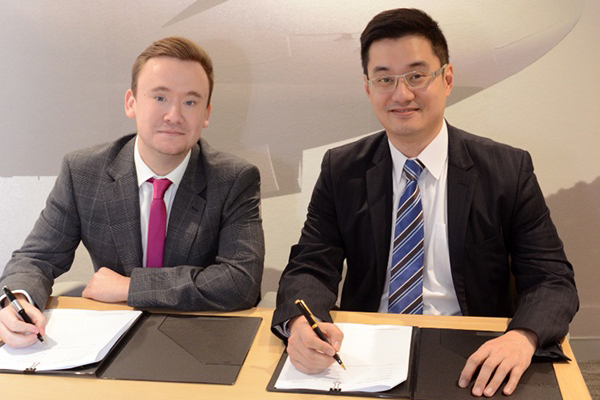 The new partnership will provide Cathay Pacific Cargo customers with more options in the transportation of high-value, temperature-sensitive pharmaceutical products
Cathay Pacific Cargo today announced a new partnership with va-Q-tec, a leading provider of thermal packaging solutions for temperature controlled transportation. va-Q-tec's advanced passive thermal containers, which are designed to maintain a constant temperature during transportation for more than five days, will be a strong addition to Cathay Pacific Cargo's Pharma LIFT portfolio by providing its global customers with an excellent solution for moving life-saving pharmaceuticals by air freight.
Cathay Pacific Cargo, the first Hong Kong airline to be awarded IATA CEIV Pharma Certification, is committed to transporting high-value, time-sensitive and temperature-controlled pharmaceutical products with speed, consistency and efficiency.
Cathay Pacific General Manager Cargo Service Delivery Frosti Lau said: "We are delighted to partner with va-Q-tec in offering an innovative passive solution directly to our customers. These advanced passive thermal containers can offer steady temperature-controlled conditions for several days without requiring external energy sources. Coupled with Cathay Pacific Cargo's extensive network, we are confident the containers will benefit our customers around the world."
In Sook Yoo, Head of Business Development Asia at va-Q-tec, added: "The pharmaceutical market is growing rapidly worldwide. Thanks to the new collaboration, innumerable customers can lease va-Q-tec's reliable containers directly from Cathay Pacific Cargo."
The thermal containers are available in five different sizes, taking up to two US pallets inside, and in six different temperature ranges, from -60°C to +25°C. They guarantee safe temperature-controlled transportation for the pharmaceutical, healthcare and medical sectors.
Will Staddon, Global Partner Manager at va-Q-tec, said: "We are delighted to be working with a strong partner like Cathay Pacific Cargo to make a major contribution to the temperature-controlled logistics market. Their ambition to provide a quality-driven service matches ours perfectly and this partnership signifies va-Q-tec's continued growth in key pharma regions.
"va-Q-tec is expanding across the globe and is also significantly strengthening its presence in Asia Pacific," he added.
The company has established subsidiaries in South Korea and Japan, amongst other countries and operates several container network stations. va-Q-tec invests heavily in cooperation with airlines, freight forwarders, integrators and logistics service providers to offer high-quality transport containers and logistic services at several sites.
About Cathay Pacific
The Hong Kong-based Cathay Pacific Group offers scheduled passenger and cargo services to over 200 destinations in Asia, North America, Australia, Europe and Africa, using a fleet of close to 200 aircraft. Cathay Pacific is one of the world's biggest international air cargo carriers and, in addition to operating a dedicated freighter fleet to 46 destinations, manages cargo capacity on passenger flights operated by both Cathay Pacific and Cathay Dragon. The airline's cargo business comprises a fleet of 20 Boeing 747 freighters, including 14 747-8 freighters and six 747-400ERFs (Extended Range Freighter).
For more information visit www.cathaypacificcargo.com