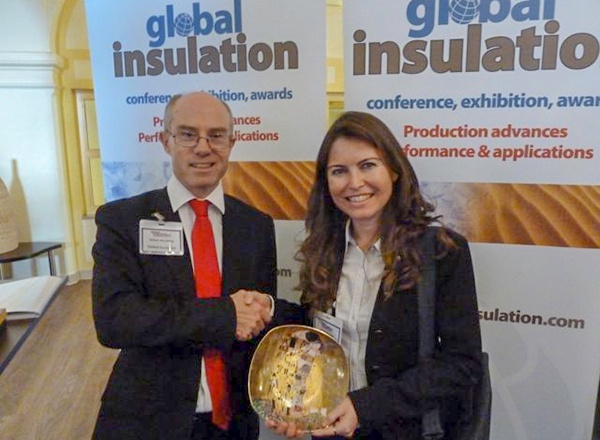 va-Q-tec researcher Dr. Flávia Almeida received the 1st prize for the best presentation for her research on advancements towards submicron pore size polystyrene foams in the 13th Global Insulation Conference, which took place from 25th-26th in Vienna, Austria.
 
With 160 delegates, 21 exhibitors and 17 presentations, this conference is a meeting place for insulation professional and researches to discuss new trends and opportunities. The conference focuses on energy efficiency, recyclability, innovation and product optimization. va-Q-tec sees the event as a great opportunity for networking and to be on the forefront with new trends in the global insulation industry.
Dr. Almeida introduced the SUMFOAM material (SUb-Micrometric FOAM), which is produced by the company SUMTEQ GmbH. In partnership with va-Q-tec the new material is being further developed for vacuum insulation purposes in the frame of the European Project THEcore (grant agreement No 748256). Dr. Almeida presented the most recent results of the project, including tests of a transport box prototype made with SUMFOAM-VIPs. The outcomes of the THEcore project are already being exploited within a wider European project RECO2ST (grant agreement No 768576). The consortium joining several European institutes, companies and universities will among other advance energy production, smart ventilation and HVAC techniques, and further adapt and apply the SUMFOAM-VIPs for future nearly Zero Energy Buildings (nZebs).