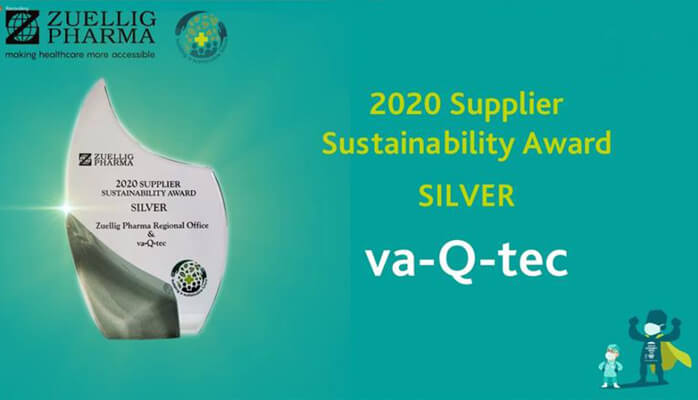 Sustainability is a fundamental part of va-Q-tec's DNA. The company's founding idea of developing high-tech insulation materials to increase global energy efficiency is a clear indication of this. Today, the company produces, rents and sells boxes and containers whose core components, vacuum insulation panels and temperature storage elements, are made of recyclable materials and can be reused many times.  The temperature-controlled packaging systems can be used in a global TempChain service network to make supply chains of temperature-sensitive goods not only safer and more cost-efficient, but also more sustainable and environmentally friendly.
The Asian logistics and service provider Zuellig Pharma also pays close attention to making the healthcare industry more sustainable. To achieve this, they work exclusively with partners like va-Q-tec who pursue the same goal. The pharmaceutical service provider hopes to have a positive impact on the environment, society and ultimately the economy. At the same time, they guarantee cost efficiency and the highest possible product and service safety. To create a special incentive within the industry, the company established the Supplier Sustainability Award.
Zuellig Pharma nominates companies they partner with that make pharmaceutical transports ethically correct, fair, safe, transparent and environmentally compatible within their product innovations or special services. va-Q-tec is very pleased about the nomination of this year's award. Together with the companies Green Value (Taiwan) and MSpectrum Inc. and it was part of the festive online ceremony.
Christopher J. Storch (Global Head of Sales) represented va-Q-tec along with Boris Daniels (Business Development Manager Asia). Storch comments: "We are very proud to have had Zuellig Pharma as a strong partner for many years now. It is very gratifying that we are pulling together to make pharmaceutical logistics more sustainable! With our reusable, energy-efficient and environmentally friendly boxes and containers, we can make an optimal contribution. We are very grateful to be nominated for the Supplier Sustainability Award. This proves that that these efforts are worthwhile! We are very honored to have been awarded together with Green Value (Taiwan) and MSpectrum Inc.."