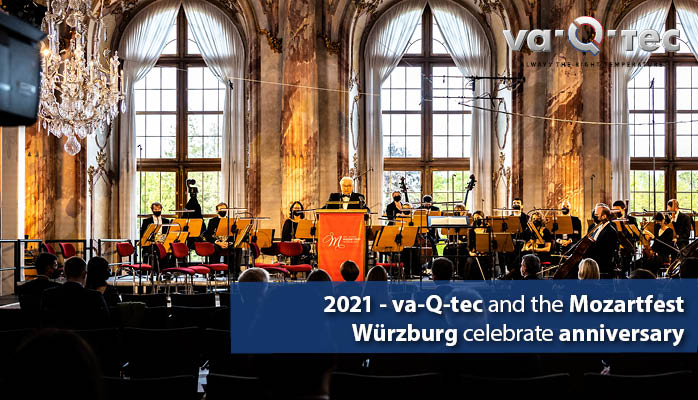 Once again, the city of Würzburg is hosting various high-quality concerts and events as part of the Mozart Festival. The official opening of the 100th edition of the concert series was on 28.5.2021. To mark this great anniversary, Federal President Frank-Walter Steinmeier and Bavaria's Minister of Art Bernd Sibler also attended. But the year 2021 is also a special year for va-Q-tec. The company has not only been the main sponsor of the internationally renowned concert series for three years. It will also be celebrating its 20th anniversary that year. But this is not the only parallel between the event series and the company.
The Mozartfest Würzburg has been an integral part of cultural life for 100 years, even far beyond the borders of Germany. Around two and a half million music lovers have attended a wide variety of events over these years. The focus is not only on the music of Wolfgang Amadeus Mozart, but also on architecture, literature, and the visual and performing arts. The interplay of these disciplines enlivens the cityscape and promotes cultural life in Würzburg. It resisted even in year 2020 of the Corona pandemic the shock rigidity to which the public (cultural) life was exposed. It organized 43 concerts with world-class international artists, most of them took place in front of an audience. In this way, people were given back a piece of normality and joy of life. The opening concert in the empty rooms of the Würzburg Residence reached 104,000 viewers as a live video stream already on the day of broadcast – four times the number of an entire season.
va-Q-tec was founded 20 years ago, in 2001, in Würzburg out of the university environment. Since then, the company has developed into an internationally active pioneer in the insulation industry and a provider of high-performance solutions for temperature-controlled supply chains. In the process, it is now active worldwide from Würzburg in various disciplines – for example, in the construction industry, the technical-industrial sector or mobility. va-Q-tec also expanded internationally in Corona times and to this day makes a decisive contribution to maintaining temperature-controlled supply chains worldwide. The company supports various cultural institutions and thus ensures a livable environment in the region. In addition to its long-standing cooperation with the Mozart Festival it is also hosting the designated state theatre Würzburg during the reconstruction of the main stage in the city center in the Theaterfabrik Blaue Halle.