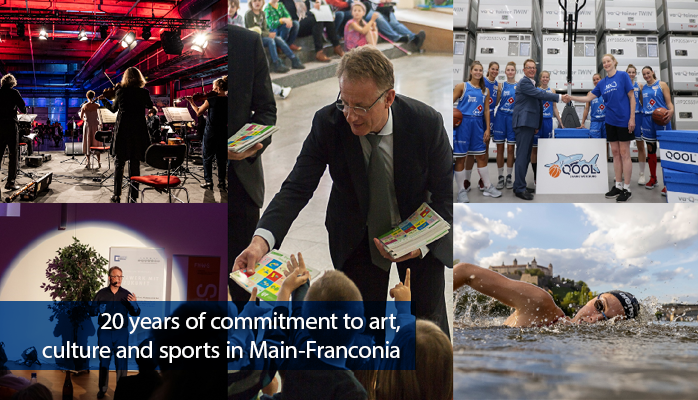 Education, art, culture and sports – for many years now, va-Q-tec has been committed to a wide variety of projects in different areas. It is important for the company to relate to its own 20-year company history and thus to the Mainfranken region, because the company feels firmly connected to its home region despite its increasing internationalization.
To make a sustainable contribution here, va-Q-tec supports, among other things, projects for STEM education – both of children and young people as well as at universities, thus making a valuable contribution to securing skilled workers. In addition to the Jugend e.V. forscht foundation and a long-standing partnership with Julius-Maximilians-Universität and Würzburg University of Applied Sciences, the company also supports committed students by taking on Deutschlandstipendium scholarships. CEO and founder Dr. Joachim is also available for lectures and events as a speaker, thus inspiring young people to proactively shape their future.
In addition to this special commitment, va-Q-tec also promotes the Main-Franconian cultural scene. Already since September 2020, the designated State Theater Würzburg is located in the event hall on the company's premises. Extensive conversion measures were carried out for this purpose: A large stage with audience seating for up to 500 people was created, as well as offices and stage workshops. In addition to large orchestral pieces, concerts of the internationally renowned classical concert series Mozartfest Würzburg have already taken place there. va-Q-tec has been supporting this series as a premium sponsor for several years. Likewise, the resident Martin von Wagner Museum is pleased about the company's support of many projects.
In addition to this charitable commitment, va-Q-tec also supports regional top-class sports. For example, under the motto Top Performance for Top Performance, the company helps the Olympic athlete Leonie Beck with a fixed monthly sports sponsorship. But the local basketball teams s.Oliver Würzburg and the QOOL Sharks are also prominent representatives of the company's sponsorship program. As part of the va-Q-athletes program, the company supports a large number of regional high-performance athletes by giving them the opportunity to combine their demanding training schedules with their professional careers. This is made possible by flexible working hours and individual part-time models.
Dr. Kuhn explains: "Over the past 20 years, we have received a great deal of support from various institutions and individuals in the Mainfranken region. This has played a key role in shaping our path to becoming a globally active company. I am therefore pleased to be able to give back a lot of positive things to our home region in education, culture and sports through various commitments, the complete list of which is even more extensive! For us as a Main-Franconian company, a culturally and athletically diverse and high-caliber region is very important. This creates a good climate and a high recreational value for the people in and around Würzburg."