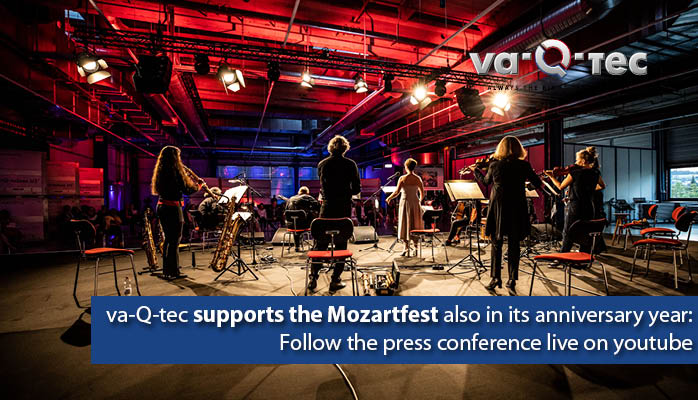 On December 4, the Mozartfest Würzburg team presented the program for 2021. The internationally recognized series of concerts will celebrate its 100th anniversary next year. This special season runs from May 28th to June 27th and offers all visitors an exciting program, even beyond the borders of Mainfranken. va-Q-tec has been the main sponsor of the classical music festival for many years and will also celebrate a big anniversary next year. The company was founded 20 years ago, and the first international subsidiary was opened 10 years ago in Rochester, United Kingdom.
A special concert series themed "In Mozart's footsteps" awaits the visitors. The ensemble, "Artistes étoiles", will be performed at six different European cultural centers that were important to Mozart. The concert on June 16th, at Cadogan Hall in London, will be supported by va-Q-tec in a special way. Due to the relationship between of the Lower Franconian company to its British subsidiary as well as the anniversaries of the two companies a special connection is created: va-Q-tec builds a cultural bridge to England through this event – even after the Brexit.
In addition to an exhibition of fine arts in the Martin von Wagner Museum in Würzburg, visitors can also look forward to various other events that underline the centennial of the Mozart Festival. Several features, such as an interactive ideas competition and a store in the city center of Würzburg, are planned to deepen and complement the season's focus on 100 years of doing business with Mozart.
More details about the various program items and special features of the 2021 Mozart Festival can be found in the recording of the press conference at https://www.youtube.com/watch?v=KCY5LG3kdsM&feature=emb_logo or on the website https://www.mozartfest.de/mozartfest-2021/index.html.