va-Q-tec is closely following the current developments caused by the fast spreading Corona Virus (COVID-19). The company has set up a cross-functional Task Force including the management board. Its members continuously review the everchanging situation and are well prepared to make quick decisions and take actions to ensure the company's global operations and services – especially because va-Q-tec is part of the life-saving pharmaceutical supply chain.
Top priority is given to the health and safety of va-Q-tec's employees as well as keeping up the proven premium service and availability of VIPs, PCMs, small boxes and va-Q-tainers. The company is committed to the best possible support to serve its clients demanding requirements. This is enabled by va-Q-tec's fully integrated value chain and unique inhouse production of its products' core components (VIPs and PCMs).
At this page you will find operational updates of our internal service and production processes, information on special shipments in the context of the Corona Pandemic, va-Q-tec's strong partnerships and excerpts of media.
In case of any questions please check our FAQ or do not hesitate to contact va-Q-tec's global team. 
Currently 40 Corona vaccines are undergoing clinical trials in humans – and the number is rising. Another challenge will be its global distribution, which will most likely have to be transported in many cases at constant -70 °C for many days.
va-Q-tec wants to solve the mammoth task of worldwide vaccine distribution together with its clients and partners by joining forces in the best possible way. With va-Q-tec's special focus on low temperature ranges, the company is well prepared and will play a special role in this process.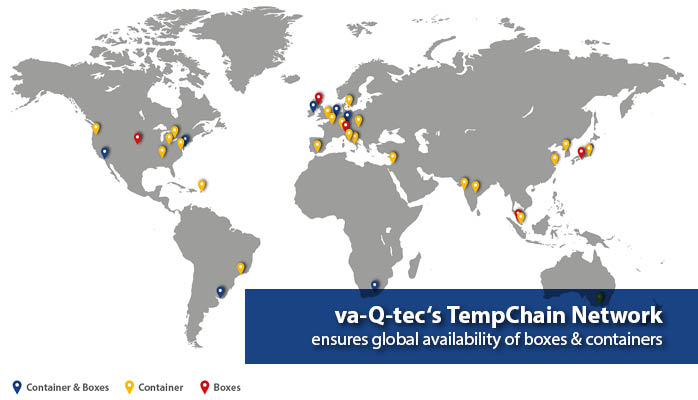 Full availability of containers and boxes despite Corona Crisis: The TempChain Network has 30 global TempChain Service Centers. All of them are fully operating and ensure va-q-tec's proven high quality standards.
Special support for va-Q-tec's container rental clients:
As of today full service and availability of va-Q-tainers is given within the global TempChain Network despite of significantly reduced airfreight capacities
va-Q-tec is ready to find flexible solutions for clients facing challenges to return va-Q-tainers in due time – Please reach out to your va-Q-tec contact for further details
Special fees are temporarily waived: cancellation fees (not applicable for dry ice shipments), express and change order fees
CoVid-19 vaccines must be transported at specific temperatures. For these particularly temperature-sensitive logistics from production to vaccination, special care and temperature consistency are required. va-Q-tec offers the ideal solution for every stage of the temperature-controlled supply chain. 
By the combination of its two high-tech components, which allow the required stable temperatures down to -70 °C, va-Q-tec offers the right technology for corona vaccine distribution. These advantages often make its transport solutions the only option for low temperature logistics.
As one of the main players in the worldwide distribution of test kits, va-Q-tec enables corona diagnostics in 120 different countries. More than 310t corona test kits have already been shipped in va-Q-tainers.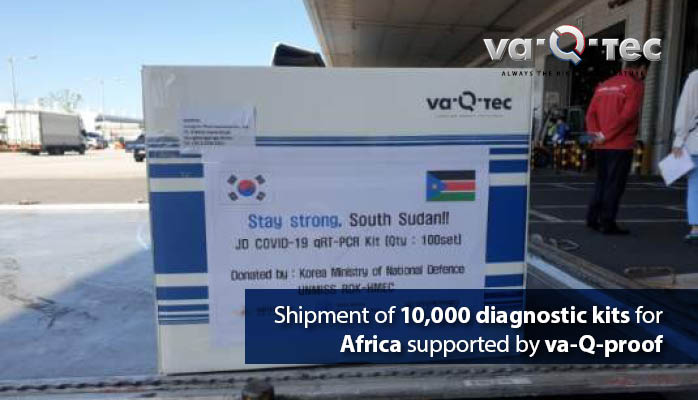 The South Korean Ministry of Defence donated 10,000 diagnostic kits to Africa. The shipment was supported by va-Q-proof boxes at -20 °C despite hot desert climate.
Since the start of the Corona pandemic, va-Q-tec ensures the reliable transport of test kits both on the last mile to the end customer and internationally. But the company also plays an important role in the global distribution of drugs and vaccines.
Read the full press release here.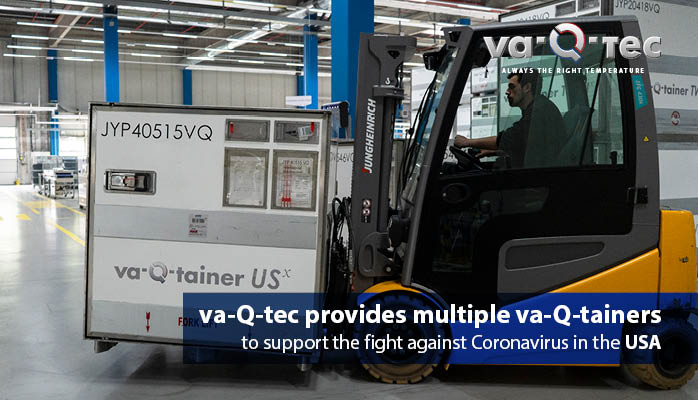 va-Q-tec supports the temperature controlled shipments of Corona test kits of a European medical diagnostic products manufacturer from Great Britain to the US. va-Q-tainers secure the transported cargo at constant -20 °C.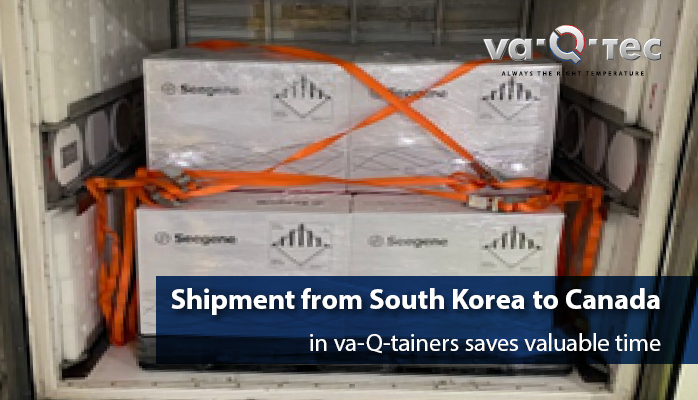 Effective time management for lifesaving Corona test kit transports supported by va-Q-tainer: During the shipment from South Korea to Canada no elaborate dry-ice handling was necessary which saves valuable time and thus costs!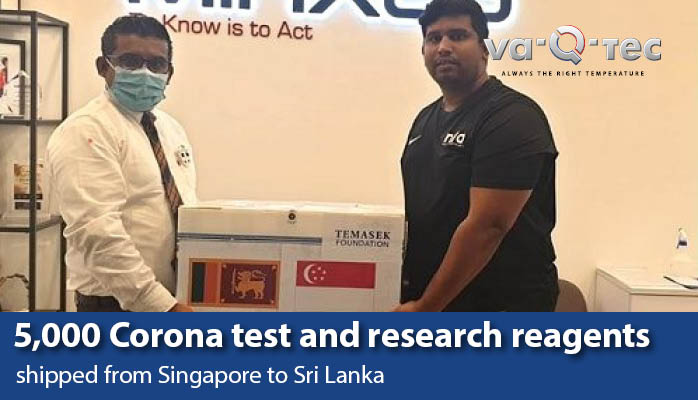 va-Q-tec support the global fight against Coronavirus: The company is proud to enable another shipment of 5,000 test kits and a consignment of research reagents from Singapore to SriLanka in va-q-proof boxes.
A donation of 3,000 corona test kits arrived in Ulan Batoor (Mongolia) supported by the va-Q-one packaging solution. va-Q-tec's advanced passive thermal single-use box ensured a constant temperature on the transport from Singapore.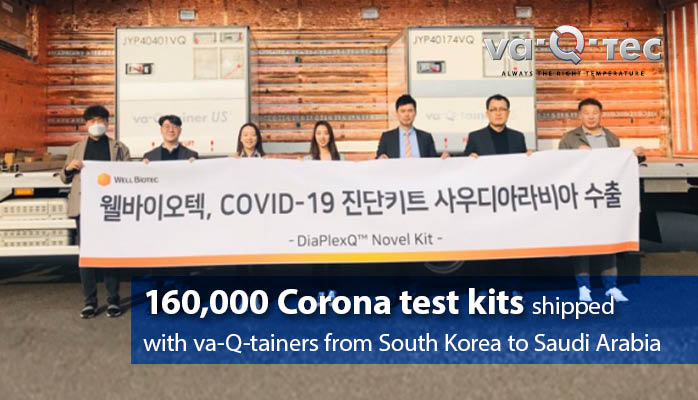 A transport of 160,000 test kits was processed from South Korea to Saudi Arabia in va-Q-tainers. To ensure their effectiveness, temperatures of -20 °C had to be absolutely guaranteed inside of the containers despite the Arabian climate.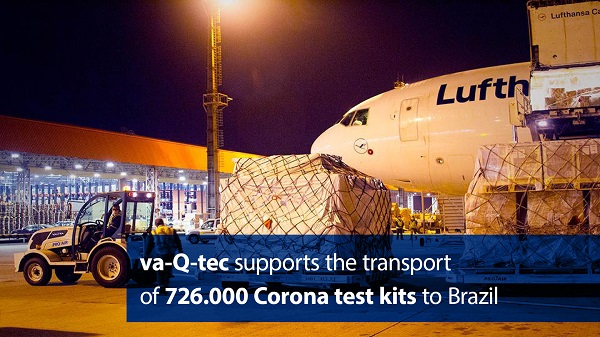 726,000 Corona test kits were shipped in va-Q-tainers to Brazil. The transport from Seoul via Frankfurt to São Paulo took two days.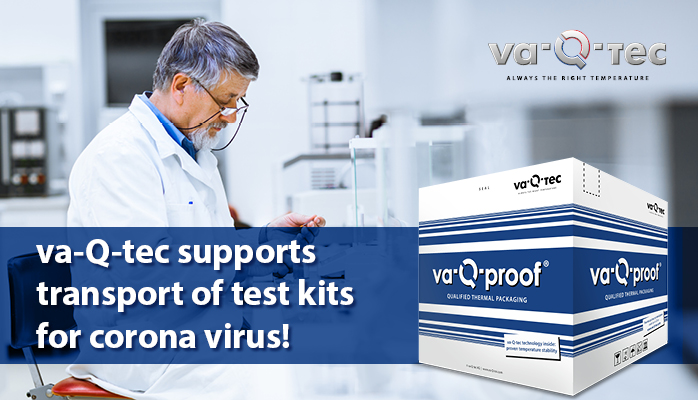 Rapid and reliable diagnostics are necessary in order to provide adequate treatment for patients as quickly as possible. A biotech company from Singapore has now developed a diagnostic kit that can detect an infection with the virus within two days. va-Q-tec supports by delivering several hundred va-Q-proof and va-Q-med boxes at short notice.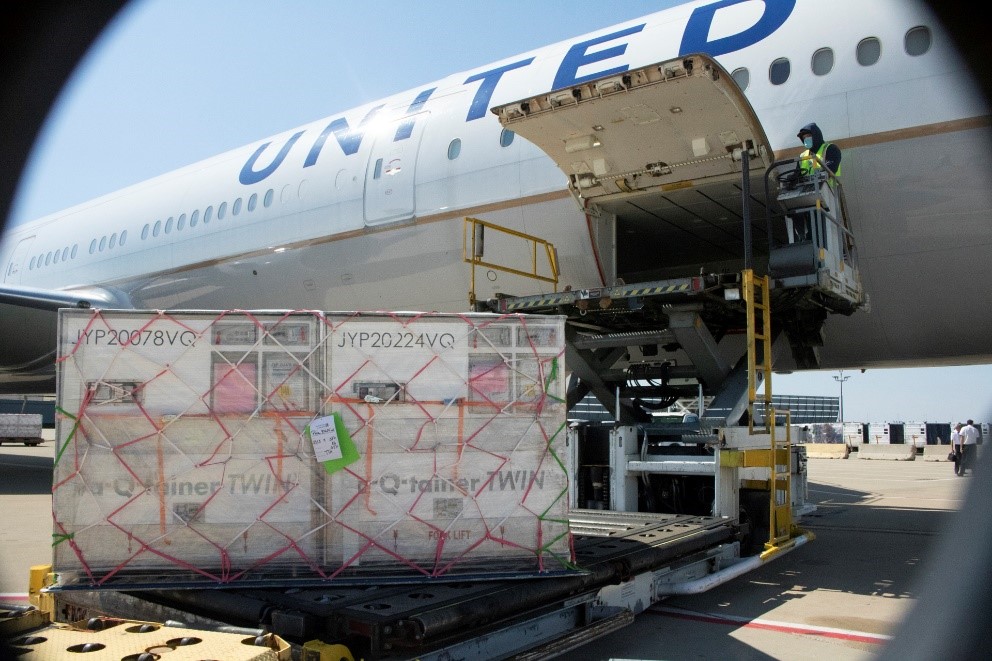 In order to master logistic challenges during the Corona crisis, va-Q-tec started a unique partnership with the Danish logistics company DSV and the US airline United Airlines.
The cooperation ensures one of the most important transport routes for the regular transport of blood plasma despite the limited flight operations
.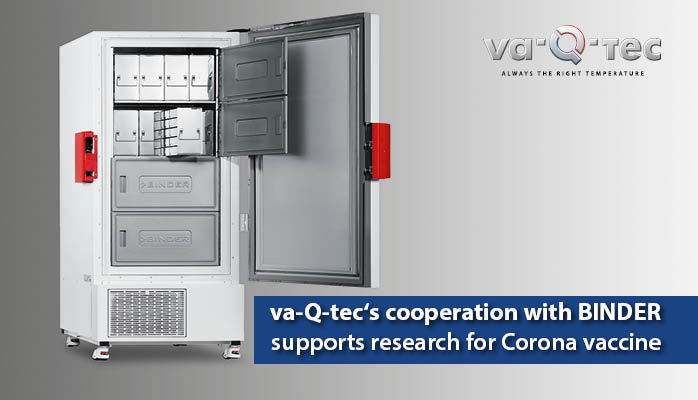 Breakthrough in Corona research by using BINDER refrigerators is supported by va-Q-tec's VIPs: The laboratory devices ensure temperatures of less than -86 °C. This is possible by using the superinsulating VIPs.
Click here to get more information about the cooperation with BINDER. 

The Financial Times takes va-Q-tec as an example for German ingenuity to navigate through Coronacrisis.
Read the full article here.
The broadcast of government of Japanese Ibaraki prefecture thanks in a short video clip va-Q-tec's Japanese staff and all supporters of the fight against CoronaVirus.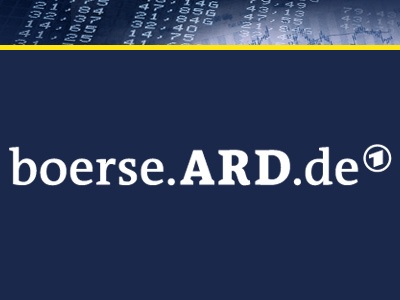 The stock market magazine of the German public broadcaster ARD talked with our CEO Dr. Joachim Kuhn about the developments of va-Q-tec and the importance of supply chains during Corona crisis.
Read the full article here (only in German language available).
___________________________________________________________________________________________________________________________________________________________________
How does va-Q-tec secure business continuity during this crisis?
As va-Q-tec has it's complete value chain inhouse and located in Germany the company is able to keep the production of VIPs, PCMs, boxes and va-Q-tainers up and running. The supply of materials is secured for the coming weeks. The global TempChain Network providing rental containers and boxes is secured in collaboration with international partners. va-Q-tec's GRAs with all big airlines and close partnerships with numerous freight forwarders ensures 100% availability despite the tremendously reduced airfreight capacities. The international customer service teams are fully available and create individual case by case solutions to secure the in time delivery of containers and boxes globally. In addition international partners and government organizations confirm va-Q-tec's system relevance for the global pharmaceutical supply chain. Therefore the company is able to maintain the operation of all 30 TempChain Service Centers globally.
How are the rental containers and boxes controlled and cleaned during the pandemic?
After each use, the va-Q-tainers and va-Q-proof boxes are cleaned and thoroughly inspected in the va-Q-tec TempChain Service Centers (TSCs) according to special SOPs. All internal and external surfaces of each container is conscientiously cleaned and sanitized by disinfectants and UVC-radiation to exclude any contamination. During that process the staff is wearing appropriate personal protection equipment, including gloves and masks. In addition the insulation material of each container and box is checked with the patented va-Q-check® system which ensures the day one qualification and performance for each shipment.
What internal measures have been taken to protect employees and slow down the spread of the virus?
va-Q-tec has systematically separated the two production sites in Germany, making a transmission of the virus impossible between employees of both sites. Personal customer visits at va-Q-tec's subsidiaries are no longer possible for the time of social separation. In addition, the company makes full use of the possibilities of digitalisation e.g. by organizing video conferences and offering webinars. Many employees are also working from their home office. Furthermore, the hygiene regulations at all sites have been tightened and all employees were equipped with hygiene masks and received the in-house produced disinfectant va-Q-san.