Customer interview with Dr. Christoph Frick
va-Q-tec AG received a strategically important major order from kohlpharma for a fleet of thermal transport systems in the 2019 business year. kohlpharma is one of the largest importers of patented and prescription drugs in Europe and the long-standing market leader in Germany.
In the following interview, we asked Dr. Christoph Frick, pharmacist and head of quality assurance and pharmaceutical development at kohlpharma, three questions about va-Q-tec as well as about the va-Q-med thermobox.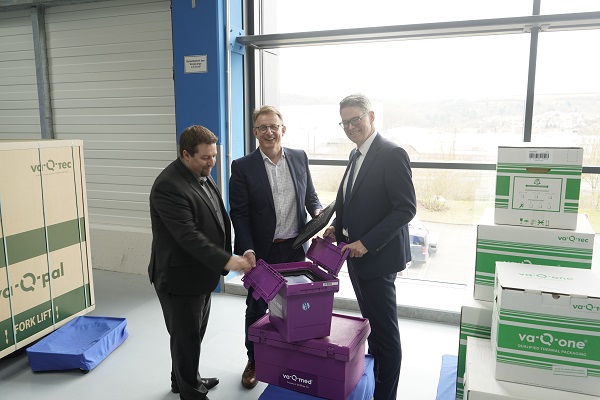 What led you to select va-Q-tec?
va-Q-tec impressed us from the outset with its professional expertise. With potential cooperation partners in the "Good Distribution Practice" (GDP) area, it has been our experience repeatedly that kohlpharma is required to contribute the lion's share of the input when it comes to ensuring that transportation and storage processes, as well as the preparation of corresponding documents, comply with GDP. With va-Q-tec, by contrast, we found a partner that immediately understood kohlpharma's requirements and targets. In this respect, it was, and is, a very positive experience to work together at the same professional level, so to speak. The va-Q-med box that va-Q-tec has developed offers a very good alternative to the usual actively temperature-controlled cooling shipments: cold-storage medicines, which we send to pharmacies and pharmaceutical wholesalers at the necessary 2-8°C, are often very temperature-sensitive and can become ineffective or, in the worst case, even harmful in the event of temperature deviations. For this reason, it is of the utmost importance to ensure an uninterrupted cold chain. With the innovative va-Q-med box we can ensure the cold chain virtually independent of the influence of external temperatures and always deliver our temperature-sensitive preparations in perfect quality.
What was the reason for the switchover?
To start with, kohlpharma was aiming to become more independent in the distribution of its cold-chain pharmaceuticals. Instead of relying solely on actively temperature-controlled transport, we wished to further develop common passive shipping systems, such as EPS boxes with ice accumulators. This is because these offer several disadvantages: firstly, EPS boxes can only be used in a limited outdoor temperature range. That is to say: on very hot summer days and bitterly cold winter nights, we had to actively transport at a controlled temperature to ensure the safety of our medicines. EPS boxes also require different packing schemes: depending on the size of the box and the outside temperature, water accumulators must be added in varying quantities and specifications. All of this makes our favorite standardized processes quite difficult. Furthermore, such boxes only maintain a temperature of 2-8°C for a very limited period of time. A possible misdelivery then becomes an immediate problem; the necessary 2-8°C cannot be maintained, with the drug ultimately needing to be destroyed. And finally, polystyrene boxes can only be reused to a very limited extent, which means that they generate an enormous amount of packaging waste after only a short time. The va-Q-med box, which was developed for this purpose, required va-Q-tec not only to command a high level of technical expertise but also to be willing to respond to a pharmaceutical company's needs and requirements: risk analysis, validation and qualification were requirements that had to be fulfilled and implemented. In pilot projects and in its own climatic chambers, kohlpharma further examined the already-qualified va-Q-med box for its suitability in day-to-day practice. In the refrigerated distribution area – in other words, refrigerated transport to the pharmacy or to the pharmaceutical wholesaler – kohlpharma itself assumes responsibility for the transport using va-Q-med thermoboxes, and in the future, wherever possible, will dispense with active cooling solutions. However, on-going qualification and complete process validation will represent further tasks for kohlpharma in the future.
What advantages does the va-Q-med thermobox offer from your perspective?
The va-Q-med thermoboxes offer several advantages for us: thanks to their special thermal energy storage components and their insulation, the transport boxes maintain a constant temperature of 2 to 8°C for about 48 hours without battery and without internal electricity, which is around twice the delivery time of within 24 hours that is usual for kohlpharma. Passive solutions without power supply during the transport of the refrigerated medicines make the delivery of the medicines much easier – simply because suitable transport vehicles without refrigeration units can now be used. This also helps to reduces city center traffic. In addition, va-Q-med thermoboxes are more environmentally compatible than other solutions. As the boxes can be reused almost indefinitely, they contribute to sustainability and are also a cost-effective solution for us.