Project: Thermally insulating softshell accessories for FARO FocusS and FocusM series
Scanning under extreme temperature conditions
The new FARO thermal protection softshell was developed with the ob­jective of stabilising the temperature of the FocusS or FocusM scanner for operation in extreme environmental conditions, i.e. high atmospheric temperatures of up to + 55 °C and strong, direct sunlight.
Note: in direct sunlight (equator regions) the solar heating can be up to 1.3 kW/m². The softshell accessory is designed to prevent rapid overheating of the measuring instrument. Integrat­ed into a light, robust softshell design, the FARO thermal protection combines functional elements for effective shielding of the instruments against the absorption of IR radiation, effective high-performance insulation against the excessive entry of heat and heat absorber for the ef­fective dissipation of excess energy from the instrument.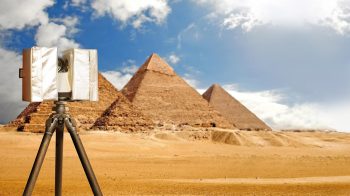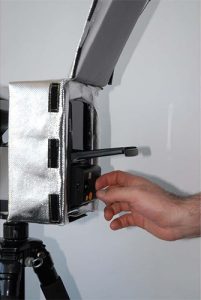 With this construction, vacuum insulation elements adapt­ed to the specific size of type va-Q-vip (which has a ther­mal coefficient of permeability approx. 10-times lower than polystyrene foam) play an important role by minimising the thermal transfer from the hot ambient atmosphere to the instrument. As it was possible to confirm by means of inten­sive stress tests by FARO R & D and by selected customers who work under extreme conditions, the softshell thermal insulation makes it possible to extend the operating time of the laser scanner by a factor of 4-6x compared with operation without protection against the heat.
Project: Insulation of company's BMW i3
With increasing electric mobility, it has been found that enormous range losses occur in a hot or a cold environment. This loss is due to power losses in the batteries as well as the need for their capacity for climatic comfort (heating and cooling). Our VIPs improve everything, battery performance, climatic comfort and range.
This improvement has been demonstrated in an internal project during which we insulated our BMW i3 with our VIPs. Significant improvements were achieved in both the climatic comfort and in the driving range due to their thermal performance.
More information and data about this project can be found here.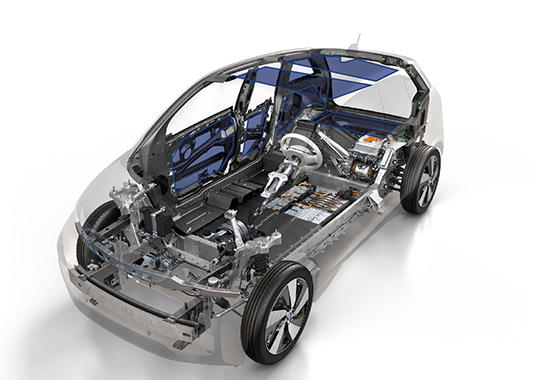 Project: "FRIDGE" for the International Space Station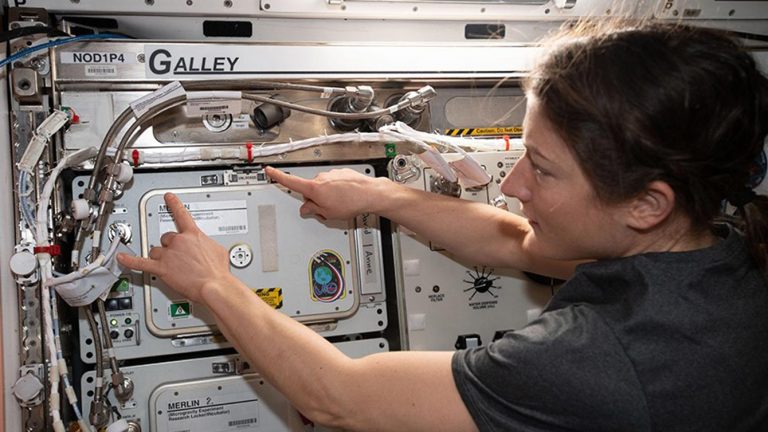 Our VIPs can also be found on the International Space Station ISS. Due to their excellent material characteristics, they were installed in an appliance for maintaining a constant temperature known as the "freezer / refridgerator / incubator device for galley and experimentation" (short: FRIDGE) to ensure full temperature control during special experiments on the space station.
The new FRIDGE devices must be capable of both heating and cooling the contents without moving installation parts, achieving temperatures ranging from below -10 °C to +48 °C. To accomplish this, among other things, waste heat dissipation must be reduced. Vacuum insulation panels are predestined for this application due to their low space requirement, their durability and excellent insulation properties.
For more information on this exciting project, click here.
Project: Cloud chamber for research facility AIDA
The cloud chamber is an extension of the large-scale research facility AIDA (Aerosol Interaction and Dynamics in the Atmosphere) for experiments at the Karlsruhe Institute of Technology (KIT). AIDA is a unique experimental facility for investigating the impact of aerosols on climate, weather, and the environment. Aerosol and cloud experiments are performed under relevant atmospheric conditions within a wide range of temperature, pressure, humidity, and cooling rate.
The goal of the research is to investigate the effect of ice-forming aero­sol particles on the climate, weather and envi­ronment and on the production of clouds and rain. For this purpose, a cylindrical chamber with ac­tive wall cooling was developed; this chamber operates in the temperature range between -50 °C and +30 °C. Because good temperature homogeneity is important during cooling and at constant temperatures, the chamber was en­cased in va-Q-tec insulation to improve the tem­perature homogeneity.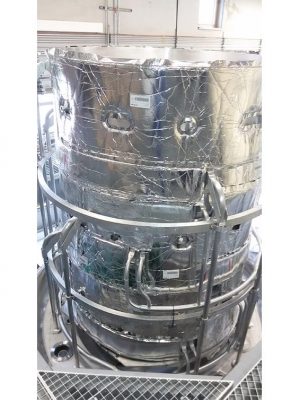 Further examples of successful cooperation between va-Q-tec and companies from technics and industry can be found on the page application examples. 
We help you with your thermal challenge!
Our experts support you in finding the best possible and most cost efficient solution – even in unusual areas of application.
Get help